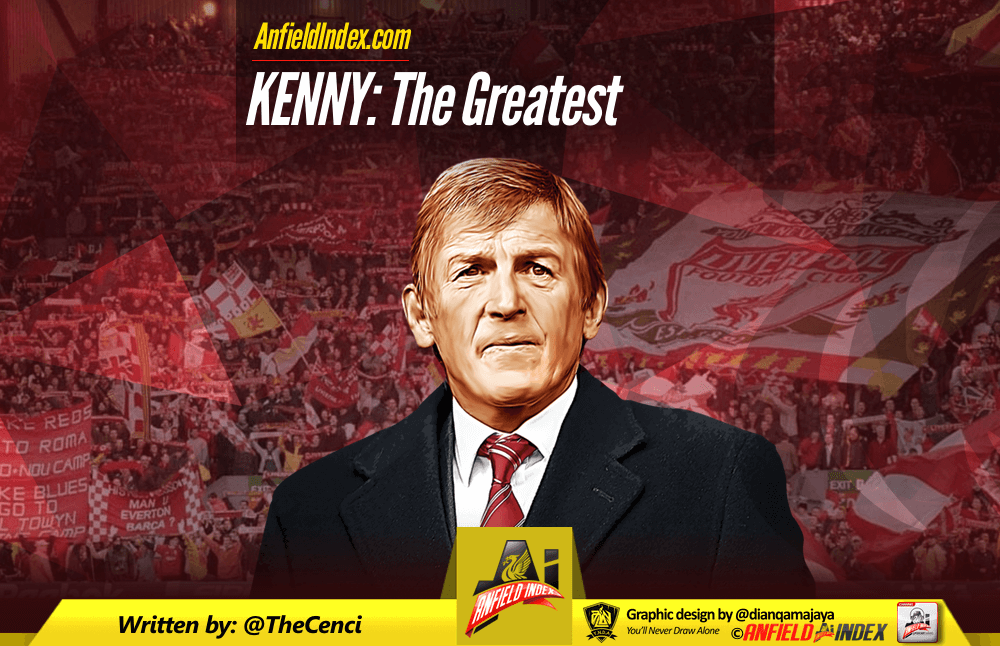 Kenny Dalglish: The Greatest
"It was a privilege to even go there and play. It was a privilege to win. The way I looked at it, the club were doing me a favour. Not the other way round."
He'll always be the greatest. No one really comes close.
Liverpool have been spoilt when it comes to heroes. Players like Yeats, St John, Hunt, Hughes, Kennedy, Keegan, Toshack, Rush, Souness, Barnes and Gerrard would have statues built for them had they played for anyone else, but, no matter how great those players were, they will forever stand in the shadow of Kenneth Mathieson Dalglish.

At the launch of the new film about his life, Paul Machin from Redmen TV asked various players about that intangible concept 'the Liverpool way' and what it means to them. It's never an easy question as it means so many different things to so many different people. For some it's a collective grouping of like-minded souls behind the Liverbird, for others it means behaving in a certain way aligned to a common goal. For the man himself, on the field of play at least, it's simply about 'passing to a player with the same colour strip as yourself.' Nothing complicated or esoteric.
For me, it's everything about Kenny. The ludicrous sense of competitiveness (so much so that he never let his son Paul win so much as a game of football when he played against him as a child) and an unwavering focus on success, coupled with a vicious wit, humour and 'that' smile.
Liverpool was made for him. Already a legend at Celtic by the time he left, he was the natural replacement for Kevin Keegan in the summer of 1977 and just settled in immediately.
Of course, the club was a much more homely one than it is today and Kenny and his family were treated like old friends from Day 1. There was no grand unveiling in front of the team or airs and graces. Emlyn Hughes, the captain of the European champions, simply went to his hotel and had a drink with him in the bar. No firework displays or the blinding flashes of cameras. Just two supremely gifted footballers having a chat to make one of them feel at home. That's how we did things.
And it was that ordinariness that always appealed to Dalglish. Bob Paisley would never give his team tons of instructions or complicated codes to take onto the pitch. Instead the quiet Geordie would tell them to just play their best game and remind them that they were just better than their opponents. Kenny took him at his word and ended up with 172 goals, three European Cups, six league titles, an FA Cup and four League Cups. You don't have to coach genius. You just have to let it flow.
Of course, that's Kenny the player, but there's so much more than that. Nobody will ever forget the sacrifice he made in the aftermath of the Hillsborough disaster. The pressure of so many funerals added to looking after the most successful club in England was simply too much and came at the cost of his health.
I can remember exactly where I was when he signed and where I was when he left. The latter hit us all hard though we knew full well why he'd done it. Since that day in Sheffield the mischievous smile had disappeared and been replaced with an exhausted, almost hangdog look. He just looked exhausted and not one person associated with the club begrudged his calling time on his managerial career. To this day he is still the most successful living LFC manager.
When he came back in the early days of 2011 to replace Hodgson it felt like someone had reset the club switch. Gone was the endless PR bullshit, the hangover from Hicks and Gillet and the eternal pro and anti-Benitez warfare. Suddenly we were united again and seeing that famous grin taking the applause before his first game back was something we all wanted. Needed, really. He had that power.
It didn't last, of course. Winning a trophy in his first complete season and reaching the final of another was not enough for his paymasters. Of course, they wanted European competition and its financial rewards more than mere trinkets and he was shown the door by men who didn't deserve his time, never mind their power over him.
He came back in October 2013 as an ambassador so he's back where he belongs
This season the Kemlyn/Centenary Stand was renamed in his honour. It was the least the club could do.
Liverpool attract thousands of fans every year and many would not necessary know much about Kenny or what he's about. I implore them all to see the film and to marvel at the 'Creator Supreme.' His attitude, genius and modesty are stitched into the fabric of this club. They may not all realise it but he is a huge reason why they support Liverpool in the first place.
He, along with Shankly, Paisley and Ronnie Moran ARE Liverpool for me. That's what I think about when I sing our name. They represent 'the Liverpool way'. Kenny worked with all three and though he didn't answer to Shankly directly, he always took his advice when it was offered. When he joined the club his fellow Scot told him 'Don't overeat in that hotel and don't lose your accent.' In other words, keep your feet on the ground. His modesty shows that he listened.
He deserves the film. We're so lucky to have him.
He'll always be the greatest. No one really comes close.