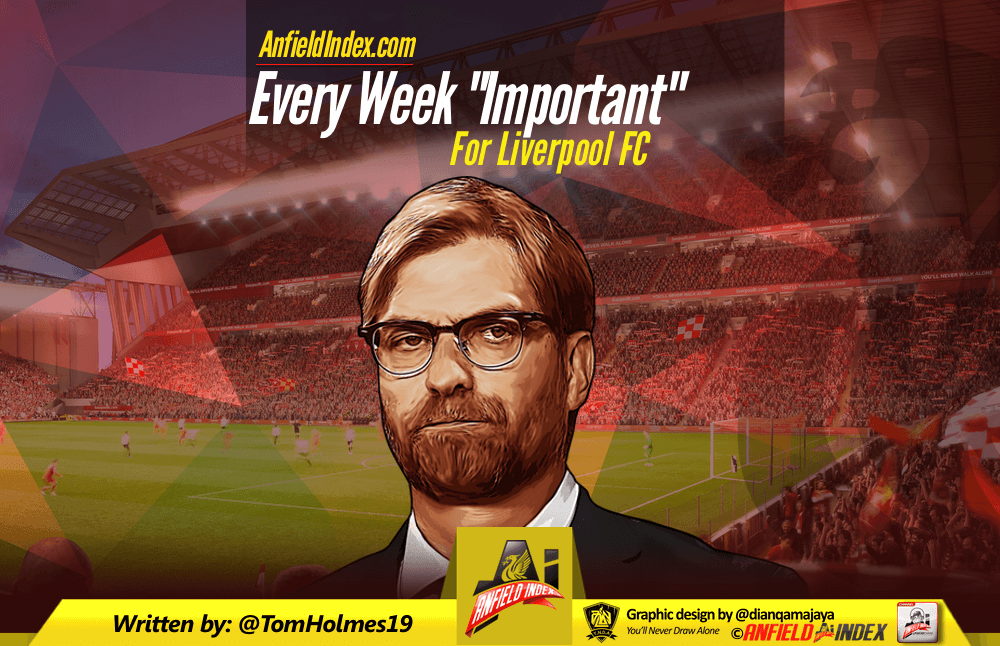 Every Week "Important" For Liverpool FC
Liverpool returned from the international break to begin their busiest period of the season with a 3-0 win over Saints to begin what has been labelled a hugely important week, ahead of a frantic run to January. Whilst this is, in my opinion at least, technically true, it's also hugely misleading.
Almost every week in the season can be (and has been) described as vitally important. It was important we did well against City. It was important we recovered from not doing well against City. It was important we beat Spurs. It was important we recovered from our battering at Spurs. It's now important we start strong after the international break. Next week it'll be important to follow up whatever our result is against Chelsea with wins against Stoke and Brighton.
Whilst I accept that there's an element of truth to this – as I implied above every single game is important so suggesting that one week isn't important is probably incorrect. But the insistence of emphasising every single game or every single week as "huge" is at best hyperbolic.

The Reds drew against Sevilla on Tuesday evening after being 3 goals to the good at half time. However, if Liverpool win their relatively straightforward game against Spartak Moscow at home they'll make the Last 16 of the UCL and the merits of topping the group vs finishing second are currently debatable.
I want to focus on the Premier League then. Liverpool have now played twelve of the other nineteen sides in the league and play the other seven before 2017 ends – with a trip to the Emirates to contend with as well. Ignoring the trip to Arsenal for a minute, Liverpool's hardest opposition of the seven remaining sides is certainly Chelsea, and the game represents an excellent opportunity for Liverpool to gain some ground in the top four race. But does that make the game more important?
Arguably what's more important is that the Reds focus on sweeping aside the other six sides. They are, in fixture order: Stoke (A), Brighton (A), Everton (H), West Brom (H), Bournemouth (A) and Swansea (H). These teams average 12 points this season, with 11 goals scored and 18 conceded, leading to an average position of 15th. That's pretty poor, 12 games into the season.
Anything less than 15 points is a pretty poor return for the Reds, who really should be sweeping aside these six sides. Everton will be a tougher game than on paper but they haven't won at Anfield in this century. West Brom will have a new manager and Bournemouth and Stoke will be tough trips but none of those games are overly intimidating.
What is worrying is that in last season's corresponding fixtures, Liverpool lost two of the five, Swansea winning at Anfield and of course the infamous 4-3 at Dean Court. This is a record that has to change. Liverpool have got the opportunity to pick up at least 20 points from their next 8 games, with another winnable game (Leicester at home) to finish 2017.
So yes, in many ways a home game against Chelsea has a lot riding on it, and is a very important game. But so is beating Stoke, and beating Brighton, and so on. Liverpool have had a rough run of fixtures so far in 2017/18, but when the opportunity arises to beat a set of mediocre at best teams, with Everton, Swansea, West Brom and Bournemouth dire for large portions of the season so far, we absolutely have to take it.