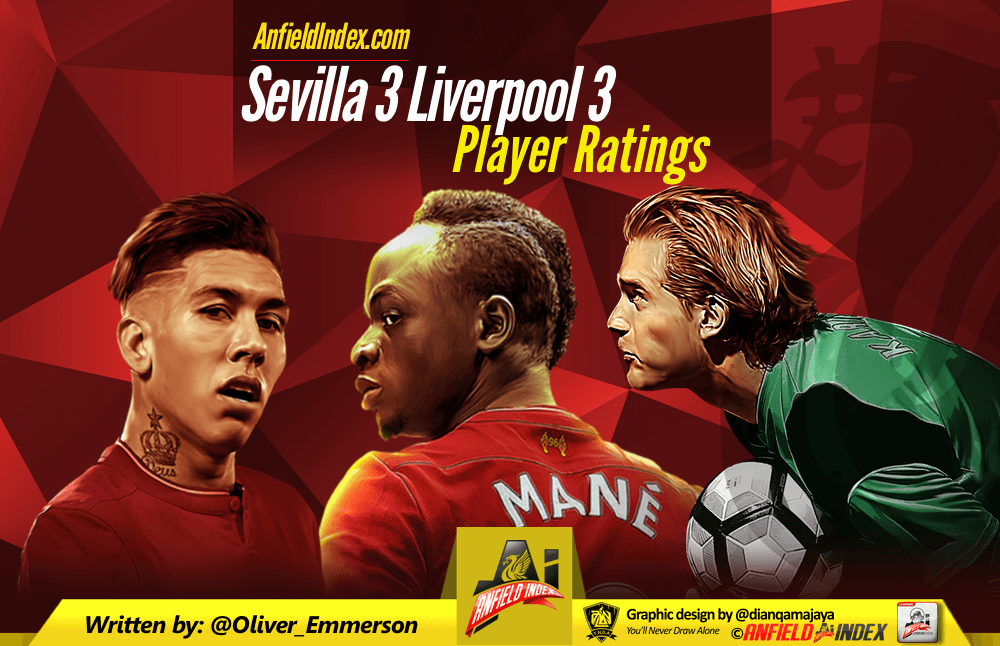 Liverpool Player Ratings from the 3-3 Rollercoaster Ride in Spain

Right. Let's try and not get too worked up. We're all frustrated, we're all angry, but all we need to do to top the group is beat Spartak at home.
Here's how the Jekyll and Hyde Reds fared individually.
Starters
Loris Karius (7): Got to feel for him. Some stunning saves, some really good punches yet concedes three goals he can't really do anything about. Does himself no harm in the long run but you feel that his contribution will be forgotten.
Joe Gomez (5): Will get let off hugely compared to Moreno but a really poor night for Gomez. Undone a number of times as Liverpool broke clear in the first 45, which is why some will be forgotten, but if Nolito puts his chance away at 1-0 then Gomez perhaps gets knocked down to four.
Dejan Lovren (6): Caught where he shouldn't be a few times but definitely the best of the back four. Bumping him up a notch because he kept his concentration after Sevilla's second went in, winning a number of crucial headers. Did the meat and drink stuff well, which was what Liverpool needed during a key spell.
Ragnar Klavan (5): Not as bad as the man to his left but did little to exude confidence, a lack of game-time alongside Lovren potentially an excuse.
Alberto Moreno (4): Reverted back to the worst he can be for the first 15 minutes of the second half. Shouldn't be judged too heavily on it, but it was a torrid 15 minutes. Silly foul for the first. You can sympathise a little with the penalty as he gets sold down the river with the pass to him, but it's still very sloppy.
Jordan Henderson (4): Lack of positional defence when the opposition has the ball clearly on show, a really poor performance from the skipper who did little to calm his troops down as things went south in the second half. Looked clueless as to how to wrestle the midfield battle back in Liverpool's favour, or how to enable his side to keep the ball.
Gini Wijnaldum (6): Not particularly enlightening on the ball in general but produces a beautiful flick on for the first goal and bust a gut at the end closing down and denying Sevilla space, unfortunately, it wasn't enough.
Philippe Coutinho (6): A quiet night for Phil but he was still important with his deliveries from corners leading to goals. Some nifty passes but the right decision to bring him off for Can when defensive discipline was needed.
Mohamed Salah (6): A threat to Sevilla but just lacked that final something on a fairly quiet night for him.
Sadio Mané (7): Should maybe score the one that Firmino tap's in from but it doesn't really matter. A lovely header for the second. These lads must sometimes look behind them and want to cry.
Roberto Firmino (8): Ruthless, a goal poacher, a proper striker. Bobby Firmino?
Subs
James Milner (6): Was the right decision to put him on but to say he offered anything other than not looking to foul everyone would be a lie.
Emre Can (6): Showed Henderson and Wijnaldum how to keep the ball under some pressure, helped take Liverpool forward with the ball.
The OX (N/A): Meh.