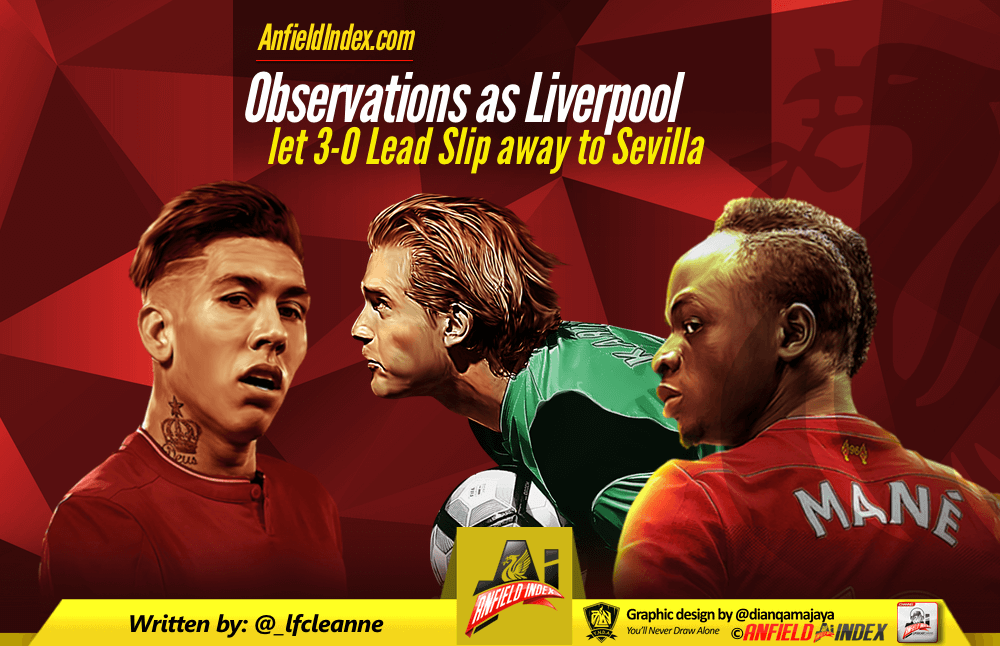 Observations as Liverpool let 3-0 Lead Slip away to Sevilla
Liverpool made the perfect start to their crucial game against Sevilla on Tuesday night, with Roberto Firmino netting inside just two minutes. Quickly followed by a carbon-copy goal from Sadio Mane, the away side ensured their dominance was reflected via the score-line. With confidence flowing and Sevilla distinctly lacking quality, Firmino's non-look pass added insult to injury before the break to put The Reds firmly in the driving seat.
Despite such a strong division in quality during the first forty-five minutes, Sevilla came out swinging in the second half to capitalise on a lack of discipline and game management from Liverpool and take a point on what turned out to be a thoroughly frustrating night in Spain.
Here are the observations from the match.
Liverpool and their new found ability to score from a corner
In recent years, Liverpool have always struggled to make something of their attacking set-pieces. Getting a corner never really got the pulses racing and it seemed inevitable that the opposition would be able to clear the danger without too much trouble.
However, recent games have seen a new dawn for The Reds, who've been able to turn their fortunes around and make use of such set-plays. This time it was Bobby Firmino who converted inside 2 minutes from a corner-kick, latching on well to a brilliant flick-on from Georginio Wijnaldum to slot in at the far post.
If that wasn't a big enough surprise, Liverpool were to get another set piece with a carbon-copy goal from Sadio Mane. Firmino was the provider this time around, steering the ball towards the Senegalese international to head home.
Liverpool's newfound ability to convert from corners is a more-than-welcome trait, with Tuesday's two goals upping the tally to 5 goals in 5 games from the corner flag. Not a bad record for a team so inept at attacking set pieces…
Roberto Firmino delivers another game of individual excellence
Bobby Firmino may not score 25-30+ goals a season like Harry Kane or Sergio Aguero do, but he brings so much to this Liverpool side. Giving Klopp the best possible start with a goal inside two minutes, the Brazilian produced a clinical finish from a tight angle after Gini's knock-on. That's not what stood out on Tuesday night, though.
His spatial awareness and defensive contribution when out of possession is remarkable and you could see the confidence flowing through his views when he scored that no-look goal to make it 3-0.
Firmino never stops working and epitomises the exact player Jurgen Klopp's system depends on.
Credit to Loris
Karius has had his fair share of critics since joining Liverpool, but he really stepped up to the plate on Tuesday evening. With the scores at 1-0, the German made a crucial stop from close-range to deny Sevilla a way back into the match. If that wasn't impressive enough, Karius prevented the home side for a second time with the scores at 2-3 to ensure Liverpool kept their lead for at least a while longer.
Sevilla got their equaliser in the end but Karius showed the qualities that caught Jurgen Klopp's eye in the first place. For all the stick he gets when he makes a mistake, he deserves equal credit for a good display.
Oh, dear Albie…
Alberto Moreno has gained rave plaudits this season for his tremendous turn-around in form since his disappointing performance against Sevilla in the Europa League final. The Spaniard seemed all but set for a summer departure but Andy Robertson's arrival seems to have brought the best out of him, enabling him to start his road to redemption.
However, such improvements weren't to be seen on Tuesday night, with Moreno at the forefront of Liverpool's second-half capitulation. Diving in rashly to concede a set-piece early after the break, Sevilla were gifted a golden chance back into the match, with Ben Yedder easily beating him in the air.
"He frustrates the hell out of me, Moreno. I don't see him as a Liverpool player. He's an accident waiting to happen." – Graeme Souness
Conceding a penalty for the second goal after another rash challenge, there were some signs of the old Moreno creeping back. Of course, one bad performance doesn't discount the clear progression the Spaniard has made this season, but it was yet another game to forget against his former club.
A second-half capitulation leaves a sour taste
Here we go again.
The first forty-five minutes was truly exceptional from Liverpool. We had a goal inside two minutes with the attacking trio of Mane, Salah and Firmino causing all kinds of problems for the Sevilla defence. The Spanish side couldn't deal with The Reds' incisive movement, with Mane and Firmino reflecting the away sides dominance on the score-sheet. From that point, things looked so damn rosy for Jurgen Klopp.
But when Sevilla got one back early in the second-half, you could almost sense what was going to happen. The players began to lose their heads with the midfield unable to keep hold of the ball, increasing pressure on the back four. Then the penalty came before a late equaliser that confirmed what every Liverpool fan was dreading.
The predictability with which Liverpool let a 3-0 lead slip is far more worrying than the actual result. If they hadn't have led by such a strong margin in the first place, an away draw would've been considered a decent result but the manner in which Klopp's side disintegrated highlighted the lack of backbone within the current crop.
It was by no means a disastrous result but Liverpool fans have every right to be aggrieved at the moment, and I'm sure they will for the coming days. Klopp's men really should have been out of sight.