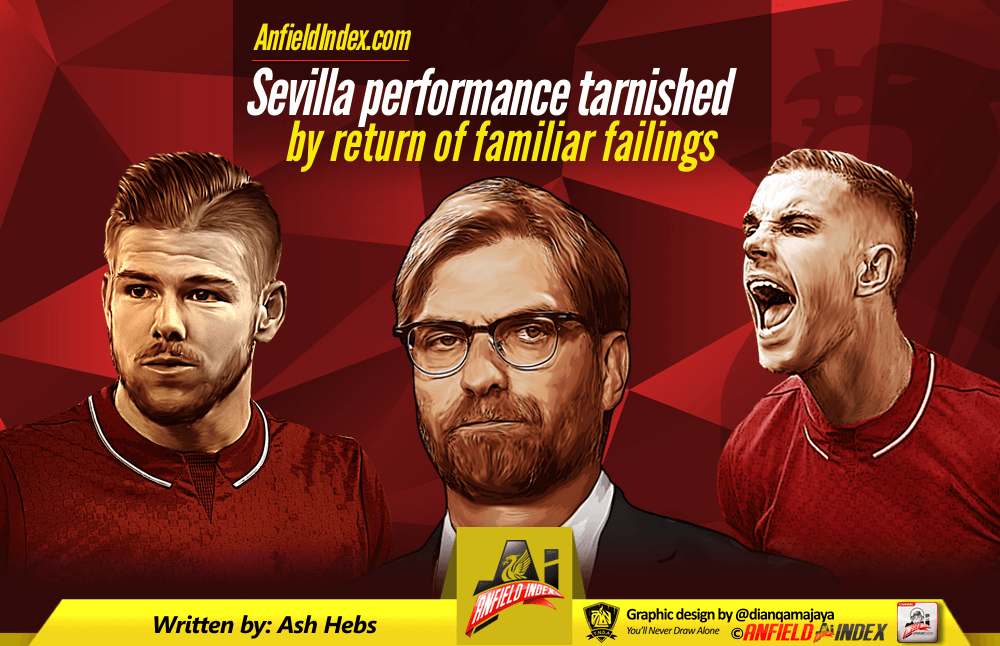 Sevilla performance tarnished by return of familiar failings

Well that Sevilla game was a sickener, wasn't it?
The model European away performance in the first half, albeit not without its problems. Sevilla sadly proved once more to be a real bogey side; able to smell blood and ruthlessly capitalise on our weaknesses. Add them to a recent bogey team list that contains Manchester United, Burnley, Newcastle and even Southampton (certainly until last weekend).
During the game, I commented in the AI Writer's WhatsApp group that we needed a fourth goal to put the game to bed. Sadly that proved to be a valid concern, with an ensuing second-half performance best described as inept.
So what went wrong?
Hendo is not a number 6
This game was another example of why Hendo is ill-equipped for the number 6 role at the highest level. He was off the pace throughout, despite attempting presses and playing a wonderful through ball to Firmino. The stats speak for themselves: a pitiful 55% pass completion, zero tackles won and no aerial duels contested. When a player excels at pressing in the way Hendo does, he should be played further up the pitch. Particularly when a passenger like Gini contributes virtually nothing, especially in away games.
Hendo is a fine front foot player when he is on his game. But, as we have seen in the past, when games are slipping away from the team he struggles. Hendo lacks the short, quick, incisive passing to relieve pressure when pressed. He does not have the defensive nous to sniff out danger. There were warning signs in the first half which led to two Sevilla shots on goal. The pathetic stab at the second ball, for their equaliser, summed up a poor performance in such a crucial game. Hendo was simply too slow to spot danger.
In games like this Klopp has to give Hendo more protection or replace him with Can before it is too late.
Moreno is not a long term solution
Despite a decent start to the season, Moreno simply isn't good enough. Not for a team looking to realistically compete for honours at the business end of the season. Albie's game is riddled with natural defensive flaws which are always liable to be exposed at crucial moments. Simply put, when it comes to the crunch he will let you down.
Albie needed to exercise caution after a yellow card in the first half. But, his unnecessary shove, led to the first Sevilla goal and set the tone for the second half. There is some mitigation for him on the penalty, insofar as Coutinho played him a hospital ball. However, the damage was already done and the collective panic had already set in.
Surely Klopp has to consider integrating Robertson into the first team sooner rather than later?
Klopp out-manoeuvred tactically
The biggest indictment of this game was that it was like the 2016 Europa League Final all over again. Severe deja vu. A tactical switch by Klopp's counter-part, the removal of the functional Nzonzi, resulted in a quicker passing tempo. Sevilla were able to bypass our pressing attempts and push us deeper. We were not able to settle for any sustained period.
Clearly Hendo needed help and Klopp brought on Can, but he took off our only playmaker. This led to a lack of service for our forward men, due to the reduced creativity when we did have the ball. Klopp failed to push home our biggest tactical advantage at 3-0 and 3-1 up; we needed to push up, press higher and pick off Sevilla. Instead, he stifled all creativity in midfield and the team became increasingly desperate. Long telegraphed passes did not relieve the pressure.
Why Klopp didn't bring Milner on sooner when Moreno had clearly lost his head (and was risking red) baffled me. With Mane looking increasingly leggy as the second half drew on, I feel Oxlaide Chamberlain should have been brought on sooner. Mane wasn't giving his left back enough cover once Sevilla started to focus diagonal balls down the left side. Arguably Mane, not Salah, should have been hooked.
Klopp does know how to set his team up defensively as a plan A. However, there have been countless occasions where he struggles to tactically influence a game passing his midfield by. Namely when plan A was not a defensive approach. Does Klopp show he has a plan B in adversity often enough?
Naby Keita's arrival cannot come quickly enough. Better players will help mitigate.
Conclusions
The recent run of 4 wins suggested that the team had turned a welcome corner, in terms of defensive play. However, with a congested fixture schedule looming and with Chelsea on the horizon, old tactical failings resurfaced. Our vulnerability has once again reared its ugly head at the worst possible time.
Klopp has no choice now but to work with the players he has. His pitch side assistants have to help him spot when the game is running away from us sooner, thus enabling appropriate substitutions and tactical changes.
Klopp has to view the January transfer window as a real priority; an opportunity to buy some defensive reinforcements to keep the team competitive in the league and the Champions League. Just imagine the current defence against the likes of Barca, Madrid, Bayern, PSG. It doesn't bear thinking about.
At least Sevilla happened before Chelsea. But the team needs a massive response this weekend.