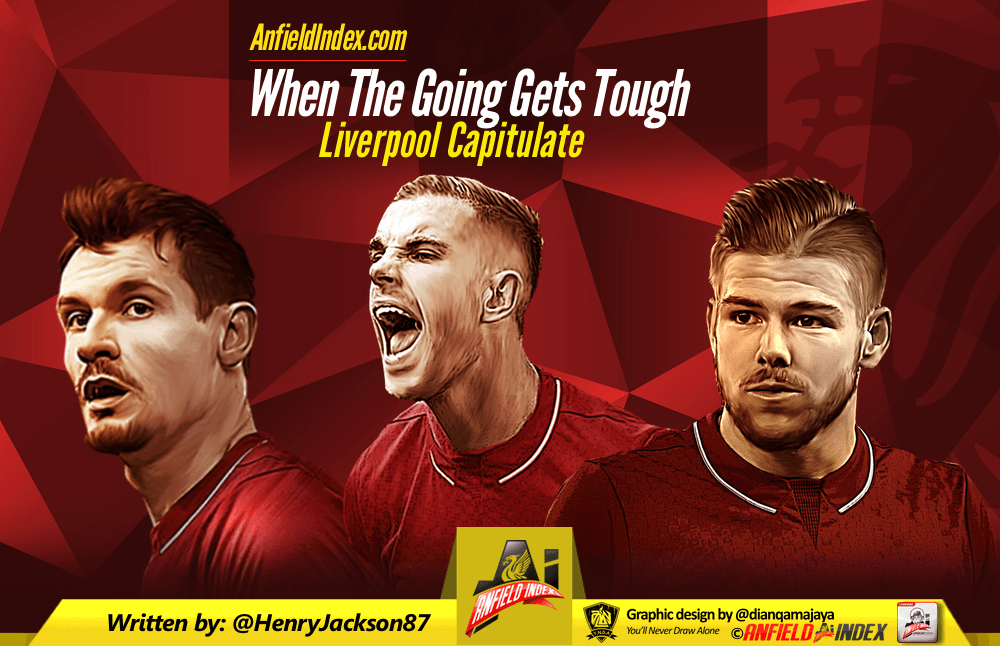 When The Going Gets Tough, Liverpool Capitulate
Has there been a more predictable goal conceded than Sevilla's late effort against Liverpool on Tuesday night? Sadly, yes there has. Plenty. And they all seem to feature the Reds.
Jurgen Klopp's side had done so well to get some momentum going after losing at Tottenham last month, with four wins in a row recorded in professional fashion.
Everyone knew that the trip to the Ramon Sanchez Pizjuan would be a far greater test than Huddersfield, Maribor, West Ham and Southampton, though, and so it proved.
For 45 minutes, Liverpool were in dreamland. Leading 3-0 at an intimidating ground where the hosts were unbeaten for a year, plans for the final in Kiev next May were being made in our heads, as the visitors blitzed their opponents.
Liverpool were seemingly cruising into the Champions League knockout stages, and Mo Salah, Sadio Mane and Roberto Firmino were putting on a footballing feast.
Then Alberto Moreno conceded that needless free-kick. There was something so inevitable about Sevilla scoring from that, and when the ball did hit the net, you also knew what was coming next.
That isn't right. You should not be winning any match 3-1, with so many good players on the pitch, and be resigned to collapsing in harrowing fashion.
Truly top teams do not do that – they see the game out, either winning 3-1 or getting a few more goals to turn an impressive win into a rout.
As usual, the same old individuals have been targeted after Sevilla earned themselves a last-gasp draw – amazingly, Dejan Lovren has not been one of them this time – but this is unfair.
Yes, Moreno was culpable for two of the goals and completely lost his head against his former club. Yes, Jordan Henderson's passing was woeful and his leadership was anonymous. But every single player out there bottled it.
You could argue that Joe Gomez was the only exception, with the 20-year-old putting in another impressive performance, but he was still far from blameless.
Loris Karius had a good night but still didn't ooze authority late in the day – could he have done a little better for Guido Pizarro's equaliser? – and Lovren and Ragnar Klavan failed to quieten an increasingly rampant Sevilla attack.
Away from Henderson, who had his worst night of the season, the rest of the midfield was below-par.
Gini Wijnaldum went missing away from home yet again after the break, and Philippe Coutinho was very quiet, even in the first-half. He just doesn't fancy it at times, for all his brilliance.
The front-three were superb when the goals were flowing, but after the break when their teammates needed them to offer an outlet, their impact was desperately disappointing.
Firmino wasn't holding the ball up, instead attempting stupid tricks and flicks which came to nothing, while Salah and Mane were not working hard enough to help out Gomez and Moreno, respectively.
As majestic as Liverpool's attackers are, they seem to define this Reds outfit. When things are rosy, they are a joy to behold, but when the going gets tough, they can shrink.
There aren't enough winners in this team – individuals who put their body on the line when the chips are down and thrive in the face of adversity.
The all-conquering teams of the 1970s and 1980s were full of them, and Gerard Houllier and Rafa Benitez's successful sides had Steven Gerrard, Jamie Carragher, Sami Hyypia, Xabi Alonso, Javier Mascherano, Dirk Kuyt, Pepe Reina, Didi Hamann, Garry McAllister, Markus Babbel to call upon, to name but a few.
The current crop collectively fall to pieces as soon as something negative happens, just as they did when Wissam Ben Yedder got his first goal of the night on Tuesday.
Unfortunately, this is now becoming a recurring theme under Klopp, and you are left wondering if this lack of game management is down to him or the individuals.
It truth, it looks like a bit of both, although you have to feel it is more the latter, considering Klopp's Borussia Dortmund side were nothing like this.
This capitulation was no anomaly. It is happening time and time again and is only feeding the narrative that Liverpool are a mentality weak side who only win matches when they are good for the entire 90 minutes.
Miguel Britos' similarly late equaliser for Watford back in August was just as predictable as Pizarro's, and there have been late meltdowns against the likes of Southampton and Bournemouth prior to this season.
The respective 5-0 and 4-1 losses against Man City and Spurs were also very alarming, in terms of the lack of fight on show.
Mane's red card was ultimately the reason Liverpool lost so heavily at the Etihad, but the most damning aspect of it was that we knew a hiding was on the cards as soon as he was dismissed. We surrendered because we knew the players would.
There is nobody willing to waste time, making the most of an 'injury' or taking forever on a throw-in. There are almost no masters of the dark arts – something you need in abundance if you want to win matches and trophies consistently.
In a lot of ways, you have to applaud the positive, gung-ho approach of Klopp's men, but it doesn't half reek of naivety at times. Teams play in their manager's image, and sometimes, Klopp's wearing of his heart on his sleeve is detrimental.
There has been talk of Liverpool repeating their 2005 Champions League success this season – winning the competition when far more teams are rated higher – but this is very wide of mark, unfortunately.
The key to Benitez's fairly limited side securing glory was that they were difficult to beat – the modern day team just give opponents too many chances.
Assuming they reach the knockout stages – they will – somewhere along the way they are going to be torn apart, due to this inability to dig in when they're not on top and playing at their peak level.
In term of talents, they are far superior to the Reds' European champions of 12 years, but where are the battlers? Where are the individuals you trust with five minutes left at Camp Nou or Santiago Bernabeu?
There is so much to like about Liverpool right now, with the positives outweighing the negatives significantly, but they leave you tearing your hair out.
The Sevilla game was just the latest in a long line of capitulations – nothing is going to change until a different mentality starts being displayed, and better, more gritty, players are brought in.