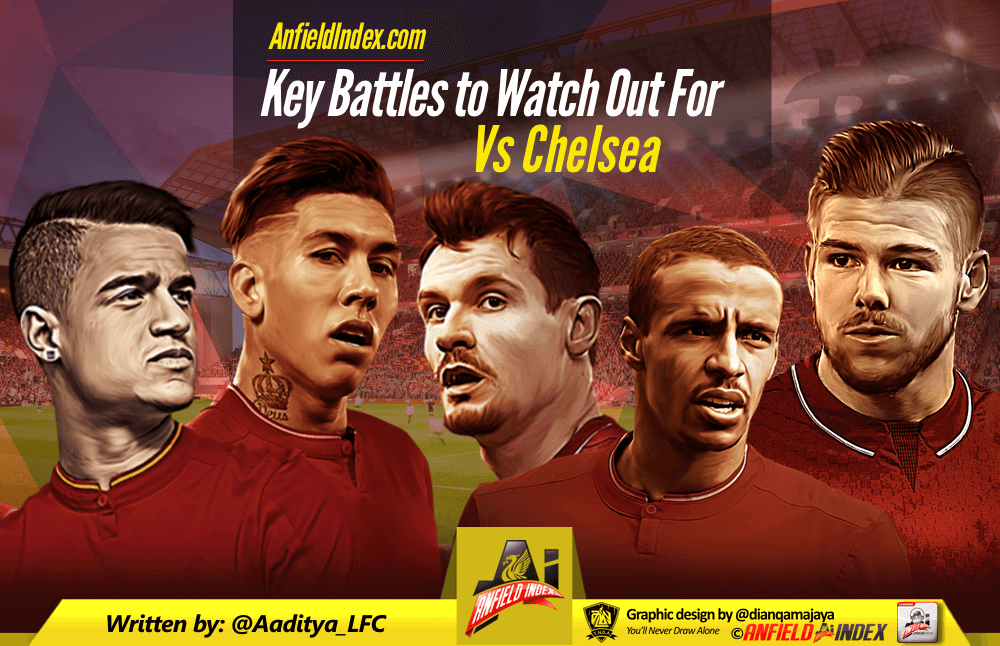 Liverpool v Chelsea Preview: Key Battles
An all-too-familiar second-half capitulation against Sevilla in the Champions League means that recent optimism has given way to the same old concerns for Jurgen Klopp and Liverpool fans alike. But for now, there is no time to brood on recent failures.
The fixtures now start coming thick and fast, and first up for the Reds, is a mouthwatering fixture against Chelsea at Anfield. The return of N'Golo Kante seems to have galvanised the champions, who are on their best run of performances so far this season.
Eden Hazard's return to his best has been welcome for Antonio Conte, who has felt the pressure this season, after a stroll to the title last time out. For Klopp and Liverpool, it is now time to make amends and start racking up the points in the Premier League, to affirm their status as contenders for that top-four spot.

Bar Nathaniel Clyne, Liverpool seem to have a fully-fit squad for the first time this season, with Adam Lallana in line to make his first appearance in a matchday squad this season.
But the front positions are not where the problems lie for Liverpool, so Lallana merely just adds options there, with the defense still a huge concern.
Here are some key individual battles that could decide the outcome of the game on Saturday night:
PHILIPPE COUTINHO v N'GOLO KANTE
Coutinho was far from his best against Sevilla, with the Brazilian seeming like he's still coming to terms with the demands of playing in central midfield. In that second half in Spain, Coutinho needed to take the game by the scruff of the neck and ensure that the Reds had composure in possession, and could blunt the head of steam that Sevilla had built.
Kante's return has provided Chelsea with much-needed thrust in midfield. The little Frenchman's energy has ensured the likes of Cesc Fabregas and Tiemoue Bakayoko have been able to go about their duties with a sense of freedom and adventure.
Kante will no doubt be the man primarily tasked with ensuring that the Reds' creative outlet is subdued. With Chelsea definitely not moving away from the three-at-the-back system, Coutinho holds the key for Liverpool.
Sadio Mane and Mo Salah will find enough room to manoeuvre in behind their full-backs, and Coutinho is the one player in this Liverpool side who can play those passes with consistent accuracy. But he has shown a lack of getting involved in the defensive side of things, something that is crucial for a midfielder in the Klopp system.
But on Saturday, both aspects of Coutinho's game will be crucial. While it is important for him to still be involved as much as possible in the attacking play, he needs to ensure an energy level and intensity high enough to ensure Fabregas does not get to dictate terms from midfield.
For that to happen, he needs to ensure that he isn't shackled by Kante. The attacking side of his game must be on point to ensure he can carry that confidence into his pressing and closing down in midfield. For Coutinho, it is about the balance.
He may not need to have that balance against some of the "smaller" teams in the league, but in such a game, Klopp cannot afford to carry a midfielder who neglects the defensive aspect.
ROBERTO FIRMINO v CESAR AZPILICUETA
The last three games have seen the press well and truly back from Firmino. That is the main reason he starts as the central striker for Liverpool, and that is the reason Chelsea should be worried.
He scored two goals in midweek too, and that should no doubt be a massive boost to Firmino's confidence. It is the one aspect of his game that he does get criticised for, and he showed he isn't too bad at that either.
Chelsea's centre-backs typically like having time on the ball to build play from the back, but they can be assured Firmino will not give them that.
But that is where Azpilicueta becomes important for Chelsea. The way he has taken to becoming a centre-back in the last one year, has been the main reason for Chelsea becoming a force again, after that wretched season they had.
His game intelligence is matched by very few defenders in the Premier League, and his ability to read danger that split-second earlier than others is what sets him apart.
Mane, Salah and Firmino will all bring intensity, but it is important they bring quality too. For Firmino, he will get chances, with the kind of player that he is. But it is important that he keeps his head and takes his chance, given that the Reds don't have a defense that you can really glowingly speak of.
Efficiency will have to be the buzz word for Firmino. Whether it is in terms of how he presses, or his final output, Firmino will have to be more efficient that flashy on Saturday.
Against him is a man for whom "efficient" is the one word that best describes him as a defender.
THE DEFENCE v EDEN HAZARD
Why I haven't picked out any single Liverpool player is because of Hazard's role in that Chelsea system. On paper, he has been slated to play behind Alvaro Morata more often than not, but Hazard is not the quintessential no. 10.
For Conte recently, Hazard has popped up wherever he has found space, and that will be the biggest test for Liverpool, who aren't really the greatest at cutting off the spaces.
To cut off spaces, you need communication – among the defenders and between the defence and midfield. And that is what has been missing with the Reds this season. The midfield has been a huge concern, and with a defence as fragile as ours, we cannot afford the midfield being uncertain and in some cases, absent.
Jordan Henderson will probably start again, and this is the ideal opportunity for him to prove that he is one of the leaders in this side. He had a shocker in Spain, and more than the stats that have been doing the rounds on social media, what was damning was how he seemed to have zero nous when it came to defensive positioning.
To cut off space, it is imperative that the two holding midfielders mark their areas, and have a good distance between them, and when Henderson and Gini Wijnaldum have played together, it hasn't looked like there is any cohesion.
There is also the small issue of a combustible Dejan Lovren, and an Alberto Moreno whose confidence would not doubt have been dented by those shocking 15 minutes at his old club.
Moreno has still had a terrific start to the season, and ideally shouldn't let those 15 minutes dent the head of steam that he has built up this season.
For Albie Moreno and for the rest of the Liverpool defence, Hazard's blend of pace, skill, movement and intelligence in attacking areas will be the biggest worry.