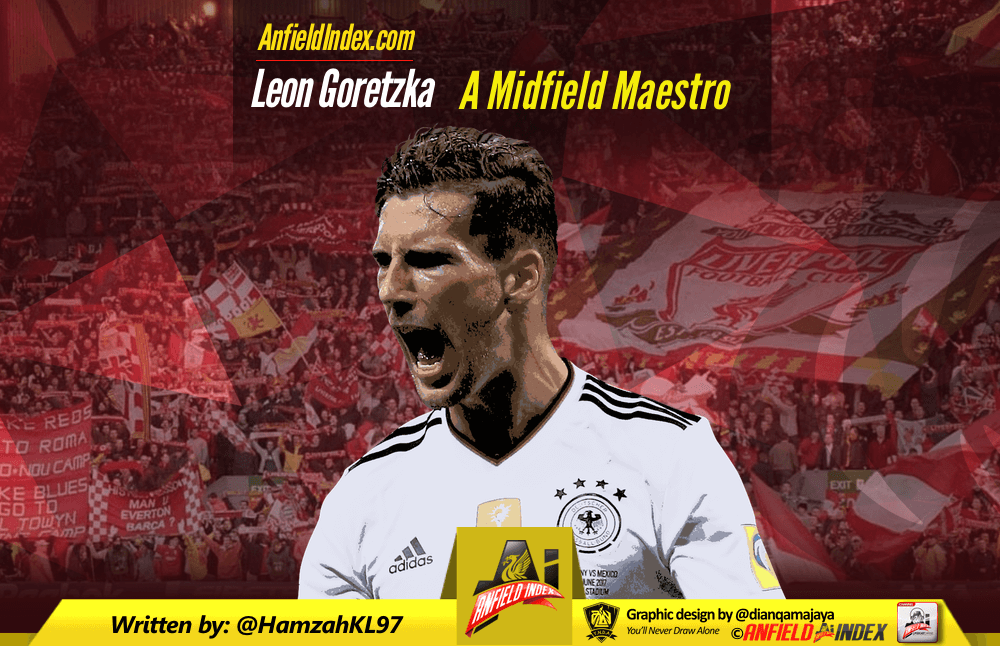 Leon Goretzka: A Midfield Maestro

Leon Goretzka is a familiar name to Liverpool fans now, having risen to footballing prominence during Germany's Confederations Cup campaign. But with new reports emerging of a potential transfer in January, to a Premier League club, Goretzka was one of the main points of discussion on the Euro Incision podcast, in which Bundesliga expert Jonathan Harding gave a quick profile of the coveted 22 year-old German international. You can find the Euro Incision Podcast as part of AnfieldIndex.com's subscriber content on AnfieldIndex Pro.
https://twitter.com/AnfieldIndex/status/933852430239969280
Indeed, it's not just Liverpool and Chelsea vying for his signature, with Barcelona, Bayern Munich and Juventus all reportedly interested too. But what makes him such a highly rated player?
In some ways though, should Goretzka join Liverpool, he appears a classic 'Klopp signing': German, young, exceptionally talented, multifaceted in his abilities and inexpensive. A real dynamo in midfield to pair beautifully with the enigmatic, explosive and tricky Naby Keïta, who we expect to tear up the Premier League. Goretzka would add balance and variety to a midfield, that for a number of games this season has appeared passive and a tad off the pace.
Harding was quick to point out that Goretzka's injuries have slowed his development, but that has not been a barrier to him realising his talent, but first we need to establish where Goretzka could fit in to Liverpool's side.
Jonathan Harding made clear though that Goretzka is a player that really flourishes going forwards, and whilst he can play in defensive midfield, it would be a waste of his talents, with him best suited to having a player alongside him in the 'enforcer' role.
"I see him more as an eight, than a six"
Goretzka's positional figures support this notion:

Unlike incoming star Naby Keïta, Goretzka is much more physically imposing: but his grit comes with an equal balance of grace and his dribbling prowess is a hugely impressive aspect of his play, with his linkup play with the forwards something that would benefit both them and himself, should Goretzka find himself at Liverpool, and behind Mané, Salah and Firmino.

Already this season, Goretzka has four Bundesliga goals to his name, and has increased his shots per 90 metric, indicating a much more aggressive direct approach from him, as he looks to showcase himself, as his contract winds down. Admittedly, his non-penalty expected goals and expected assists contribution per 90, are roughly one in every four games, however, what these figures do not reveal are figures such as packing or pre-assist involvement in offensive moves or goals, something which observers of FC Schalke will no doubt be aware of. Goretzka does have a variety of skills and a range of passing too, which is illustrated below.
Passing statistics

Defensively, Goretzka has a well-rounded game too, with sizeable average tackles and interceptions per 90, alongside his dribbles per 90 rate making him a complete, powerful and controlling hand in midfield – something the Liverpool midfield has needed since it lost the dynamism and the cool leadership of Gerrard.

So far, I've profiled Naby Keïta and Mohamed Salah for Anfield Index; with the former now one of the most hotly anticipated signings in recent years, and Mo Salah simply a phenomenon, should Goretzka sign for Liverpool, and complete this trio, the midfield could be breathtakingly brilliant.There are stylistic issues with all players that need to be considered too, and Goretzka is primarily a playmaker, but according to Harding, one much more akin to Götze, rather than Özil, with some good old 'midfield bite' characterising his play.
I wait with bated breath to see if Liverpool make a formal offer, in light of the recent reports.
Statistics sourced from UnderStat.com & WhoScored.com
Audio content from AnfieldIndexPro – make sure you subscribe to the service where you get to hear Liverpool legends like Jan Molby and Peter Beardsley, tactical analysis from Paul Dalglish, the best stats show on the internet with Under Pressure and exclusive content like this on the Euro Incision Podcast.