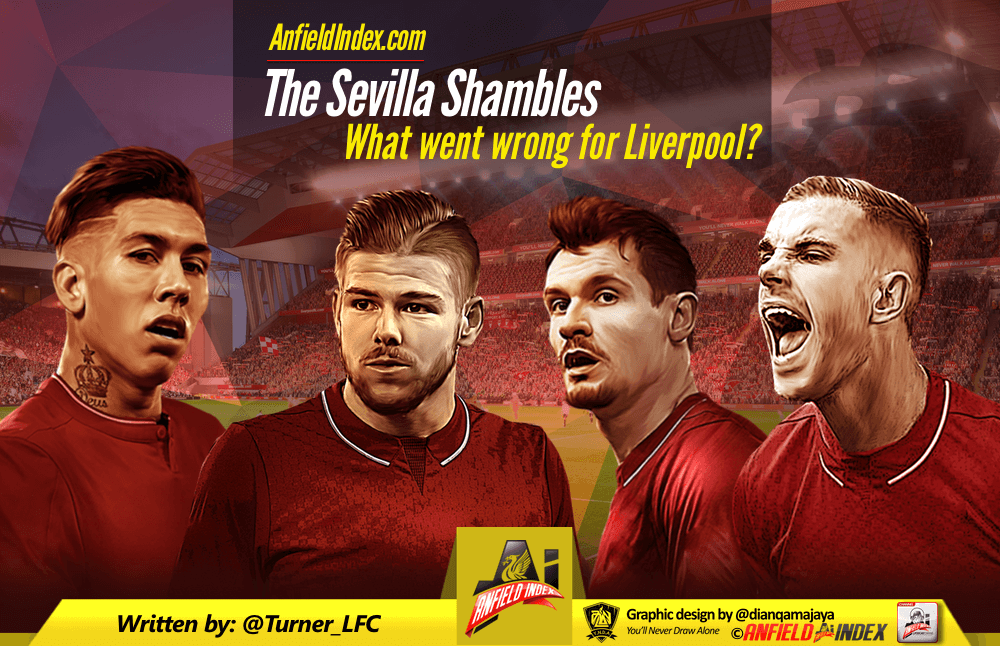 The Sevilla Shambles - What went wrong for Liverpool?
So it was about two days ago I considered a return to writing, after a long spell out (no ACL injury thankfully). It's been a good while since I wrote regularly, so had the usual questions of "Can I still write in a semi-decent, readable way?" and "Will anyone actually give a shit as to what I'm saying?" so I guess we're about to answer those two questions in due course. Now, this isn't going to be structured in a  specific way, just general thoughts about last night and where we go from here mainly.
The decision has been made, I'll pick up the proverbial pen and paper and just go with what comes to mind. Now bear in mind, this is the day after Liverpool bottled a 3-0 lead (familiar?) in a game they had absolutely no right not to take 3 points from. No right at all. Sevilla were beyond atrocious in the first half, because that's how Liverpool made them look. The front three with Coutinho were cutting through them like a hot knife through butter, time and time again. And it was absolutely glorious. It was, wasn't it? Liverpool's arrogance was summed up with Bobby Firmino's no-look finish, and we were cruising.
And then they went and spoiled it all by doing something stupid like throwing away the fucking game.

Apparently, Sevilla's manager had this come to Jesus style half-time team talk with his players, revealing to them that he has prostate cancer. Fucking hell, if you don't want to run through a brick wall for your boss after hearing something like that, then you never will. And that's what they did. Ever Banega went from 2010 Christian Poulsen to 2005 Steven Gerrard in the space of 15 halftime minutes. Ben Yedder woke up from his slumber, and it was just too much for Liverpool who stood around and let Sevilla dictate the game.
Alberto Moreno…. fucking hell Albie. Why does he cave in everytime he plays against Sevilla? I'd only just started forgiving him for Basel, and now he does this? A stupid foul on the byline gives Sevilla the first, and a trailing leg after losing the ball in the box gives them a second. He's been excellent this season before this, but he lost his head here totally. And these individual errors cost us the game. People have been pointing the blame at Jordan Henderson, and yeah, he was poor, but he wasn't the reason for the loss. As captain, could he have done more? Probably. Should he have done more?  Yeah. But the failure was down to the individual mistakes which you can't train. Jurgen Klopp rightly hooked Moreno shortly after and we looked better at the back. Sevilla still were dangerous, but you didn't want to throw your TV out the window everytime they attacked for once. But the thing is, he has to keep his place against Chelsea. The shouts for Andy Robertson are understandable, but if you drop a player for his first poor game of the season, that doesn't send a good message out really. You have to give him the chance at redemption, and Saturday evening is a perfect game to do it in.
There's been a lot of noise made about Jordan Henderson and his poor game. First thing, he didn't ask to be captain. So to use that as a stick to beat him with is unfair. He was poor last night, fine. Agreed.
Jordan Henderson vs Sevilla

55% passing
0 take-ons
0 tackles won
0 aerial duels won
5 fouls
1 booking

'Captain'

— LFC Stats (@LFCData) November 21, 2017
So let's say you take the captaincy off him, who do you give it to? Which one of our current players have the balls, the voice and the stature to be Liverpool captain? I can't name one. Emre Can? Oh yeah, the guy who wants to leave on a free because we won't give him a release clause to fuck off when the going gets tough. Sound. Boss captain that. This squad has no leaders, and that's a damning assessment. People are saying to chuck the captaincy on Naby Keita next summer, or go all out for Virgil Van Dijk and lash it on him. Screw it, why not? I'd be all for that.
This team's game management is absolutely appealing at times you know. 3-0 up at halftime, Sevilla take off a defensive midfielder and bring on an attacking one, we stay the same and get bullied. Moreno already on a yellow should have been off sooner. Sevilla adapted, why didn't we? Why wait until it's 3-2? And at 3-2, you bring on an attacking midfielder/winger in Oxlade-Chamberlain? Why?! Trent is on the bench, move Gomez into the centre, and have a back 5. Dom Solanke could have been on as a hold-up/target man up top for the knockdowns so aimless hoofs have some chance of being recycled. James Milner was a good sub, but the rest just left a lot to be desired.
I tweeted last night, a 3-3 draw would have been sound before the game. After all, they're unbeaten at home in bang on a year. But a 3-3 draw after being 3-0 up is bang out of order. But, it's not all doom and gloom amazingly. Avoid defeat against Spartak Moscow at Anfield in the final group game, and we're through. Win it, and group winners. So it's still firmly in our own hands. Another positive from last night, Dejan Lovren. Had his best game of the season (which isn't saying a lot) despite 3 goals. He looked up for it, and if it wasn't for him and Loris Karius, who again had his best game despite conceding 3 goals, it could have been even worse. Amazingly.
So what next? Chelsea on Saturday for one. And they must show a reaction. Yesterday feels like a defeat even though it wasn't, and judging by the players' reactions after the game, they believe that too. Henderson, Wijnaldum and Moreno have all spoke shout how it felt like a defeat and how they feel sick about it. And so they should. The fans will rightly be demanding a reaction on Saturday and there's hardly a better game to do it than Chelsea at Anfield. Into these Reds!