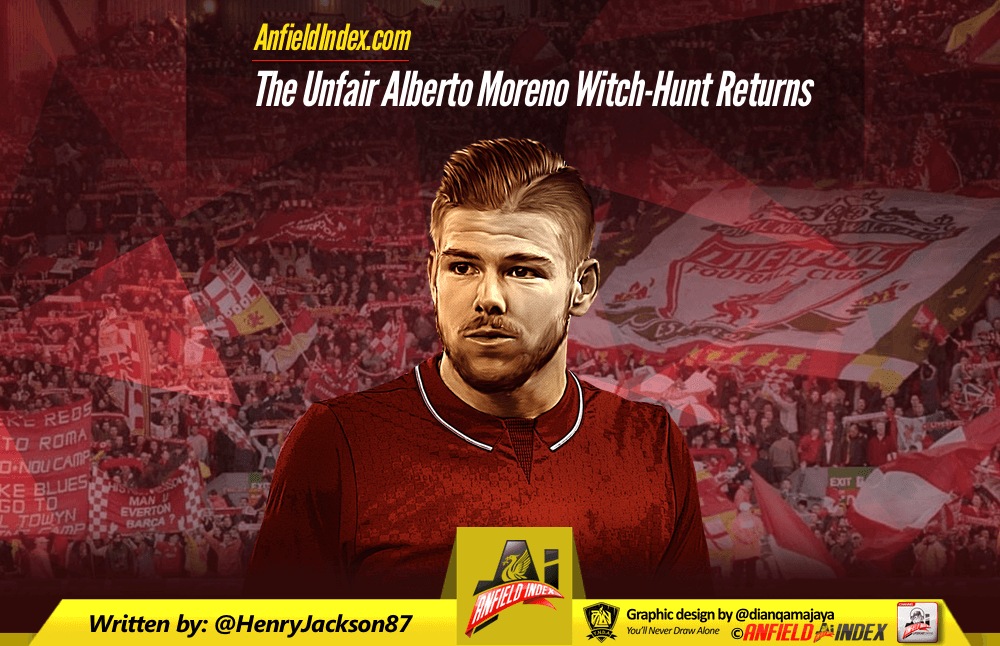 The Unfair Alberto Moreno Witch-Hunt Returns
First things first: I have been one of Alberto Moreno's biggest critics over the last few years.
The horrendous performance in the Europa League final essentially cost Liverpool a trophy – he was not the sole reason for the defeat, but the key reason for it – and too many lapses in concentration and a perceived lack of focus have irritated the life out of me.
That footage of him flipping a bottle on the sidelines last season, instead of being engaged in the action in case he was brought on, drove me to distraction.

I have spent most of the last couple of years disagreeing with those who have always admired him, accusing them of blind loyalty when the team were far better off without him.
That criticism was fully merited in my mind, and I wanted to see the back of him prior to the start of this season.
In what has been one of the most surprise turnarounds in years, however, the 25-year-old has stormed back into form, displaying the quality that saw Liverpool sign him in the first place, and cutting a more focused, experienced figure.
Prior to the Sevilla game – we'll get to that shortly – Moreno had a strong argument for being Liverpool's most consistent performer in 2017/18.
A series of mature displays were tallied up, and the moments of madness that existed before were nowhere to be seen.
His speed and directness gave the Reds an extra dimension down the left flank, especially compared to the more intelligent but one-paced James Milner last season, and he kept new signing Andrew Robertson out of the side.
He didn't have the individual impact of Mo Salah, who has been Liverpool's star man this season, but very few were guaranteeing a seven-out-of-10 performance every week like him.
Moreno's unlikely Anfield resurrection saw him earn a first call-up to Spain's squad for three years, and some his many detractors were slowly warming to him.
Unfortunately, there was also a vast heap of supporters just waiting for that first iffy outing, smugly waiting in the wings to stick the boot in and tell everyone, "I told you he was rubbish".
These individuals are so stubborn that their opinion becomes irrelevant, and they were given their chance to come crawling out of the woodwork on Tuesday evening.
Returning to former club Sevilla, Moreno had a dreadful night at the office. Or at least a dreadful 15 minutes.
He had been his new-found reliable self in the opening 45 minutes, with Liverpool 3-0 up and cruising, but it went horribly wrong after the break.
A brainless, Moreno-of-old tackle earned Sevilla a free-kick in a great position, and Wissam Ben Yedder headed home from the resulting set-piece.
He then conceded a sloppy penalty, dangling a leg out inside his own box, and the arrears were reduced further.
The Spaniard's head went completely, with the hosts targeting him every time he had the ball – he was already on a yellow card – and it wasn't long before he was rightly substituted in place of Milner.
The negativity aimed in Moreno's direction both during the game and in the days that have followed has been unbearable, lazy and uncalled for.
Many were immediately calling for him to be dropped, and the tedious "I told you so" crowd were in their element. Imagine being openly happy about one of your own players have a nightmare. You'll Never Walk Alone, eh!
Moreno deserves plenty of criticism for what was a very frustrating performance on an important European night for the Reds – there is no doubt about that.
Without that idiotic foul, Liverpool would have been in no trouble whatsoever, and you just cannot make such sloppy mistakes at the top level.
It was also worrying to see that Moreno still has a performance like that in him, having impressed for a sustained period this season.
Despite this, anybody laying into him and ignoring what has come before has to have a long, hard look at themselves.
The word "agenda" in football is a horrible one that is so often worth ignoring, but people genuinely have one with Moreno. He's not alone when it comes to Liverpool players.
The left-back has been the least culpable member of a much-criticised back-line all season, and the mental fortitude he has shown to win his place back is commendable.
Sevilla was his only poor display in 17 appearances since August – every single Liverpool squad member has had at least one bad game, too – and you could argue that there were mitigating circumstances behind it.
Moreno was back at his boyhood club, looking to show them the form he was in, and his emotional characteristics got the better of him. He plays on the edge.
He's not alone there, with arguably the greatest Red of all, Steven Gerrard, someone who endured days to forget on emotionally-charged occasions.
The legendary former captain was sent-off a combined four times against Man United and Everton, all of which saw him let down his teammates.
Infamous back-passes against Arsenal and Chelsea both led to goals for Thierry Henry and Didier Dorgba, respectively, and the same happened for England against France at Euro 2004, with the eventual foul by David James on Henry allowing Zinedine Zidane to fire home a last-minute penalty.
Adam Lallana and Dejan Lovren have both gone missing against former team Southampton a number of times, and you could find endless other examples in the annals of history.
Is the jury still out on Moreno? Yes.
He has improved immeasurably this season, but there is no guarantee that he will remain at this level, and Robertson could well replace him eventually.
One bad game should not be held against him in such an unfair manner, though, and he should be viewed in a positive light currently. He has been very impressive.
How Moreno responds from Tuesday's disaster is likely to define his entire Liverpool career now.
He could easily revert back to being the walking mistake that flattered to deceive in his first three seasons on Merseyside, or go from strength to strength as he improves with age.
Moreno seems a great lad who has really knuckled down, and I will be willing him to shut up the doubters and make his Sevilla showing a distant memory.
The Spaniard followed up on the performance against Sevilla with a near man of the match performance against Chelsea, credit where it's due. Some people will be waiting to tear him to shreds at every opportunity, choosing to ignore all the good on show, but anyone with a fair mind will be able to see that Moreno has been very good this season.
One poor night should not change that – if it happens again in the near future, then we'll talk.
Want more insight on Moreno? Well, Spanish football expert Graham Hunter was on Nina Kauser's Euro Incision Podcast this week. Check out a snippet of what he had to say after the Sevilla game and subscribe to Anfield Index Pro to listen to this and many other exclusive shows.
https://twitter.com/anfieldindex/status/934022243256029186