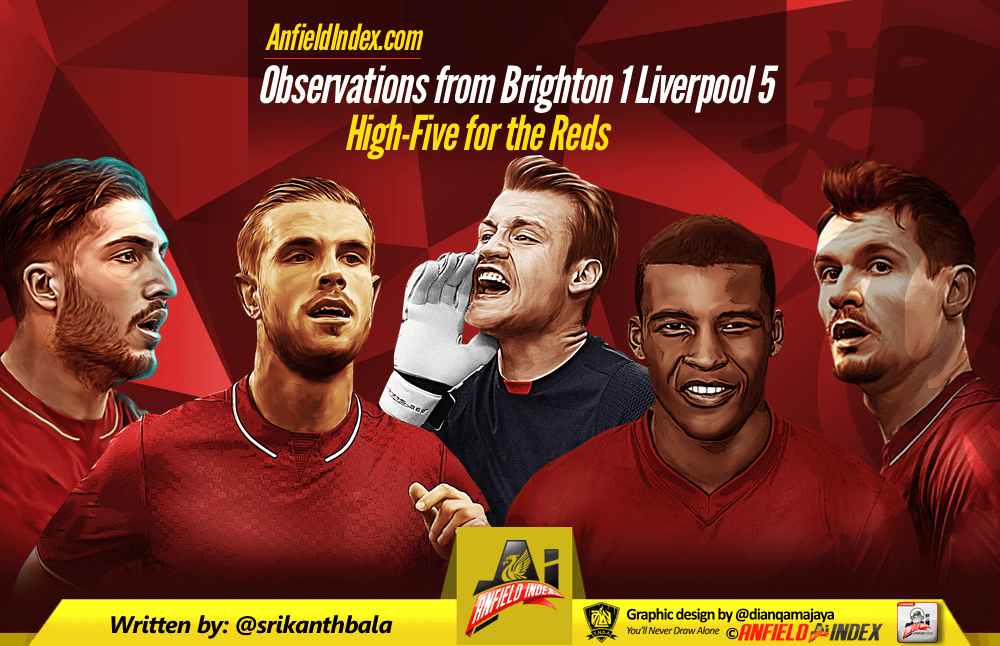 Observations from Brighton 1 Liverpool 5: High-Five for the Reds
Liverpool recorded back to back wins on the road as the Reds put 5 past a hapless Brighton defence. There were many bright spots on the Reds' side, but below are the major takeaways from the game:
The defence
Illness issues to Gomez meant the already depleted Liverpool defence was weakened even further, so it was interesting to see how Klopp was going to handle the latest blow. Klopp handled it in his own way, naming a back 3 of Lovren, Can and Gini Wijnaldum. Liverpool dominated possession in the early parts of first half allowing Wijnaldum and Can to step up and squeeze the Brighton line up even further. In hindsight, it ended well.
ZZZZ and BANG!
The game started similar to how many other games have started under Klopp, with Liverpool having the ball without causing any threat. It was clear that Liverpool needed to stay calm and patient and keep probing an 11 man defence from Brighton. Liverpool seized an opportunity on a set-piece and before Brighton could recover, Liverpool unfurled the best team move of the game to make it 2-0. Liverpool were coasting with their patience being rewarded.

Henderson
From the first whistle, it seemed that Liverpool wanted to be aggressive and win the ball high, and Henderson seemed particularly aggressive in the initial minutes. Whether it was the rest or the recent criticism, it sure seemed to work. He also seemed far more vocal, marshalling the team. The captain was very unlucky to be punished for a push in the penalty box for the penalty.
Just reward for Firmino
Firmino has been his usual selfless self, working hard and setting up chances for his team-mates and allowing them to bask in their glory. Today was the reward for his past displays as he closed out two goals with sweeping, clinical finishes. He is unique as a #9, and today he shone on the score sheet, where it matters.
The Wall of Mignolet
There was a huge debate about the foul by Mignolet and whether he was lucky not to be sent off mid-week. Mignolet put the mid-week on the backburner with a massive save on 2-0 from a point-blank range. That Liverpool made it 3-0 a few seconds later made the save even more critical, as Liverpool have struggled to protect leads recently.
El Magico
Two games Coutinho had failed and the slow but sure whispers were back. His head is not here. He is hiding. Well, he answered with his feet, as he usually has. This was a display of the highest class, with the ball glued to his feet and obeying his every command from his brain. A day where brain and feet were in perfect harmony. 3 assists and 1 goal might seem a great day on paper, but those who viewed the game would agree the performance was bigger than mere numbers. A truly virtuoso performance against a team who is known to be tough to break down at home.