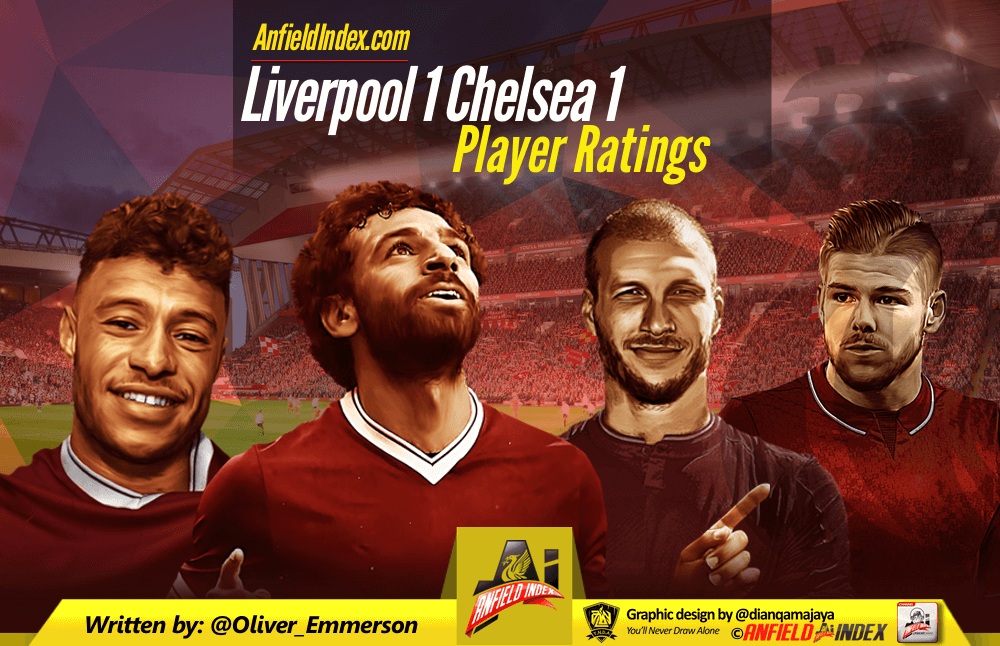 Liverpool Player Ratings From Chelsea Draw
Disappointing to once more throw away a lead, but given the team selection and crazy run of fixtures ahead of Liverpool, denying Chelsea a win whilst resting Mane and Firmino may well prove positive in the long run.
Here's how the Reds rated at Anfield.
Simon Mignolet (6): Very solid from corners and looked like he was going to pick up a clean sheet before Willian intervened. Hard to blame him for such a freak goal but some may suggest his positioning was a little off as the ball came in.

Joe Gomez (5): Woeful going forward and whilst he is a centre-back by trade, you'd hope he'd start to get a little better at the offensive stuff after so much time at right-back. Knocked down to five as he was a little suspect defensively, could well have given away a first-half penalty on Morata.
Joel Matip (6): Solid if not spectacular from Matip, who was returning from a small injury. Wish he'd be a little more aggressive in the opposition area at corners.
Ragnar Klavan (7): One of his better Liverpool games this season, and there's an argument that he's outshone both Matip and Lovren in the last months or so, minus Tuesday's calamity. Strong against Morata and made some crucial tackles and interceptions, should retain his place when fit in the next few weeks.
Alberto Moreno (7): A very positive comeback after it all went south against Sevilla. Won the applause of the Anfield crowd more than any other players thanks to a series of impressive challenges to dispossess those who attacked him. Solid going forward, a little rash to a high ball in the penalty area late on but makes up for it with a crucial tackle on Willian in the following minutes.
Jordan Henderson (5): Another performance from the skipper that looked a million miles away from what Liverpool require from their defensive midfielder. Poor passing, weak in the tackle and was routinely embarrassed by Eden Hazard.
James Milner (6): For Milner, see Henderson. But take away some of the glaring mistakes and add some bottle.
Philippe Coutinho (5): Disappointing. Was always going to be tough against a packed Chelsea midfield of Kante, Drinkwater and Bakayoko, but let himself down with some poor decision making, in the first 45 especially. Didn't link with the front three as he's often able to, but did play one lovely pass towards Salah near the end that was cut out by Azpilicueta.
Alex Oxlade-Chamberlain (6): Reminiscent of Dirk Kuyt, but with a little more dribbling ability and less shooting ability. Not a starring performance but looked more likely than most to trouble Chelsea in the first half. Fairly disciplined in his defensive duties.
Mohamed Salah (7): Does what he so often does and gets his goal, a lovely finish on his weak foot. Unlucky not to open the scoring and produces a good effort to try and finish it, one that Courtois beat away late on. Had Gary Cahill on toast, showing some impressive strength against the England defender.
Daniel Sturridge (5): Sympathetic towards Sturridge as he looked to be the focal point of an attacking three that have scarcely played together, but he was way off Salah and Ox in causing Chelsea problems through his own individual skill.
Subs (That should have been on earlier)
Gini Wijnaldum (6): Came on for a little bit and was quite bright. Feel like he'll have been gutted not to start this type of game.
Adam Lallana (N/A): Gave the ball away a little, didn't he?
Sadio Mane (N/A): Should have been on earlier as Salah looked like collapsing.