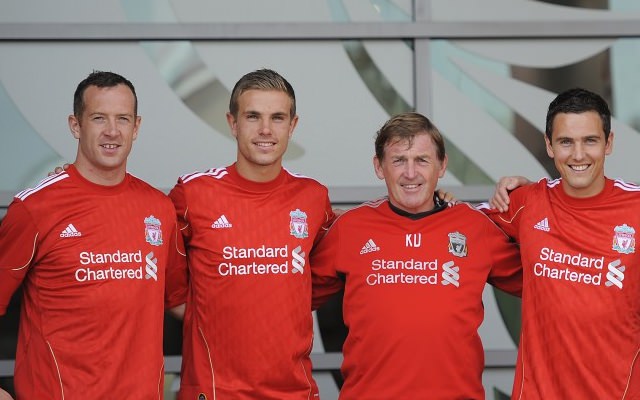 Liverpool's Creativity | 3 signings that help
In June, not long after we secured our first signing Jordan Henderson, I read a very interesting article on this site by Omar Chaudhuri. It explained how "chance creation"  and creativity can have a big effect on the number of points a team can achieve, and in the end, where they finish up come May. You can read it here.
Of the 5 teams that finished above us, 4 of them created more chances than ourselves over the course of the season.  And of the 14 teams that finished below us, 12 created fewer chances.
It sounds pretty obvious really, but the more chances you can create, the more opportunities you will have to score. The more goals you score, the more likely you are to pick up points and win games.

So, in the summer, Liverpool quickly addressed the need for creativity, with 3 key signings. Jordan Henderson, Charlie Adam, and Stewart Downing. All 3 of them were in the top 10 of "Chances Created" in the Premier League last season. And all 3 created more chances than Nani, Modric, Van Der Vaart, and Liverpool's top chance creator, Raul Meireles.
Now we have only seen two games so far this season, but how have the 3 of them influenced our creative options?
Firstly, Liverpool created a "chance" (including assists) every 8 minutes and 23 seconds across the whole of 2010/2011. This season to date,  it is a chance every 7 minutes 36 seconds. Just under a minute better doesn't sound a lot, but compare that over a full season, and we go from creating 429 chances across the year (including assists remember), to 473 chances. If you use a fair assumption that our chance conversion remains the same (13.8%), we go from scoring 59 goals, to a total of 65 goals.
Again, 6 goals doesn't sound a lot. But, those 6 goals could have won us another 6 games that we drawn (best case scenario). However  even if it only turned two draws into wins, and two of defeats into draws, that would have given us an extra 6 points. That would have moved us up a position last season to 5th.
Now, this is only after two games. And for half of the season last year, we had Roy Hodgson, whose football, performances, and results, were not up to the standard expected (and needed) to challenge at the top end of the table. So it is easy for these figures to be misleading.
But one direct comparison can be made. Against Arsenal at The Emirates in 2010/2011, when Dalglish was manager of course, we created a chance every 20 minutes 24 seconds. This season? A chance created every 7 minutes 18 seconds.
While it was a different Arsenal side, and we had more of the ball this time around, to see us improving our minute/created chance ratio by almost 3 times, is a huge improvement.
So the statistics show that we have created more chances so far this season, and we have been more threatening in our opening first two games (and long may it continue). But what about the 3 new signings? Henderson, Adam, and Downing? Is it their influence, or influence from elsewhere?
Well, all 3 players have already created chances for their team mates in the opening games. And between them, they have created 40% of our chances this season.  Adam is the only player who has a direct assist so far, but I am sure more will be coming from the three of them as the season goes on. I think it is fair to say that the 3 of them have helped us already.
As Omar Chaudhuri pointed out in his original article, the Henderson signing would add something to our creativity options. Adam and Downing have added even more creativity also. This is very early days for the three of them, but it is a very encouraging start.
And remember, the more we create, the more we can score, the more we can win, and the higher we will finish. Lets hope these three, and the rest of the side, can keep it up, and we can create a top side again.