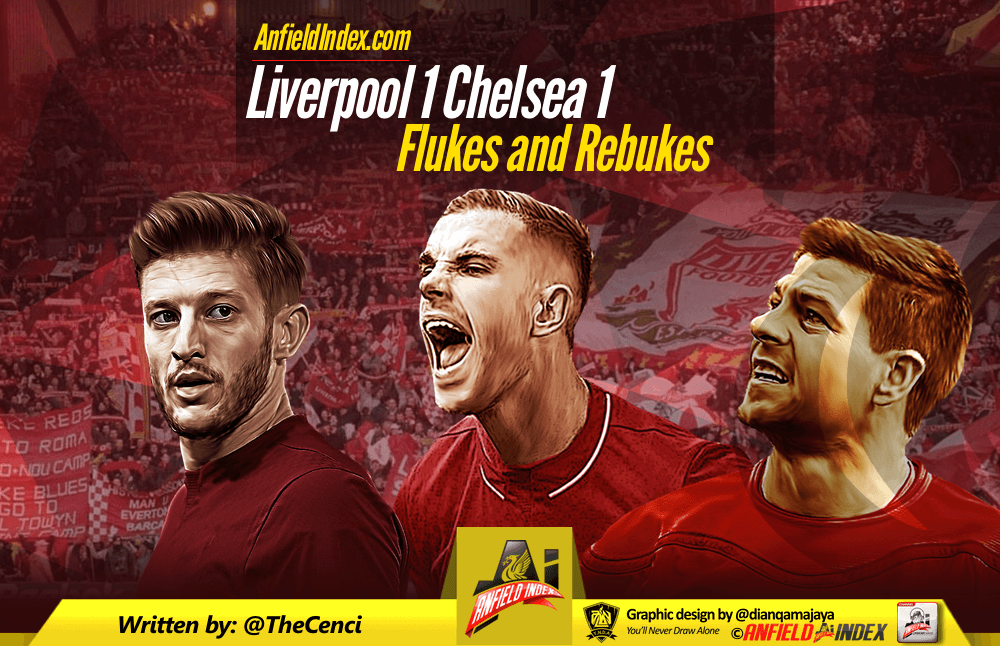 Liverpool 1 Chelsea 1 - Flukes and Rebukes
Sometimes there are fluke goals.
Sometimes the opposition are just better than you.
Sometimes you can be unlucky.

The fury about the draw with Chelsea has matched that of the second half in Seville which seems a little unfair. Chelsea have the best centre-back in the country in Cesar Azpilicueta, a monster of a player in N'golo Kante and that Belgian lad, who seems to do well at our ground. Liverpool don't have any of those things (though Coutinho can match Hazard when he's on his game and yesterday, let's be honest, he was nothing like on his game).
The equaliser was simply unlucky and though criticism of the keeper seems inevitable given his history, it was harsh on this occasion. If Mignolet is expecting Willian to shoot rather than cross then he would automatically have taken up a deeper position. However, as it was obvious that the cross was on (seemingly to the Brazilian himself) then the keeper had to guard his far post.
Don't get me wrong. Mignolet can be slated for pretty much everything about his Liverpool career and, ideally, my first choice keeper would be someone who isn't currently at the club, but it's too much to point the finger at him for this one.
Flukes happen. A quick scan on You Tube compilations provides three occasions where Liverpool have benefitted from bizarre incidents. There's Stan Collymore's goal at Ewood Park where a lame shot struck a divot and bounced over Tim Flowers' shoulder, Steven Gerrard's near post strike at the Reebok which spun at a freakish rate of knots and squirmed past the keeper and, more recently, Adam Lallana's goal at home to Swansea where the keeper belts the ball straight at him and watches the ball loop into the Kop net. These things happen.
Here you go.
Collymore
https://www.youtube.com/watch?v=WN2F6WQk8zk
Gerrard
Lallana
https://www.youtube.com/watch?v=ZwBrbbLbc0c
On the whole the Reds did pretty well. Hazard tore the piss-weak Liverpool centre to shreds in the first half, but they couldn't press home their advantage. We somehow managed to get our noses in front thanks to a lovely toe poke from Oxlade-Chamberlain and the MoFro (trademark T Downey) scoring his 59th goal in ten minutes or whatever. It was only when the focus changed from gaining an initiative to holding onto it that the problems started. This Liverpool side can't do that and, more importantly, neither can Jurgen Klopp.
The starting eleven raised eyebrows. Obviously we need to rest players, but leaving out Firmino AND Mane? At home to Chelsea? With Stoke away around the corner? Surely you enter into battle with your stronger rivals with the best artillery available rather than leaving them out. Even when Mane was finally ushered onto the pitch it was too late – a point he made rather forcibly to his boss on the pitch after the game.
Klopp protested that he couldn't make the subs before Willian scored, but the changes should have been made once it was obvious that our back line were dropping further and further back. I mean, we could all see the problem and the lack of control from midfield and yet the manager kept the starting XI and hoped. And hoped. Eventually, night became day.
Ah, the midfield. There's the rub.
The purpose of the men in the middle is two-fold – to screen the back three/four and to add support the front men by supplying them as well as coming up for second balls. Liverpool aren't too bad at the latter, though we don't do too well with the goal count. As usual you can discount Coutinho here as even when he's in midfield he's so far up the pitch he's practically a (figurative as well as a literal) number 10. It's rare to see him taking a short ball from, say, Henderson.
This midfield likes to attack. In fact, as a team we're unrivalled for getting the ball to the edge of the opposition box. Sometimes, when the forwards aren't on it, that's as good as we get, but the defensive side of things in the battleground of the centre is more of a suggestion than a reality. Liverpool are terrible at protecting each other.
There's a stat going around at the moment about Jordan Henderson's last two games. The Liverpool captain did not win a single tackle in either game despite being parked in front of the defence against sides who like to come down the centre. That's an astonishing statement and though his manager will no doubt back him during the week, one which should embarrass both the player and staff.
Of course, tackling isn't the be and end all. As Xabi Alonso pointed out, if you use the space well enough you can intercept instead. That doesn't make things any better. Jordan didn't make any interceptions yesterday either.
More? How was Danny Drinkwater allowed to help out his front line when he was one of two defensive midfielders? Easy. Philippe Coutinho let him. No tracking back at all yesterday. He just let him go time and again.
This may well be forgivable if we're playing cannon fodder but teams, like Sevilla and Chelsea like to control the middle of the pitch and overrun wherever possible. Liverpool knew this – we're not stupid – and yet Liverpool allowed them to play.
So while four goals is a good result against both teams, having the same total back in our goal isn't.
This hasn't just been a problem for Klopp. Brendan Rodgers also had a flaky midfield. I can recall a game at home to Villa where Steven Gerrard turned to the bench and gesticulated as if to say 'we don't have enough men here.' Or not the right men.
The saddest indictment, personally, is that if we were to sell Henderson, Wijnaldum and Can and replace them with alternatives, there would be no heartache on my part. Good players, yes. Good men undoubtedly, but all so upgradable.
It's not just the non-existence of tackles and snap, but the lack of game intelligence. At 2-3 in Sevilla, the Reds should have resorted to the dark arts to burn up time. Slow goal kicks, drawing out unnecessary fouls etc. – anything to frustrate the opposition and make them panic a bit. Instead we played with that Corinthian spirit that gets us nowhere.
And if you think that Liverpool should go against the grain and be nice to everyone, it's worth pointing out that our greatest sides were a snide bunch of narky bastards. Kenny Dalglish was in the ref's ear before the kick-off, Graeme Souness – the greatest central midfielder in my lifetime – winning possession purely on reputation and, more recently, Javier Mascherano acting as Gerrard and Alonso's enforcer.
City have Fernandinho, Chelsea, Kante, United Matic and Pogba. We have no tackles in two games from our central midfield. We need someone to play that role and as much as I like our lads, the club comes first.
There has to be a change of policy or personnel. We can't go on expecting to be the nicest team in the world.
Some luck would be nice too.