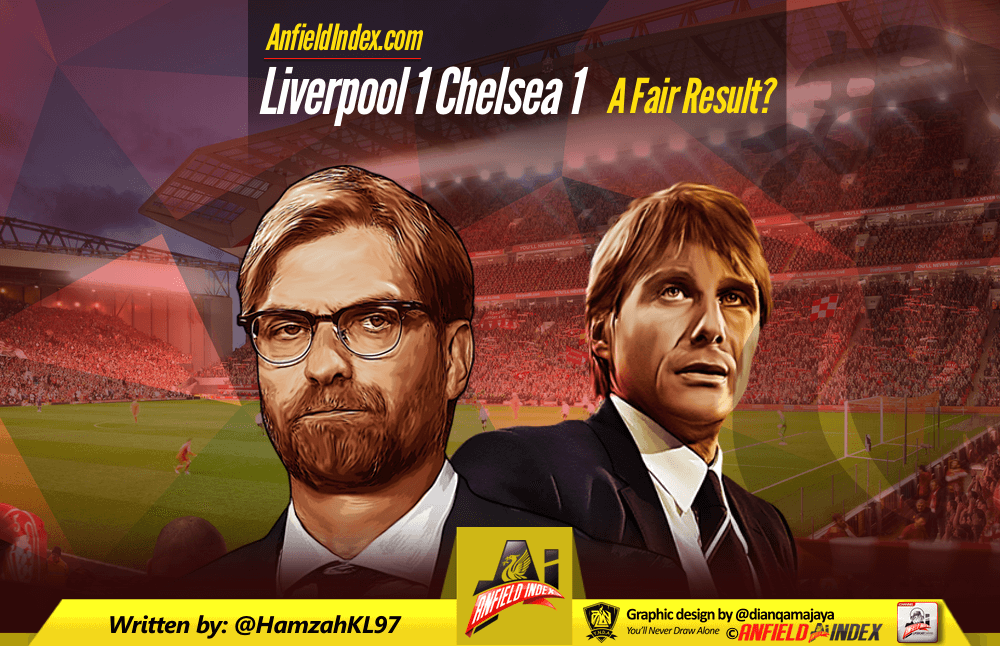 Liverpool 1-1 Chelsea: A Fair Result?
Liverpool's one-all draw with Chelsea was a disappointing result to take given the scoreline in the 84th minute. The manner of Willian's goal, a floated cross which found its way into the top corner, only compounded the fans' disappointment, after surrendering a three goal lead, away from home, in midweek.
The discussion about the game itself begun well before kick-off, with Sadio Mané and Roberto Firmino rested on the bench, with Sturridge and Oxlade-Chamberlain brought in, whilst Milner was also, surprisingly, named in the midfield, with Wijnaldum on the bench.
Liverpool's starting formation did not really differ from what we've seen in games against top-six rivals, with a 4-3-3 the best way to characterise the positional system.

Passmaps & xGplot for Liverpool against Chelsea. #passmap #xGplot #autotweet pic.twitter.com/0a2Rmdt4nE

— 11tegen11 (@11tegen11) November 25, 2017
Chelsea, however, set out to frustrate Liverpool, with a back five screened by a midfield three of Kante, Bakayoko and Drinkwater. Liverpool controlled the ball, and possession, early on. But despite the possession, Liverpool were passive, and Chelsea were resolute in defence. Liverpool lacked impetus and ball speed, and like in the game against Manchester United, excessively focussed on attacking down the centre – instead of exploiting the wide spaces.
Liverpool's possession lacked creativity and zip, with Coutinho misplacing a number of passes in the first half, and the team itself lacking combination play, i.e. fast one-twos (see Mané's goal vs. Watford as an example).
Yet despite this slow start, Liverpool scored in the 65th minute, through Salah, and that's where the real debate over this game begins: having gone 1-0 up, should Klopp have withdrawn Sturridge, and opted for a defensive approach, or instead, have doubled down and brought on Mané, or even should Klopp simply have waited.
Bearing in mind Liverpool's capitulation against Sevilla, only a few days previous, it seemed the right decision to remove Sturridge and shore up the midfield.
Without Lovren on the bench, Klopp's options appeared limited, and a Lallana short of match fitness would hardly have been the right option for 25-30 minutes of intense action.
Indeed, Paul Dalglish on the Tactics Weekly podcast mentioned that with 25 minutes to go it appeared a bit too early to lock up shop, especially as the home side, and with Liverpool's defensive record – albeit it is a strong one at Anfield this season.
With Wijnaldum brought onto the field though, Liverpool shifted into a 4-5-1 formation, with Salah as the centre-forward: a system that appeared well set for counter-attacking – were it not for some good work by Azpilicueta when one on one with Salah, it would have likely paid dividends too.
Nonetheless, the impetus changed as Chelsea chased the game, but most importantly, brought on Cesc Fabregas for Drinkwater, and then Pedro for Bakayoko and Willian for Zappacosta. The midfield shift for Chelsea seemed a turning point, with Chelsea no longer reliant on Hazard to feed Morata, and just the two of them, alongside Drinkwater's late runs into the box to stretch the Liverpool defence; now Chelsea had four forwards, occupying the Liverpool midfield and defence, allowing Fabregas greater space and time on the ball to find them, in a risk begetting greater risk situation.
Perhaps the substitution of Fabregas could have elicited an immediate response from Klopp, and he claims he did try, when he summoned Lallana from the bench, supposedly meant to come into the middle, allowing Milner to move to RWB, and Gomez at RCB in a resolute 5-4-1 formation.
Stubborn officiating and a stroke of luck for the Premier League champions scuppered Klopp's plans though, as Willian's attempted cross found its way into the top corner.
A number of supporters on social media voiced their frustrations at Mignolet for this goal, but I beg to differ. In the situation in which Willian had the ball, and Morata was targeting the far post, there is one thing you do not want from your goalkeeper, and that would be for them to remain static, and on their line. If Mignolet had done so, he may have saved it, but any top goalkeeper worth their salt would anticipate a cross, claim the ball, go to ground and seek to knock off a few extra seconds and relieve pressure from the team.
Mignolet made the right decision to come, but despite making the right decision, fortune was against both him and Liverpool, with the ball making its way past his fingertips and goalwards.
Another prominent criticism on BBC 5live was with Klopp's decision to bring Mané and Lallana on. Indeed, four minutes is hardly enough to change a game, and the question of whether Mané should have been rested at all comes into play. But bearing in mind Liverpool's hectic schedule – which saw a title challenge falter into a top four challenge last season – perhaps a long-term approach may provide better overall results, and it's worth recognising Mané had been injured not too long ago, and both he and Firmino had just played a full midweek match against Sevilla.
However, there was more to the game than just a lucky goal and some matc- changing substitutions: this was Liverpool's chance to respond to surrendering a three goal lead, only a few days prior. Alberto Moreno, much maligned for his performance in that game stood up, and put in a strong, respectable performance, dealing with Morata well and showing resilience after the Sevilla match. Henderson, however, did struggle to make an impression on the game, with his safe approach on the ball, in high areas, a source of frustration for fans, and whilst he made 85 passes, he failed to make a key pass, compared to Coutinho (3), and Milner (2).
In fact, the player with the most key passes for Liverpool was Daniel Sturridge, who had a quiet game, but a rather tough task in front of him, with three CBs, two WBs and 3 CMs reducing the space he could exploit. He had one genuine chance in the game, which was blocked spectacularly by Azpilicueta, and he made a chance from nothing when his shot-cum-cross was mishandled by Courtois, almost into the bottom corner, illustrating the benefits of having a sharp shooter, who can make chances from nothing. Indeed, on another day perhaps Sturridge's shot goes in, and Willian's cross floats over the bar – but on that day it simply was not to be. Sturridge though seemed to lack a bit of rhythm and fluidity, both of which come with gametime, and I'm eager to see what he can contribute over the coming games, as even though this was not his best game, he contributed well, moved intelligently and showed signs of quality, it's just a shame Liverpool did not utilise his runs enough.
What then of the game and the result?
As with any game, we should consider some context before coming to a judgement – it certainly seemed Klopp was trying to keep a clean sheet after the maddening experience in Seville, whilst we should not disregard the quality and form of Chelsea, who created a number of chances, of which they could and probably should have done better with.
And, as ever, whilst the result was disappointing, it's hardly something that we would not expect from a tie against Chelsea, and despite this, the performance was generally solid, albeit with some central-midfield concerns.
On balance, a draw seems fair, a reflection of two teams that could have seized the game, but were understandably a bit tentative to do so, with Conte wary of Liverpool's offensive talents, and Klopp mindful of overcommitting and exposing the defence. Alas, a point against Chelsea can hardly be downplayed, but Klopp's decision to rotate for this game in particular will need to be justified with some strong victories in the coming games, and performances from the players he rested.
Once again though, I leave with a quote, and one that perhaps should be pinned to every post-match post you'll ever read:
'Players make mistakes, and while we strive for perfection, but we're never going to get it.

Normally, we'll talk about tactics and shapes and systems, but it ultimately comes down to key moments, and you've got to accept in football, that as much as players perform brilliant actions in key moments, players also make mistakes in key moments as well.

Most games are won in key moments. whether you either show quality, make a mistake or get a bit of luck.

As we saw in this game, Salah showed some quality, Willian got a little bit of luck, with both in key moments.'

–  Paul Dalglish, Tactics Weekly Podcast, 27/11/17

To listen to Paul Dalglish weekly you can subscribe to AnfieldIndex Pro and listen for FREE via the 7 Day Trial!