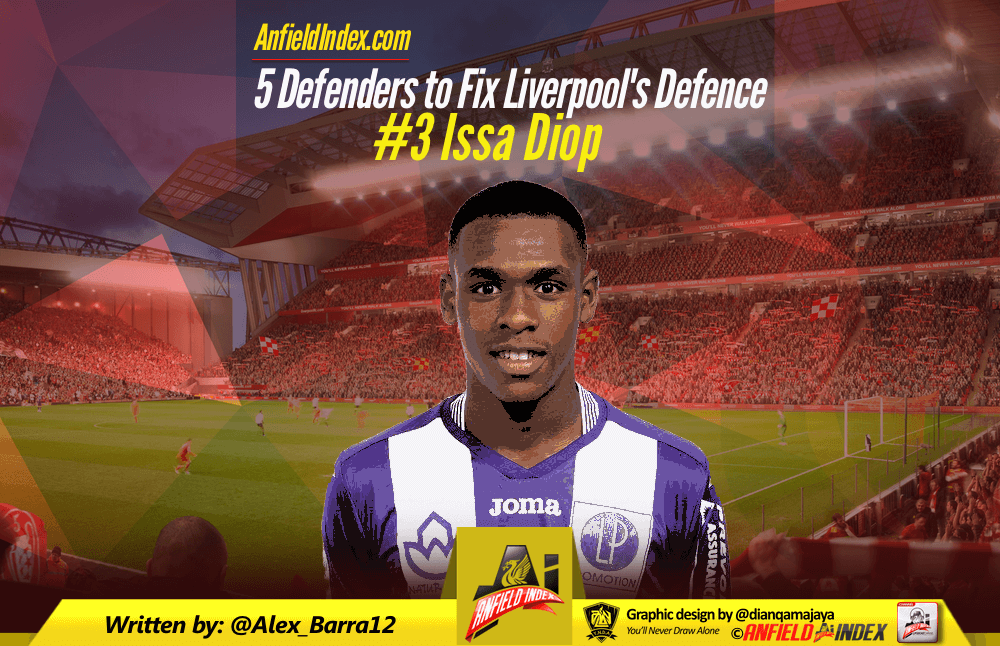 Five Defenders to Fix Liverpool - #3 Issa Diop
If there are any football fans out there who haven't yet become aware of Liverpool's need for an improvement in the heart of the defence, then they are likely living in a willful ignorance of the kind that Liverpool fans can only dream of. Instead, for those clad in Red, a recurring "head in hands" moment becomes more and more grating with repetition – a knack to concede silly goals pervades a side that's finally clicking into gear and attacking with devastating effect, allowing Jürgen Klopp's men to travel anywhere and confidently assert: "We are going to score."
If only the defence could hold up their end of the bargain, that assertion would carry substantially more weight.
Virgil van Dijk has been the name on the lips of every Liverpool fan, and yet a shaky relationship with his parent club still threatens to derail Virgil's ambition to play for the German Ulsterman.

So why not go get the next Virgil van Dijk? Why not ail the defence while also buying a mainstay for the defence in the coming years? Toulouse's Issa Diop is someone Liverpool reportedly pursued in the summer, and there's no reason why they shouldn't resume that pursuit come January.
Style
One of a plethora of young French Centre Backs making their names in the current football landscape, Issa Diop is the latest name to make it's way into the mainstream. Still only 20 years of age and starting for 14th placed Toulouse in Ligue 1, the native of La Ville Rose is a feel good story for the violet club, who have a history of bringing through players such as Moussa Sissoko, Serge Aurier, Wissam Ben Yedder and Andrѐ-Pierre Gignac, and who picked up Issa at the tender age of nine.
It was AS Monaco who got closest of all to procuring the signature of Diop – a telling sign that Diop is ready for the Champions League. Monaco's transfer policy, of buying prodigious young talents and developing them to a standard capable of competing with (and on the odd occasion, defeating) PSG shows the remarkable stature of Issa Diop, despite his relative inexperience. A calm head rests on those shoulders, too, after telling of his desire to stay with Toulouse for another season for the betterment of his own development.
"I decided to stay because I still need to grow, to impose myself at my club. I said to myself that another year, at least, is not a bad thing, to go to the next level, to become a true pillar of this side and to have a great season with those aims." – Diop told SFR Sport in September.
A key figure in a staunch purple defence, Diop presides over the unit that conceded the least goals outside of the top three last season (41) and plays with a resolute confidence above his years. Standing 6 ft 4, with a penchant to distribute the ball quickly when it comes to his feet, he's proactive and switched on, always the aggressor when it comes to meeting attackers as soon as they receive the ball, while his ability on the ball is clearly one of the traits that make him ready to play football in a high line for an elite club, not simply sit deep and constantly defend.
Strengths
Well, he's able to start counter-attacks, he's dominant in the air, has a physical stature that is able to match – if not domineer – any centre-forward who goes one on one with him in the box and he makes more interceptions than any of Liverpool's current incumbents in the heart of defence.
Remind you of anyone? A certain Dutchman, perhaps?
Diop is physical and abrasive, never one to shy away from a challenge or get stuck in. He's also quick – despite a somewhat ungainly running stance not dissimilar to Mamadou Sakho – his recovery speed through the middle is a strength that allows him to cover the space between him and a forward with his eyes set on the keeper.
Matching that speed is composure, too, as his directive is to be aggressive and cut out attacks as they reach the final third, but his highlights all come from the sliding interceptions he makes as attackers look to pierce the back line. Acting as the more proactive of the two centre-halves alongside Christopher Jullien, who acts as a sweeper and "Safety first" kind of defender.
His proactivity and aggressive play style is evident in the areas that he dominates, statistically: Blocks (1.2) and interceptions (a whopping 2.8) are where he shines, able to cut a pass out and hurl his body in front of a shot or dangerous through ball. It's that kind of reckless abandon which guides him into some troublesome situations, however, with his disciplinary record a flaw that teams exploited in his first season. Since then, he hasn't been among the referee's casualties, perhaps showing that composure that comes from being a mainstay in the centre of defence.
Weaknesses
That being said, he still lacks the poise of Virgil van Dijk, both on and off the ball. He is, however, six years younger than the Dutch destroyer.
He is, however, already at a superior level to Dejan Lovren and Ragnar Klavan, with Lovren only bettering Diop's numbers in his aerial success rate (Lovren's significant strength) while Klavan is dribbled past less, due to Diop's front foot playstyle. The young Frenchman also makes fewer high profile mistakes, and is more composed when put under significant pressure, but is, of course, still 20 years of age.
He may have a firmly secured head on those shoulders, but a 20-year-old is still hard to trust when deployed in a system as vulnerable as Liverpool's is prone to being.
Then again, he is good, very good, in fact, despite only being 20 years of age. When Liverpool fans bemoan the state of the club missing out on players that Monaco sell onto Manchester City for copious amounts of pounds, they're really bemoaning players like Issa Diop. He has the potential to be the player Liverpool want right now, while still improving on what Liverpool already have.
He might not be Virgil van Dijk. But one day, he might be.