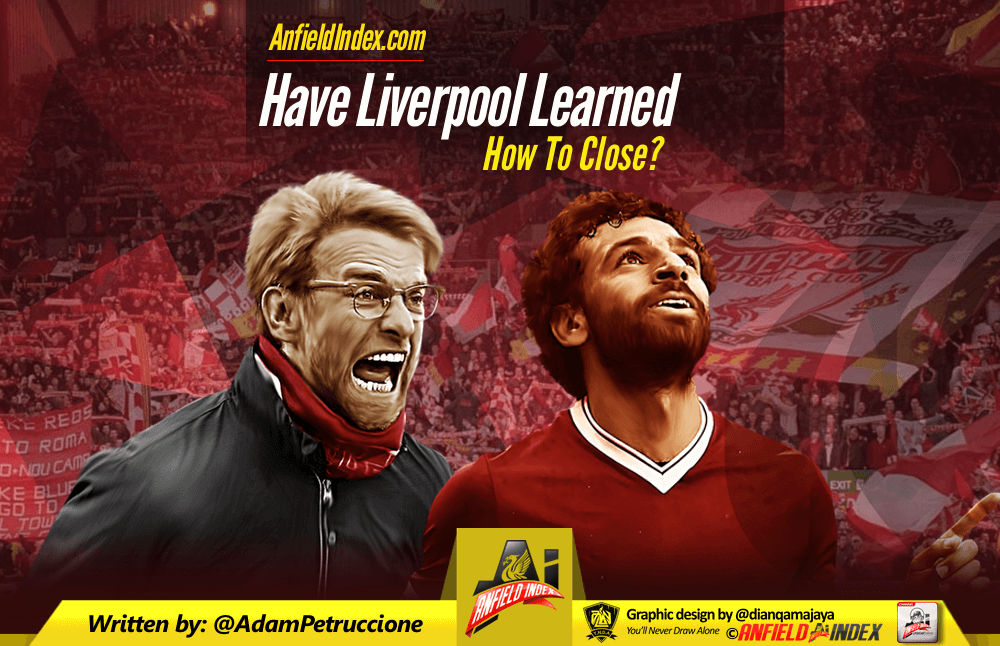 Have Liverpool Learned How To Close?
With an 83rd minute Suarez-esque strike that left Stoke's centre-backs with heads in hands, Mo Salah broke through yet another barrier for Liverpool. This mark though might have gone unnoticed amongst the Egyptian's long list of accolades.
More than one-third of the way into the season, the Reds have tallied 28 goals, third most in the league, but only this latest among them came in the last 10 minutes of any match. In comparison, former Red, Raheem Sterling already has 5 goals in the final minutes for Man City, including a 96th-minute winner against Southampton on Wednesday night.
FAULTY FIVE
In other years perhaps this asterisk on our goal total wouldn't be very meaningful. This season, however, Liverpool have 5 draws in the league, more than double any of the clubs ahead of us. How we ended up with these results is illustrative of an issue that needs correcting.

Against Watford in the opener, our third goal came in the 57th minute. Jurgen Klopp held back his substitutes until the 81st minute and of course, we conceded in injury time and left Vicarage road splitting the points.
At home against Burnley Salah scored our lone goal, equalizing in the 30th minute at Anfield, but were unable to put the Clarets away and again subbed late, bringing on Solanke and Chamberlain in the 78th and 79th minute.
At Saint James' Park we again netted early with the goal coming from Coutinho in the 29th minute. Newcastle evened the score 8 minutes later and we again left with 1 point. Firmino and Solanke came on in the 74th and Chamberlain followed them in the 84th minute.
The 0-0 draw against United was an acceptable result at the time, but again we saw late substitutions at the 78th, 79th and 87th minute, none of which were able to get on the scoresheet.
The last of the five draws came at Anfield against another worthy opponent in Chelsea. After a well worked Salah goal in the 65th, Klopp went to his bench immediately, bringing Wijnaldum on in the 66th for Sturridge. However, Klopp held back his remaining two subs until the 89th minute, after Willian's accidental equalizer, leading to much rumination and recrimination in the days following.
Add to this two draws surrendered to Sevilla in the Champions League group, and another at Spartak where we went the last hour without scoring (subs at 70' and 73') and you see an alarming pattern of missed opportunities from the players on the pitch and the manager on the touchline.
A win from any of those European draws and we wouldn't have to sweat the final fixture against Moscow. Swap a win for a draw in any of our Premier League matches and we would be… well, we'd still be in 5th, but only behind Arsenal on goal difference.
DEPTH & PERCEPTION
Clearly, Liverpool have more of an opportunity to impact the game from the bench from an attacking standpoint than they have in any recent season. Daniel Sturridge, Alex Oxlade Chamberlain and Dom Solanke have been available throughout the season while Adam Lallana is just now working his way back into the squad while Danny Ings is scoring for fun in the U23's.
Are these subs unable to impact games because they're being brought on so late in matches? Are the remaining players on the pitch already run ragged to the point where even the best sub would be meaningless?
The result against the Potters may have uncovered a strategy that could work well for us going forward; rotating the front three so that we're able to bring on one of our best off of the bench and not just for the last few minutes, but for 25 to 35 minutes, allowing them to get up to speed before the final whistle. Certainly not an unusual strategy, but one that has been foreign to Jurgen Klopp so far this season.
Against Stoke Mohamed Salah was brought on in the 67th, scores ten minutes later and then again sixteen minutes after his substitution. If he was instead brought on in the pattern we've become accustomed to under Klopp, does he even have time to score? Or does he just end up frustrated like all of our other late attacking subs have this year?
What Liverpool get from this season could largely be decided in the cramped December and January fixtures. The AI Pro Fatigue Index shows a full eleven players on track to blow past their career averages in minutes played. Most alarming of those are Jordan Henderson and Bobby Firmino who have looked like they may have hit the wall already as we enter this critical portion of the football calendar. The one position where we've been rotating most responsibly has been the position where fatigue isn't a factor, swapping Mignolet for Karius depending on the competition.
Dom Solanke handled himself well against Stoke with an assist for the opening goal and showing an ability to function in the pressing game and holding up the ball for our speedy wingers. He and Daniel Sturridge will be vital for Liverpool to be able to rest Firmino so that he's fresh for the most critical of our fixtures through the winter.
Chamberlain is working himself into the squad more and more, but with Lallana back he provides options at a variety of positions where the squad is already at it's deepest. With Gini Wijnaldum and Jordan Henderson already overtaxed, Emre Can looking for the exit door and Grujic's agent making calls for a loan deal, Jurgen Klopp is going to have to come up with a plan in the defensive midfield quickly to make up for his rotation mistakes so far.
Do not be surprised to see a call-up for Ovie Ejaria for a handful of matches to give the deep midfield a breather. He has been one of the outstanding members of the U23's, who have been tearing through Premier League 2 with ease. While inexperienced in the top flight, he is a more imposing physical presence than some of our converted DM's like Wijnaldum and James Milner.
Rotation shouldn't just be a consideration for the hear and now, to benefit matches in the coming weeks. The fact that up and coming central midfielders like Ejaria and Grujic haven't been given time at all is also going to haunt Liverpool down the line unless Emre Can's contract can reach a surprise conclusion, keeping him on Merseyside. Surely Jurgen Klopp needs to find out what he has with these two before considering reinforcements in January. With Henderson already in the red in terms of usage and prone to injury, he could be out at any moment and Can's contractual deadline is inching closer and closer. With expectations so high for the club this season, and already rolling the dice without centre-back help it would be highly irresponsible to create the same situation in the middle of the park.
LATE LESSONS
Tardy substitutions, and starting the best eleven available match after match has been part of Klopp's modus operandi since his arrival. However, as this squad evolves together, the manager may find that bringing a Sadio Mané or a Mo Salah on for the last 30 minutes against tiring opposition could be even more potent than having both on for the first 60. More attacking vigour in the closing minutes of matches surely will reverberate through the eleven as well. If opponents are worried about a fresh attacking winger of that calibre at the end of games Liverpool's defenders are far less likely to be pinned back, potentially avoiding late capitulations like we saw against Chelsea, Sevilla and Watford.
After the Spurs debacle, Jurgen Klopp made major changes to our strategy on the pitch, showing that he can, in fact, change his ways in the face of overwhelming evidence. Perhaps seeing his squad score for the first time in the closing minutes will result in a reevaluation of our rotation to try and duplicate this feat. With United and City having scored roughly a quarter of their goals in the final ten minutes of matches, it goes without saying something will need to be done to improve our late game performances if we're to keep pace in the league this season.