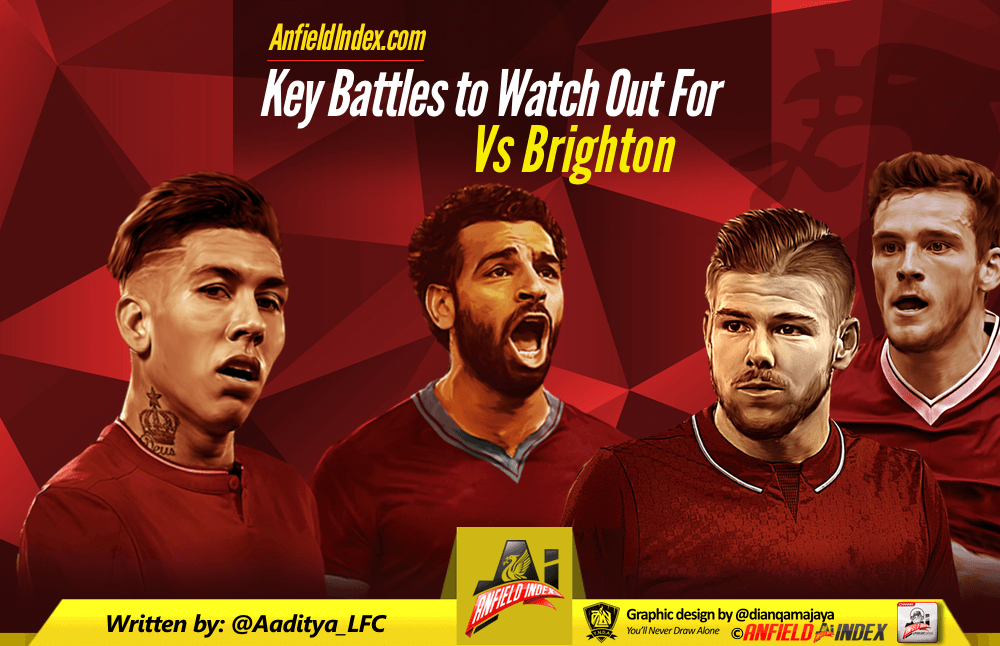 Brighton vs Liverpool Preview - Key Battles
After letting two leads slip at the death in two straight games against Sevilla and Chelsea, Liverpool got two late goals of their own to embellish a 3-0 win on a stereotypical "cold, Wednesday night in Stoke". Mo Salah continued his fantastic form with two more goals, and Jurgen Klopp also managed to rest Philippe Coutinho altogether as the rotation of the squad continued.
But there are no breaks in December, and next up on Saturday is a trip to the Amex Stadium to face Brighton. Brighton's recent form has been very encouraging and last weekend, they were very unlucky not to get a single point out of their visit to Old Trafford.
Chris Hughton's side have shown that they are strong defensively, but with Liverpool's front players all looking in reasonable form, this will be a huge test for the Seagulls.

Here are the key individual battles that will decide the outcome of the game.
GAETAN BONG v MOHAMED SALAH
17 goals in 21 appearances. This settling into a new league business has not been for the King of Egypt, who has hit the ground flying, right from the outset. Salah had only 25 minutes of action in Stoke, which means he will probably be on the pitch from the start on Saturday.
Bong has made headlines recently for an unpunished kick on him by Lukaku, but he has been an integral part of a Brighton defense that, to say the least, has made itself difficult to breach. Bong will face a huge challenge in the form of the Premier League's top scorer.
Although Brighton have been strong defensively, they aren't exactly the fastest at the back, and that could be a disadvantage for them against Salah. Bong generally tries to get forward and support Jose Izquierdo or Solly March in front of him, but in this game, he might well have to shelve that aspect of his game.
Salah should start on the right flank, considering Alex Oxlade-Chamberlain could sit this one out, in accordance with Klopp's rotation policy so far.
Liverpool might start Trent Alexander-Arnold on Saturday, given Joe Gomez has already played two games in four days, so Salah will have a more tangible presence as attacking support than if Gomez had played.
So it is going to be a challenge for Bong and whoever starts ahead of him. It might just be about striking a balance and ensuring that they don't drop too deep too early, just because of the fear that Salah has generated in most Premier League defenses.
LEWIS DUNK v ROBERTO FIRMINO
The pressing from Firmino has visibly been more intense in his last few appearances for the Reds. Whether that is down to just being fresher given that he is being rested for a few games, or just a change in instructions, is an interesting question.
But there is no question that when Firmino plays with that intensity, he makes this side tick. Dunk has been one of the revelations this season, and his ability to play out of the back is something that has gone under the radar.
With Dunk being comfortable with the ball at his feet, it is important that he doesn't get carried away and dwell on the ball for too long because one can be assured that Firmino will pounce on any loose touch or lapse in concentration.
Firmino had a mixed game against Stoke, with some of his touches and link-up play with Dominic Solanke showing that touch of class that he has. But he was also wasteful in possession and guilty of trying to be a little too cute for anyone's liking.
With the firepower around him, and given the system, Firmino doesn't necessarily have to be the goalscorer for Liverpool, but it is a role that he has grown into, and a role that allows him to bring his strengths to the fore, without being shackled by too many other responsibilities.
ANTHONY KNOCKAERT v LIVERPOOL's LEFT-BACK
There is no debate that Knockaert will be Brighton's attacking outlet. They will sit in their compact shape, look to absorb as much pressure as they can, and look to the little winger's pace on the break.
Why I haven't put a Liverpool name in this duel is because I really think Alberto Moreno needs a rest to freshen up for Spartak and Everton in the next week, but even with all the rotation, Moreno seems to be the one man immune to it.
So if Klopp does decide to change his mind and give Andy Robertson another runout, the Scot's task is not going to be enviable.
Klopp has recently gone to a tactic that requires the full-back to be a little more conservative, and not as high up the pitch as we're used to seeing.
In the three games that Robertson has played, he really hasn't been tested too much defensively, so there is no real marker to fall back on. He has shown that when he gets forward, he can put in delicious crosses, but is he going to be as effective if he is required to be a little more conservative, and as a result, not get into those positions as often?
Robertson was part of the league's most leaky defense last term, and from what little we've seen this term, he could be vulnerable when one-on-one against a winger.
And Knockaert has shown enough that he can isolate a full-back and beat him with his pace and trickery. It has helped Knockaert that Glenn Murray's poaching instincts have been in full force, ensuring he always has a target to hit in the box, too.
It won't be an easy game for Liverpool, for sure. Such occasions against the Premier League big boys at home are what Brighton fans have been longing for, and their team will sure be up for the fight on Saturday.