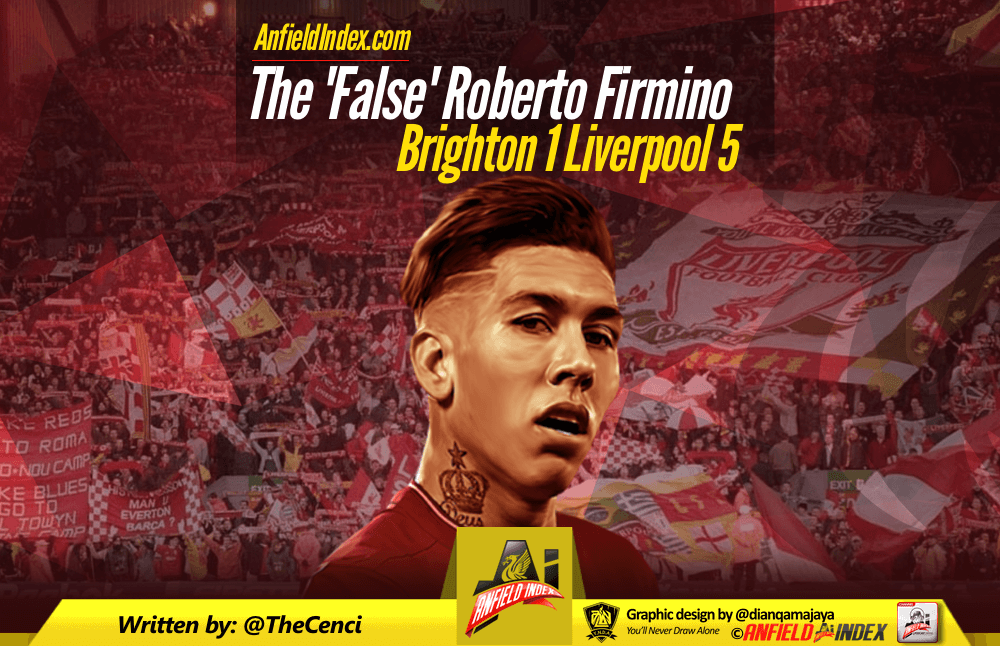 The "False" Roberto Firmino - Brighton 1 Liverpool 5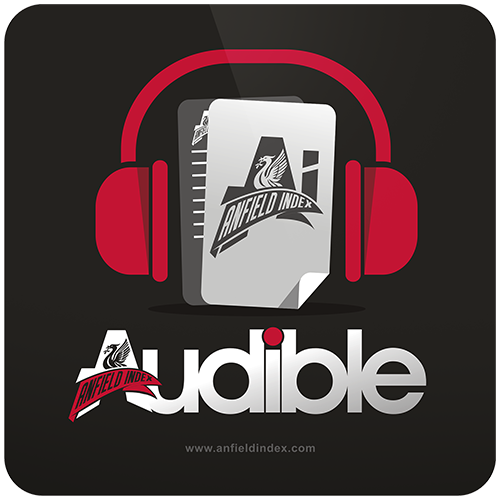 Listen to this article via @AIAudible !

There are times when supporting this team can be a chore.
I doubt there is a fan base in the world that has quite so much internal bickering than ours. The whole #lfcfamily hashtag is magnificent of irony, unless, of course, its creation is to illustrate how much families fight over the smallest thing.
Yesterday afternoon provided a similar case. When the team was announced many of us scanned the names, looking for centre-backs. It transpired that Emre was playing there, either in a two with Lovren or a three with Trent. Or something. Much head-scratching ensued.
I'm not a fan of Emre playing there, mostly for issues of pace and an inability to turn and sprint when a ball comes over his head. That's not an issue of his own making, of course. If you're a big unit like him there's very little you can do if genetics have given you such a bulky frame.
It reminds me of something Michael Owen said when asked how he felt when told he was about to face a 6' 4" centre back with the shoulders like Atlas.
'Great. He can't turn.'
For every footballing ying, there's a yang. For every ginormous Emre, there's a nippy Jermain Defoe to give him hell.
So there's nothing wrong with raising an eyebrow at that team. In some ways, that's one of the best parts of the day – trying to work out who's playing where. Jurgen likes to keep us guessing. No one has any idea about Spartak.
In the ground, there were further frowns once we were ready to kick off. That back four seemed a bit wide and Gini was playing awfully deeply. He's not, is he?
He is.
Gini is a centre back in a three.
Cue further head-scratching from the undersigned.
Of course, they were barely tested as the Reds ran riot. All they had to do was keep it from Glenn Murray and his mates and pass it to Coutinho and he did the rest. The Brazilian was in that sort of mood. At one point I thought that he was taking the piss out of their midfield just a little too much and would end up with his legs in different parts of the ground.
Come the end of the game, with Liverpool nestled in the top four once more and the delicious victorious feeling coursed through our veins, the fans went back to war.
'One in the eye for the doubters who think they know more than Klopp.'
'Hope that shuts all the moaners up once and for all.'
'These so-called fans…'
I swear I am the most placid of men and slow to get angry, but should anyone wish to see me in a murderous mood just use the term 'so-called fans' and watch me turn green, grow about seven foot tall and hurl cars about.
I read about twenty of those things and I wondered how many could remember the joy of that fourth goal or, if they were in the ground, recall walking into the Sussex night singing 'Merry Christmas, Everton.' Those brief moments when we were all pulling the same way and happy with what was in front of us. It must have lasted a full ten minutes. Ah well.
Like I said, it can be a chore at times.
It's okay to point out something that looks mad. It doesn't make you a more of a fan or, indeed, less of one.
The weird formation and choice of defenders (though that may be more of a Hobson's choice given those at the manager's disposal) was the main story from the grimly named 'AMEX Stadium' (grounds named after corporate organisations always saddens me), though another went unnoticed.
The man of the match was undoubtedly Phillipe Coutinho, mercifully with his legs in their correct place, but just below him on the undercard stood his mate, Roberto.
Roberto Firmino Barbosa de Oliveira. Actually, I might start calling him that. 'Bobby' makes my teeth itch.
I've often found him to be an odd player. For his first year here I had no idea what his best position was. Put him on the wing and you lose his work and centre back nuisance rate. Play him through the middle and you're depriving a specialist forward of his place. He was neither fish nor fowl. Just a good player who would sort of help out, but not always.
Then along came Jurgen with his fancy false nine role with two speedy lads on either side. A new player was born. With two men around him rather than him as a solo striker or the deeper of a (rare) front two, he became integral to the Liverpool cause. The goals flew in but, equally important, the work he did was paying off for his mates. Coutinho and Mane ran riot and, this season, the imperious Salah has become the league's highest story despite not being a centre-forward either. Roberto Firmino (B de O) just works in this system.
Yesterday's brace takes his Premier League total to five – one more than Kevin de Bruyne – and gives the lie to the prefix 'false' before his job title. There's nothing false about his number ninedom anymore. Roberto Firmino IS a number nine for Liverpool. He's a number nine because he plays the number nine role and scores goals. Like a number nine!
Look at his position for his first goal yesterday. A false nine would be tempted to sit deeper and bring the defenders out to him to create space behind. Instead, Roberto sprinted to back post in what John Motson once called 'the poacher's position'. Two-nil. Game over. They're only half a football team compared to the boys in red.
Incidentally, there's nothing new about the false nine. Uruguay won the first World Cup in 1930 with one when Juan Peregrino Anselmo sat deeper rather than leading the line. He scored twice in the semi-final from that position. True story.
But back to Roberto. He has six goals in Europe this season to add to his league total and 34 overall in his Liverpool career. Not bad for a player who was once without a position.
So while we're saluting Salah and Coutinho (Philippe Coutinho Correia. Not quite as impressive, is it?), let's not forget their shiny toothed friend. He's integral to what we do and how we do it.
Roberto Firmino is a number nine striker for Liverpool Football Club.
Maybe we can all agree on that.
For once.