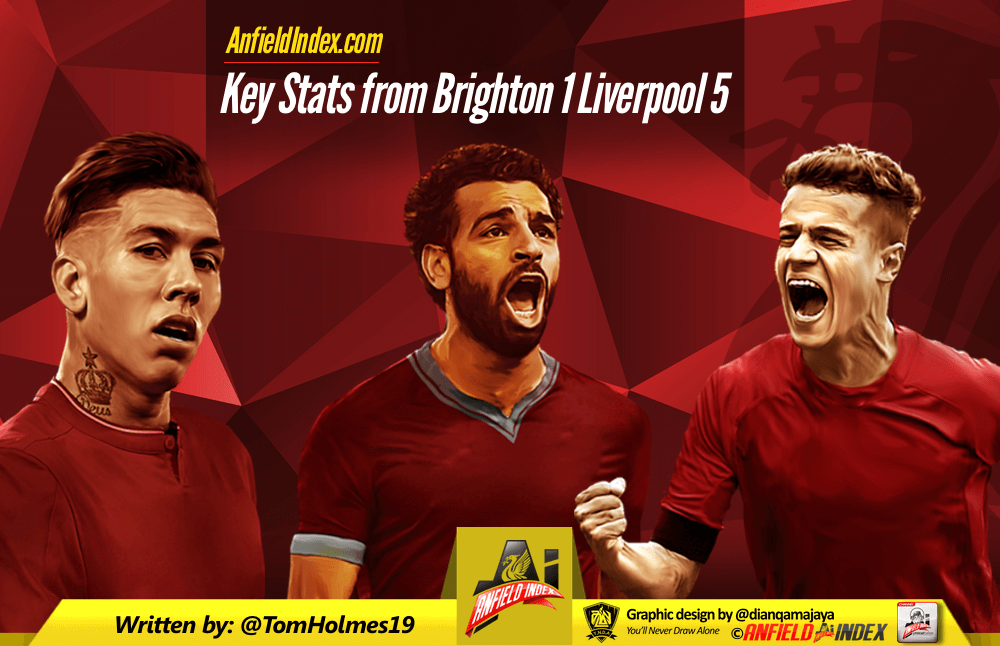 Key Stats from Brighton 1-5 Liverpool
Liverpool vs Brighton – The Key Stats
The Reds won 5-1 on the South Coast to move 4th in the Premier League, but which stats (or sets of stats), stood out for me?
Coutinho Samba
Whilst Coutinho's two main stats in this game speak for themselves – one goal and three assists – his underlying stats are exceptional too. Three chances created is very good anyway, but the fact that that culminated in an xA of 0.93 is fantastic; comfortably Coutinho's highest in the Premier League this season.

The main Coutinho stat that stood out for me though, was his dribbling. In this game, Coutinho attempted six take-ons and completed five of them. However, to add to that, Coutinho won four free-kicks. So that's ten situations where the opposition tried to take the ball off Coutinho, and in nine of those instances they failed, either seeing him drift past or bringing him down. The fact that all of these were in Brighton's half is just incredible.
The most impressive thing about these numbers, however, is that they aren't exceptional, at least not for Coutinho. Phil is averaging 2.9 key passes and 3.5 dribbles per game in the Premier League -4th highest in the division for both -, so these numbers are, at least for the little Brazilian, just another day at the office.
Counter-Attack Kings 
Liverpool scored two absolutely devastating counter-attacks against Brighton, both led by excellent breaks by Mo Salah, who despite not getting on the scoresheet, was arguably as instrumental as anyone in winning the game.
Liverpool have recently started counter-attacking more and there's no question that it's aided their great run of form. The Reds have the players to execute the counter-attack better than anyone in the league, and the stats back that up.
Liverpool have scored seven goals on the counter in the league this season after their two at the Amex. Of their 33 goals, that's a solid 21%, which is vastly more than anyone else in the league. Only Man United come even close with four of their 35 goals, with Leicester the only other team to score more than one. Even Man City only have one of their 46 registered as a counter whilst Chelsea and Arsenal haven't scored a single goal on the counter.
The fact that five of those seven have come away from home is also no surprise, given Liverpool's recent tactics away from home against the likes of West Ham, Stoke and of course at the Amex.
Can The Man
I know defensive stats aren't necessarily as good as attacking ones, but Emre Can showed he is capable of performing in a back three under Jurgen Klopp, should the need arise again. Six clearances, three interceptions, winning one tackle (and losing one but at least conceding a free-kick on that occasion), along with 5/8 aerial duels. Admittedly one of those aerial duels ended up with the ball in Brighton's net but Emre was really good nevertheless.
Corner Quirks
Just before we go then, a quick piece on corners. Liverpool had two corners in this game. Both led to chances, with Bobby heading over in the 5th minute before Can's thumping header put the Reds in front. That means Liverpool now have three Premier League goals off corners this season, as well as three goals off corners in the Champions League.
That'll be us back to being statistically average offset pieces then. Joint 6th in terms of goals scored in set pieces in the PL with five and outright 6th in terms of goals conceded from set pieces…also five. Caveat that with the fact that we're the only team to score more than one direct free-kick. And so this article ends as it started, with me pointing out that Phil Coutinho is a god damn genius.