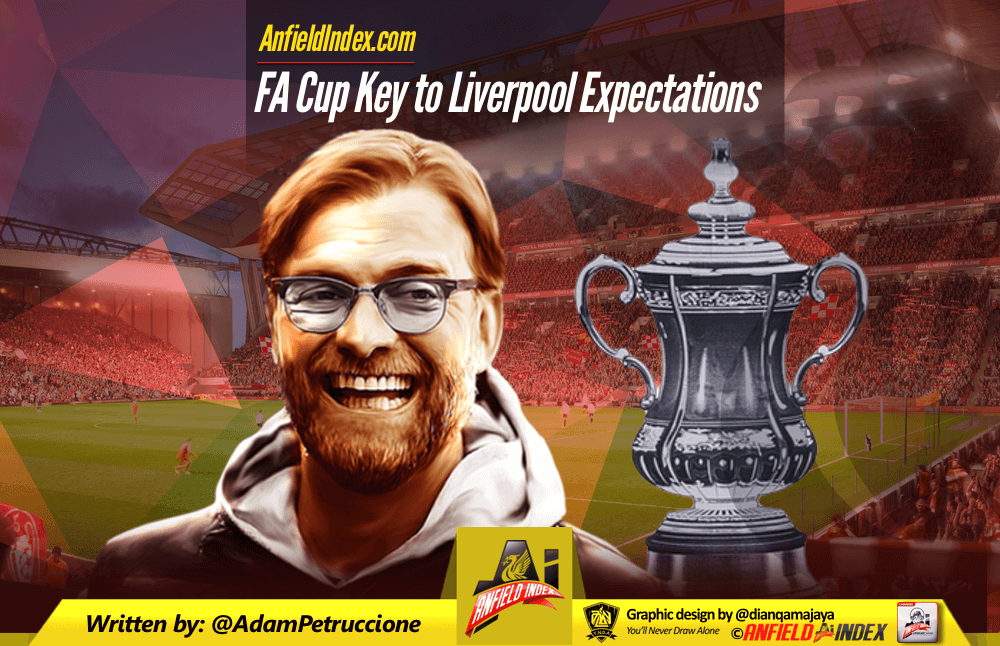 Red Reset: FA Cup Key to Liverpool Expectations
With six wins and two draws by a combined score of 25-6, Liverpool supporters can safely close the chapter on a poor run of form that ran through late September and October.
Fervent Firmino fans have joined satisfied Salah supporters in whipping out all of the stats and rubbing it in the face of anyone that ever doubted the two Liverpool forwards who did sputter at times early on.
What is true is that Roberto Firmino and Mo Salah have been in an absolutely excellent run of form that now has their overall numbers looking fantastic no matter what angle you want to dissect them from.

What is also true is that we did have that poor run of form. Hard as it is to believe now the Reds are scoring with ease, they did have a dry patch that was costly. Firmino did have a stretch of more than a month with one goal and no assists that saw Liverpool lose 1, draw 5 and win just 1. Salah's shortcomings have come more in moments rather than months and those moments now seem like distant memories.
The League Cup; gone. The League… well it's basically gone. If we defeated City at Anfield on January 14th it would take Liverpool winning 4 more than the Powder Blue's over the remainder of the season to surpass them. Basically gone.
So now that the ship really does seem to have been righted to the point where an exhibition lineup destroyed a decent Brighton side 5-1 on Saturday, what do we have in front of us to still achieve?
Wednesday night is the decisive finale to our Champions League group schedule, against Spartak Moscow, at Anfield. The good news is, the Reds are on fire. The bad news is, we seem to have picked a poor time to burn through our roster of centre-backs. Matip will miss out while Gomez and Klavan remain question marks with illness.
A win against Spartak and Liverpool finish first in their group and it's on to the knockout rounds. That would erase a few of our early season embarrassments; the two Sevilla comeback draws and the uninspiring 1-1 at Moscow. Those results don't matter anymore if Liverpool move on and top their group.
On December 11th if we've drawn Porto in the knockout rounds after just having smoked Everton on the weekend then things will be looking very bright.
What's left in the league? Top four has to be the goal again. A seven club group has separated itself out from the rest of the pack in the hunt for European positions. Liverpool, as of today, sit 4th on 29th points with Chelsea and United seeming like realistic targets while City is already out of sight.
Below Liverpool in the table is Arsenal, Spurs and Burnley. The Clarets are on 25 points, equal to Spurs, despite only scoring 14 goals. That can't continue so you don't expect a chase from them in 2018. Arsenal and Spurs are quality competitors with deep squads and a perfectly real chance to beat Liverpool to top-four positions this season. Health, luck and January additions will play the biggest roles in determining what order each finishes in.
Top-four positions aren't the most exciting thing to look forward to until you're not in them anymore. But, what else is left? Liverpool are 8/1 to win the FA Cup as of this writing.
Those odds are sure to only improve after the FA's lottery balls bounced our way, pitting relegation-threatened Everton as our third-round opponent with the actual fixtures starting on January 6th.
With the League and the League Cup gone and the Champions League probably beyond our defensive capabilities this season, the FA Cup has to be the silverware Liverpool fans hold out the most hope for. This Reds squad is deeper than it's been in a long time. It has to be up to the task of getting us through the early rounds without sacrificing the fitness of our core starters for other competitions.
Everton are still in the Premier League for now. Even so, they'll be focused on staying up, and Liverpool's "rivals" lack our depth. Combinations of our stellar U23 squad and the first team's reserves should easily roll through the Toffeemean and anything else January's FA Cup rounds bring as long as we continue to be fortunate with the matchups. That would leave three rounds, February 17th, March 17th and April 21st to reach the final at Wembley.
The FA Cup's meaning probably depends on where you are domiciled. It would be more significant for domestic supporters but for the club, its maturing players and its high profile manager, taking home the cup would be a real accomplishment.
There will be a dramatic line-up choice or two where Jurgen Klopp will have to weigh our top-four chase against our hopes for silverware. Premier League fixtures shouldn't factor in too much though with West Ham and Southampton matches surrounding the fifth round of the FA Cup while our meeting with Watford at Anfield would likely be rescheduled if we make it to the quarterfinals.
More than anything, the FA Cup will represent a clean slate. Our League Cup failure, memories of a Mané red-card and Dejan Lovren watching Harry Kane sprint and score from the seat of his pants will be far in our rearview by the time we're participating in meaningful rounds in the "most famous domestic cup competition in the world."
The talent in this Liverpool side deserves to play for silverware this season one way or another. Early stutters are not eclipsed by current form, but it does help to turn the page. As we look to what's next, beyond the expectation of a respectable run in Europe and squeaking out a top-four spot it has to be the season where we turn our focus to the FA Cup.
[20:24, 12/4/2017] Adam Petruccione: Tonight we found out where that journey starts. What better place than Anfield, against the boys from across Stanley Park?
Up the Reds.