Horses for courses
With Jurgen Klopp showing an encouraging level of pragmatism following the Spurs game, he deserves a great deal of credit. Whilst his squad is not yet at the level he would want, he is maximising what he has at his disposal.
An interesting recent tactical development is the use of the 442, arguably a precursor for things to come next season. Many have spoken about a 4231/424, but essentially Klopp used a fluid 442 against West Ham and Stoke. The 442 then morphed into something more front-loaded in certain attacking phases. The key exponent to this system has been the counter-attacking pace we now possess in spades.
The Brighton result was another lesson utilising the versatility of players in his squad.

A new dimension at Brighton
One pleasing aspect of this game was the team's coverage of width in the defensive third. Klopp achieved this using Gini and Can in defence but having tham play half-space holding roles. The passing map below, courtesy of the excellent 11Tegen11, shows this well: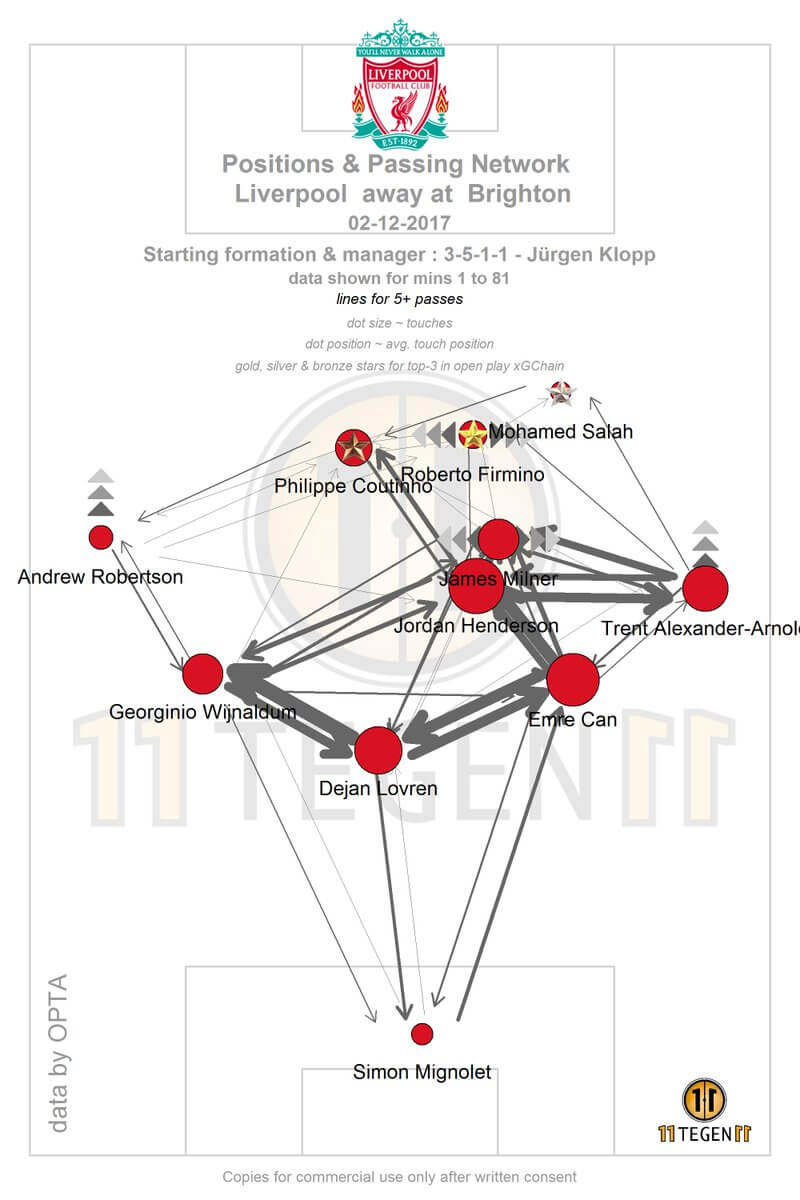 The advantage of such an approach was two-fold. Firstly, it enabled clean, quick ball transitions to both wingbacks. Secondly, it gave the holding midfielder added protection. The 3511 formation allowed effective use of spatial control. Brighton were denied regular, consistent success in their wide play, which has served them well so far this season.
Klopp showed us another dimension to his tactical toolkit, even if it was enforced. It also provides serious food for thought when we come up against more skilled teams. I am thinking of teams who use width as a key component of their attacking strategy. The back 3 formation could bode well against the likes of City and the European heavyweights. Such tests hopefully lie in wait in the Champions League knockout stages.
Perhaps the best is yet to come tactically, particularly with the impending arrival of a mercurial midfielder from Guinea.
The midfield arrival of Bundesliga's finest
Naby Keita, as most people are now aware, is an absolute force of nature. The effect he should have on our first XI cannot be underestimated; his impact on players around him should also be a joy to behold – he will raise the bar. Keita is the quintessential modern-day central midfielder; able to sit deep, defend and recycle the ball, he is also equally adept at driving forward with surging runs (both on and off the ball). He's a terrific transition player who could operate in the Gini/Can number 8 role of a 433.
However, Keita is probably best deployed in a deeper role in a 4222 as we've seen at Leipzig. Or a 442. While he possesses some play-making ability, he is better at surging forward dribbling with the ball. Naby would really excel alongside a disciplined and creative ball controller.
The biggest shame next summer is that we might lose Coutinho and Can.  They would both be terrific alongside Keita in a midfield 3, whether in a 2-1 or 1-2 pivot. There is no doubt losing Coutinho and Can in the same summer potentially leaves the squad standing still at best, in net terms, but that is a conversation for another time. All the same, Klopp will have the option of partnering Keita with a new defensive-minded playmaker (to be confirmed!). This would allow him to deploy the 4231 that proved so successful at Dortmund; certainly an exciting prospect in the evolution of this team, from top 4 challengers to regular domestic and European contenders.
On a side note, even in a poor Leipzig performance last weekend, the passing map below shows what a useful foil Keita is, for his more ball-dominant midfield partner. It shows his movement and ability to create partnerships with team mates, to enable triangular passing patterns in a "squarish" formation.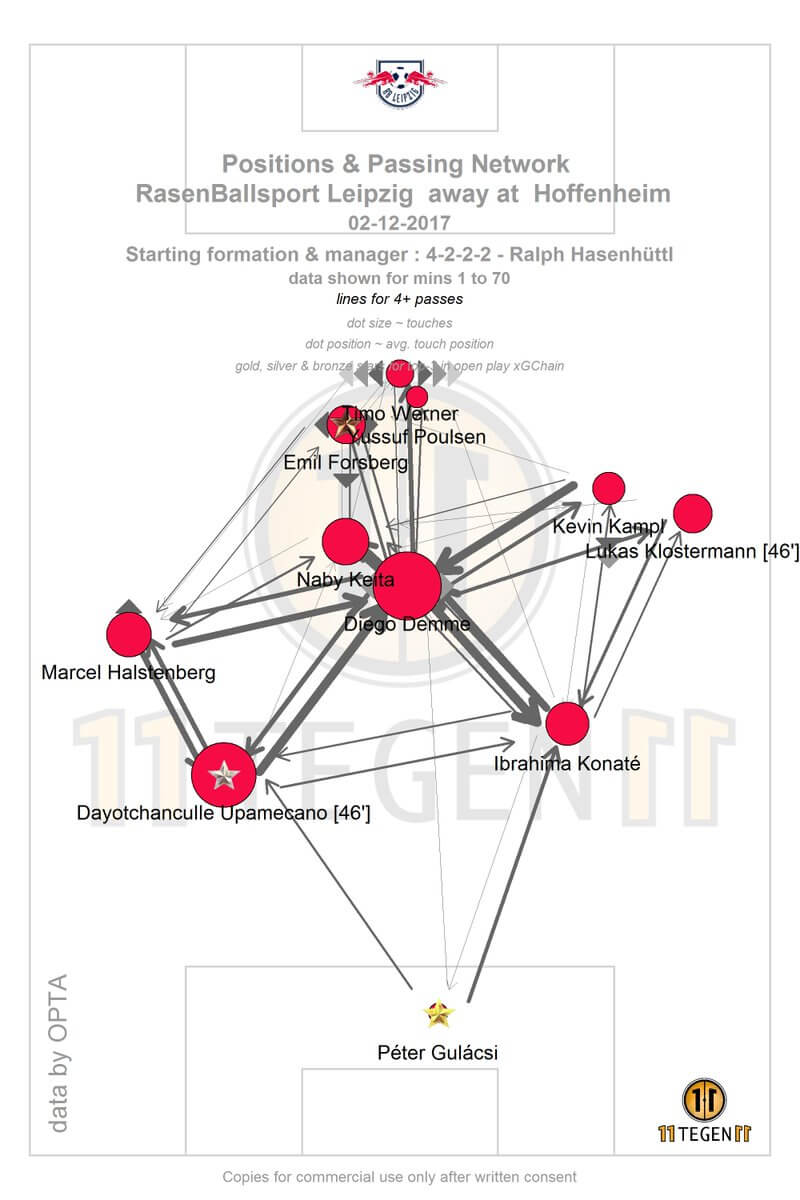 Balancing short and medium-term expectations
The failure to sign the likes of VVD and Keita last summer presents frustrations in the short term, as we see the likes of Henderson struggling in a makeshift number 6 role, for example. There is nothing wrong with the 433 formation in theoretical terms. But Klopp has had to use limited players in a total football approach. Even he would accept this has been sub-optimal at times. Klopp has recognised this and is trying to implement workable solutions on a game-by-game basis.
As his style evolves, we will perhaps come to appreciate that formation doesn't matter. It is the ability of the players to adapt to different roles and systems. This will only improve, as their tactical intelligence grows, with more training time under the German.
Our aims for the season still remain broadly the same and on-target. This team has been threatening to score with wild abandon for a while and now is. The attack is sorted it seems, long may that continue! An already immensely watchable and exciting team still has great future potential. Imagine what will be possible with a proper sweeper keeper, a dominant centre back and Keita.
We need to remember the long game and understand there will be bumps along the way. More importantly, we must enjoy the journey, as we see a young team mature and improve.