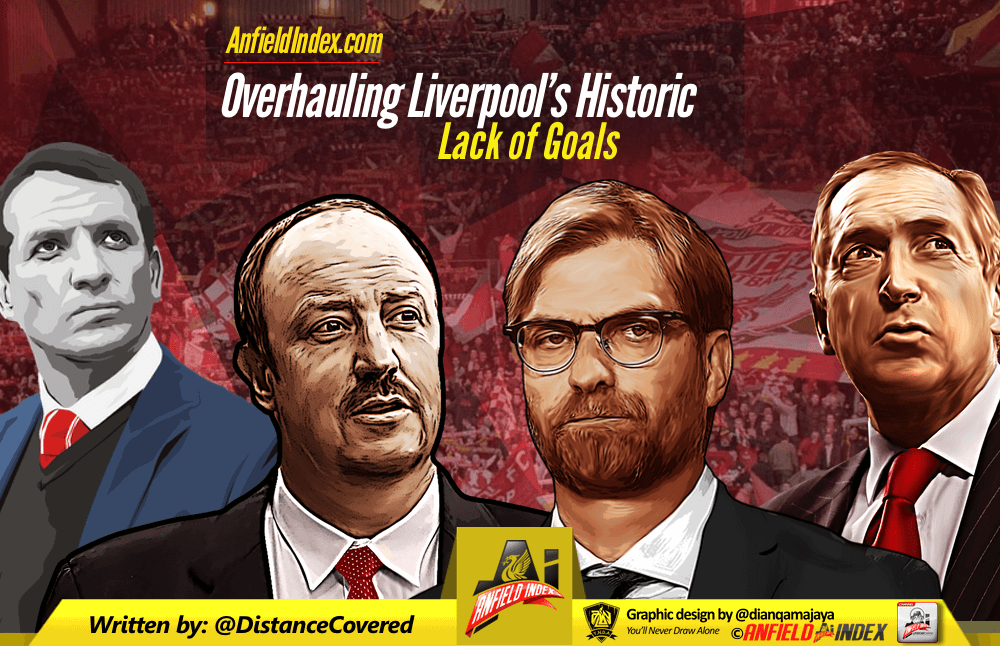 Overhauling Liverpool's Historic Lack of Goals
Over the years and certainly in the Premier League era, Liverpool fans have become accustomed to defence first football. The Liverpool of the Premier League have played football that is predominately tight, cautious, balanced and astute. There's nothing wrong with that defence first mentality, but how many league titles did it result in? None.
Arguably Liverpool's most renowned managers since '00 are Gerard Houllier and Rafa Benitez, as these two managed the club for a combined twelve years in the modern era. Benitez and Houllier subconsciously had a huge impact on the club stylistically, to the extent that a lot of modern fan perspective still originates from those days. Houllier and Benitez are similar in terms of their approach, as they're not overly attack orientated and prioritise balance and defence first and foremost, and this is what the fan-base became used to. Houllier went through a phase at Liverpool in which he had four solid centre-backs playing in his back four, almost like West Brom do in the modern day. Benitez's balance was a lot more productive, but it was always primarily a case of having a defensively risk-averse side with reliance on Torres and Gerrard to score the goals.
Jamie Carragher, a player whose career was largely shaped by the two aforementioned managers, was asked a short time ago, 'What is the Liverpool way?' and his response was 'playing with your head'. This 'Liverpool way' that we saw so regularly over the years has been somewhat dispelled by Jurgen Klopp since his arrival and rightly so. He's looked to foster an attacking and intense style of play that is largely based on goal-scoring and entertainment. Brendan Rodgers managed to do similar in 13/14, and was arguably the closest manager yet to winning a Premier League title for Liverpool.

Why Nurture Attack Over Defence?
Well, since the 99/00 Premier League season, Liverpool have finished in the top three in goals scored just THREE times. That's three times out of a possible 18. This was in 00/01, 08/09 and 13/14 – Liverpool finished 3rd, 2nd, and 2nd. In the 08/09 season, a total of 86 points was amassed, and in 13/14 that total was 84. Both those totals would typically be enough to win a Premier League title based on most campaigns in recent history, but unfortunately, Liverpool fell short.
Also, if you look at each Premier League winner since the turn of the century, their average position in terms of goals scored is around 1.5th. In addition to that, based on each Premier League season since 99/00, the team that finishes with the most goals scored roughly has a 61% chance of being crowned champion. Since 99/00, Liverpool have finished top of the league in goals scored just once, in 08/09 which resulted in a second-place finish as stated previously. When compared to Man Utd, they've finished as the league's top scorers on eight occasions over the same period and six of those times resulted in a league title.
Scoring goals is the key to Liverpool finally winning a league title, and luckily Klopp is a man of the same belief. Unfortunately though and as mentioned earlier in the article, a lot of perceptions as to how we should play relates to clean sheets and defensively shrewd play, especially considering the defensive shambles in recent years. Calls for balance are understandable and hopefully, that's still to come, but Klopp has the right idea by prioritising goal-scoring.
This season, Liverpool are currently sat 3rd in terms of goals but have scored 19 in their last six league matches. Since the Spurs defeat, Liverpool are averaging 3.2 goals per game in the league in comparison to Manchester City's 2.8 per game over the same period, and Man Utd's 2.1.
Liverpool are just two goals behind Man Utd, and in their current form they are likely to surpass their scoring rate over the busy Christmas period. If Liverpool continue this ridiculous scoring rate and focus largely on scoring as many goals as possible, things are likely to bode well for Jurgen's Reds, especially based on Premier League history.