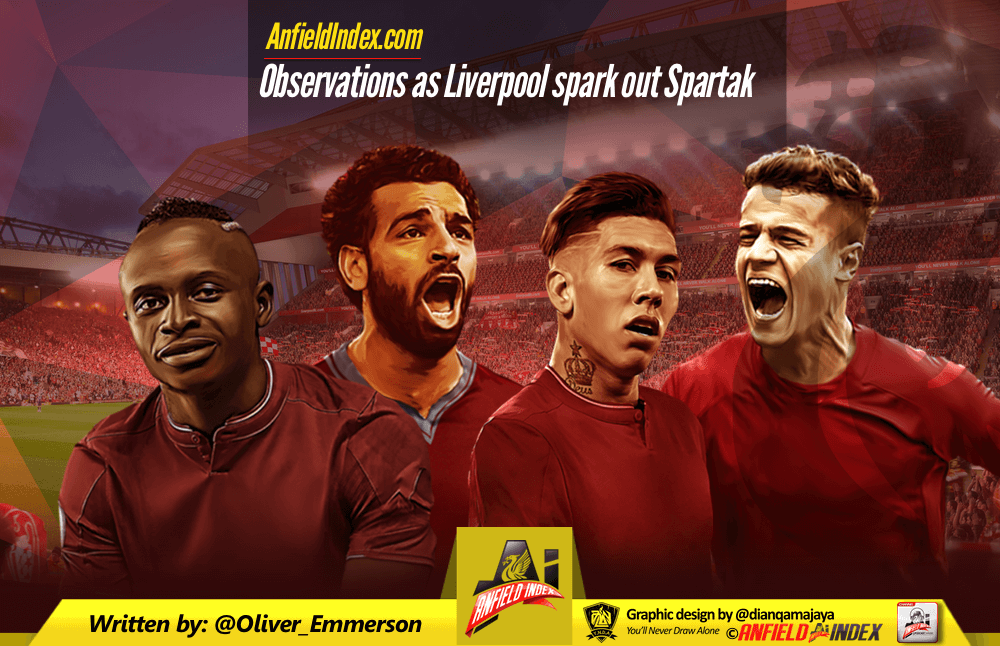 Observations as Liverpool spark out Spartak
Absolutely joyful football from Jurgen's last 16 Reds as Liverpool bounce into the knockout stages of the Champions League, top of the group and on top of the world after another devastating win. 17 goals in 7 days. Mustard.
From Coutinho's slick penalty early on to Mo Salah capping his night off with a goal, it was a perfect night that Klopp will have gone to bed dreaming of on Tuesday. On Wednesday night, will a Champions League trophy be in his dreams?
Flowing front four
4-4-1-1, Klopp called it post-match, speaking about the formation. Most Liverpool fans would have suggested it was 4-4-2 as we'd seen against West Ham and Stoke, but it was at least fairly similar, with similarly devastating results.

The defence and midfield did their jobs perfectly, but it was the front four (again) that made Liverpool tick.
Coutinho embarrassing people from the left, Mane ruthless from the right, Firmino leading the charge and Salah bringing it all together for the first six goals before adding his own with a magnificent finish.
Rarely do you see such talented attacking players in a side together in a front four, let alone four players working in the perfectly synchronised tandem that Liverpool's are.
Watch out Europe, will be the message that's blasted out of Anfield tonight, Liverpool breaking a record for the most group stage goals by an English side.
A result that was coming
Liverpool have blown off their Champions League cobweb's and finally delivered a performance fitting of the name 'Champions League'. I'm not counting Maribor, sorry lads.
Spartak aren't the best travellers but they're not mugs either, and a commanding victory such as this was one that Liverpool should have put in at home to Sevilla, then in Russia against Moscow, and then in Spain.
This time, it finally happened.
Bring on your Real Madrid (maybe)
Most people would have taken qualification tonight but Liverpool topping the group will make some difference mainly because we're avoiding PSG, who would do ruthless things to the defence. No Leo Messi, either
However, Juventus, Real Madrid or Bayern Munich could still come out of the pot in Monday's draw, tantalising opposition.
Still, they won't want to come to Anfield. Liverpool's defensive issues have been widely publicised but their attack is running riot at the moment, any mistakes capitalised upon and ruthlessly put away.
Liverpool won't want Dejan Lovren lining up against Cristiano Ronaldo, Robert Lewandowski or Paulo Dybala, but conversely, those teams will be dreading the prospect of pitting their back-line against Roberto Firmino, Philippe Coutinho, Sadio Mane and Mo Salah.
One more observation
The Reds are in the Champions League knockout's for the first time this decade.
Forza Jurgen Klopp.