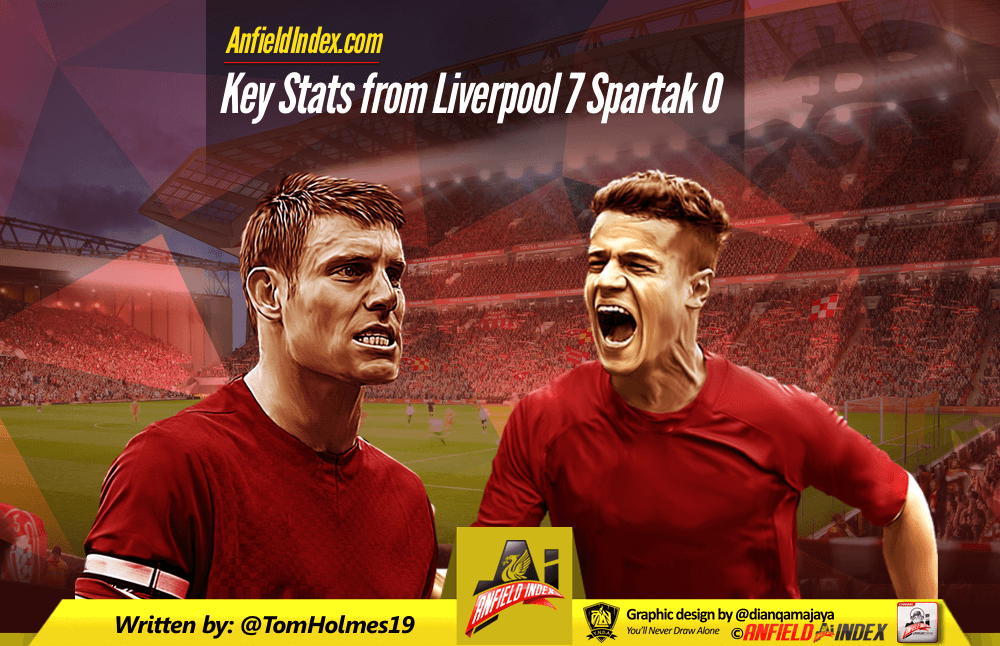 Key Stats from Liverpool 7-0 Spartak Moscow

Liverpool ran riot on a famous and record-breaking night at Anfield, putting Spartak Moscow to the sword to secure their second 7-0 win of the group stage and cruise into the Last 16 of the Champions League as group winners. So what were the key stats from the night?
Clinical Reds Don't Dominate
When I say that Liverpool didn't dominate this game, what I mean is that on paper they weren't as wholly on top of every stat as you'd expect. The Reds had just 53% of the possession, touching the ball less than a hundred times more than Spartak (763-681) and making just 59 more passes (572-513). And in terms of shots, this wasn't a 40-3 massacre like against Everton last year, with Liverpool only having 17 shots to Moscow's 13, and with just ten shots on target. 70% of those ended up in the back of the net.
None of this is to suggest that Liverpool weren't thoroughly in control of the game at every step, as they absolutely were, and the fact that they didn't dominate in terms of shots or possession suggests two things. One, that stats like xG are increasingly relevant for measuring dominance. And secondly, that the Reds' tactics were once again to counter-attack and focus on creating big chances rather than focusing on shot volume. This tactic is working.
Magical Milner's Helping Hand
With three assists in the second half, substitute James Milner became the player in the Champions League with the most assists – 5, despite racking up just 250 minutes in the competition. The man Milner displaced at the top of the assist column was, in fact, the man he replaced on the pitch – Liverpool's left-back Alberto Moreno who has three. Stats can be fun sometimes.
Another interesting thing to note here is that despite playing just 45 minutes, Milner ended up with the most key passes in the side; none of Liverpool's explosive front four created more than two chances. Sturridge, Firmino and Milner ended up with five key passes between them; and five assists. Coutinho, Salah and Mane created six chances between them; and no assists.
Goal Crazy Liverpool Enter History Books
Liverpool ended up scoring 23 goals in this Champions League group stage, a number unmatched by any English team in the history of the competition in its current iteration. Only PSG, who scored 25 this season, have ever beaten that number. Moreover, before this season only nine games in the UCL had ended up with a 7-0 win or bigger – Liverpool themselves the joint record holder with an 8-0 win over Besiktas. No team has ever won 7-0 more than once (although Bayern have won 7-0 and 7-1). The Reds not only now have done it three times, but twice in this year's competition. That's just madness.
Coutinho The Hat-Trick Hero
Phillipe Coutinho became the third Liverpool player to score a Champions League hat-trick after Michael Owen and Yossi Benayoun – Liverpool's first in ten years. It was the Brazilian's first for the club and Liverpool's first in a major competition at Anfield since Luis Suarez, over four years.
Coutinho as ever was completely at the heart of the Reds' play, with the most touches (100), second most passes (73), plus two key passes, three dribbles, four shots and of course three goals. But also, interestingly, three tackles and two interceptions, showing that Liverpool's talisman was as important off the ball as on it.