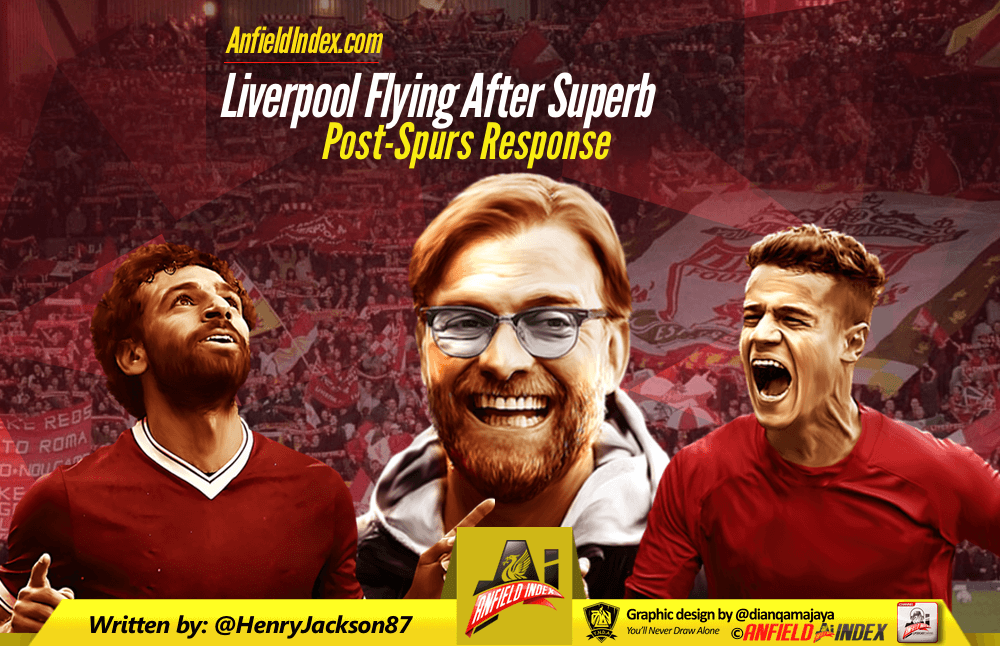 Liverpool Flying After Superb Post-Spurs Response

When the final whistle blew at Wembley Stadium on October 22nd, there was a feeling of complete and utter dejection if you were a Liverpool fan.
The Reds had been battered 4-1 by Tottenham, and on an afternoon that saw Dejan Lovren fall to pieces, Simon Mignolet make errors and the entire team show a complete lack of fight, a top-four challenge seemed unlikely.
Spurs were being tipped to be Man City's closest title challengers, while their beleaguered opponents were being lambasted for another embarrassing defensive performance.
Jurgen Klopp took endless flack after that match, from the media and supporters alike, and for the first time in his Anfield reign, he was being genuinely questioned by individuals without an agenda. The Spurs display was so worrying that you wondered where this Liverpool team was going to go next, especially with a busy run of important winter fixtures on the horizon.
In the six weeks that have passed, however, Klopp's men have responded magnificently, reigniting their campaign in stunning fashion, and playing the kind of football that will make the whole of Europe sit up and take notice.
Liverpool have played nine games since their Wembley collapse, and their record during that period makes for very happy reading.
They have won seven of those matches and drawn the other two, rising to fourth in the Premier League and reaching the Champions League knockout stage in the process.
There has been a remarkable 11-point swing with Spurs, with Mauricio Pochettino suddenly the one under a little bit of pressure, and Klopp's reputation more than in tact. Football, eh!
Thirty-two goals have been scored in the last nine outings, at an average of 3.55 per game, and there have been 4-1 and 5-1 hammerings of West Ham and Brighton in the league, respectively, and a 7-0 annihilation of Spartak Moscow on Wednesday.
Perhaps most pleasingly, only six goals have been conceded – 0.66 per game – with just two of those coming from open play. Let's not forget that Willian's fluke in the 1-1 draw at home to Chelsea was one of those, too.
Admittedly, three set-piece goals were let in during a bizarre second-half away to Sevilla, but sometimes you just have to hold your hands up and accept that the opposition raised their game to almost unplayable levels.
Given what was reportedly said at half-time by stricken manager Eduardo Berizzo, you just wonder if Sevilla's spirited fightback was meant to be, a little like Liverpool in Istanbul 12 years ago.
When you consider the negativity that surrounded the Spurs game – a result that left Liverpool wallowing in ninth place – nobody would have predicted such an impressive change in fortunes.
It is Klopp who deserves the biggest pat on the back for turning his side's season around. His Wembley press conference was arguably his most memorable and telling since his arrival at Anfield, with the 50-year-old cutting a deeply frustrated figure.
It was clear that he felt badly let down by his players – he openly criticised Lovren, which was unheard of for a manager who never airs his dirty laundry in public – and we can now look back on that day and realise that serious home truths were spoken in the dressing room.
The entire approach of Liverpool has been totally different since then, with more defensive resilience and discipline noticeable, as well as an almighty improvement in ruthlessness in front of goal.
Full-backs haven't been bombing on quite so much, the midfield has been more compact and key chances have been taken at will, instead of being wasted.
That crazy one-minute spell at Brighton last weekend summed it up, with Mignolet making an excellent stop at the one end, before Roberto Firmino fired home expertly seconds later.
The reverse was happening before, and it is testament to Klopp that such a noticeable change has occurred in a relatively short space of time.
The way Liverpool reacted to that Spurs defeat always felt like it would define this season, with the team either sinking further into its shell or rising triumphantly to reach its full potential.
Fortunately, the latter has occurred, at least for the time being, with key players hitting top gear and the side as a whole looking a far more well-oiled machine.
Having the wonderful quartet of Philippe Coutinho, Mo Salah, Sadio Mane and Firmino all available was always going to be pivotal, and on current form, there is no better attacking unit in the country.
Injuries are vital in any campaign, and if that foursome can stay injury-free, a top-four finish will be achieved and a special European adventure would not be out of the question.
Mignolet and Lovren, despite still not being good enough for Liverpool, have responded well with some solid displays, and the form of Alberto Moreno and Joe Gomez goes from strength to strength.
Ragnar Klavan has gone up a gear, Emre Can has displayed leadership, and the likes of Gini Wijnaldum and Alex Oxlade-Chamberlain have also impressed.
When it was suggested that a 4-1 defeat at Spurs in October could actually be a blessing in disguise, it was an opinion that was mocked by many.
That horrible afternoon in north west London was a huge moment in Klopp's reign, however, and a blessing it has certainly proved to be.
It made the German change certain facets of his management, put a rocket up his players and plant the seeds for a superb run of form.
It felt like Hull away in December 2013, when Brendan Rodgers' side succumbed to a pathetic 3-1 defeat, only to bounce back in style. That brilliant 2013/14 outfit clicked from that moment on.
It is still too early to predict how Liverpool's season will go from here, but with an inviting run of fixtures coming up and a first Champions League knockout game in nine years to look forward to in February, the Reds are very much on the march.
The last nine matches have been wonderful in general, and a memorable win over Everton on Sunday would make it an almost perfect 10.
Who knew harrowing defeats could be so beneficial?