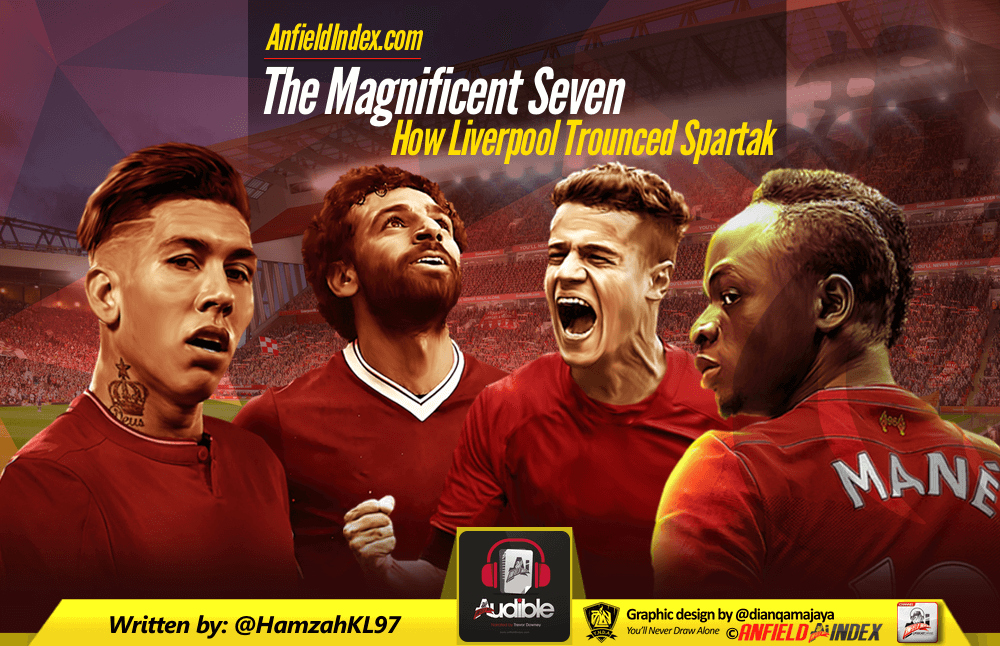 The Magnificent Seven: How Liverpool Trounced Spartak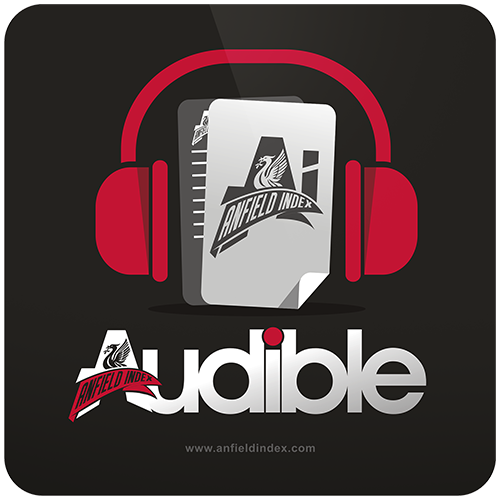 Listen to this article via @AIAudible !
Since September, in our match analyses, we've concluded more often than not that Liverpool's performances have warranted better scorelines, that the underlying performances have actually been rather good, even despite the growing discontent with Jürgen Klopp's side through October as the team struggled, with a particular low-point against Spurs, and even into November as Liverpool conceded late on to Chelsea, familiar angry voices, from last season's winter rut reemerged. After 32 goals in 9 games, I have one question for the naysaying "supporters" before we get stuck into the game itself, are you happy now? Indeed, Liverpool are now the joint-second highest scorers in Europe's top five leagues with 62 goals (joint with Manchester City), seven clear of Bayern, eight clear of Barcelona, nine clear of Real Madrid, but thirteen behind PSG.
xG map for Liverpool – Spartak. Started silly and never stopped. pic.twitter.com/vFNL69m391

— Caley Graphics (@Caley_graphics) December 7, 2017
Liverpool shaped up in what Klopp described as a 4-4-1-1, with Coutinho and Mané out wide, Can and Wijnaldum holding the midfield – and what an excellent but underappreciated job they did, and have done when playing in a two – with Firmino and Salah up top.
Passmaps & xGplot for Liverpool against Spartak Moscow. #passmap #xGplot #autotweet pic.twitter.com/FKFsSBW4eh

— 11tegen11 (@11tegen11) December 7, 2017
What then does this 4-4-1-1 offer to Liverpool? Well, when in possession, Liverpool effectively have a 3-3-4, as one of the full-backs pushes up (often Moreno, who even goes beyond the forwards at times), and the sheer number of offensive players overwhelms opposition sides. The graphic above though shows a system that is more akin to a 4-2-4, and that does reflect the impression given when Liverpool played with the ball – however without the ball, the two lines of the 4-4 was clear, with Firmino and Salah rotating or dropping from the front.
That being said, Liverpool only had 52.6pc of possession. How then did they dominate so aggressively without the ball?
Much of this comes down to the way Liverpool attacked – instead of probing at Spartak, through controlled possession and slow build-up in their half, Liverpool gave Spartak greater room to play in, as they like to do. What this did was draw out the Spartak players, and create greater spaces between each of them, as they set themselves up to retain possession, and work their way up the field. It was these spaces that Liverpool exploited, not through passing into them, but rather directly running into them.
The virtue of running into advanced spaces is that it forces opposition sides back immediately, as players desperately attempt to arrange themselves in a cohesive defensive unit, whilst also trying to adapt to an attack at speed.
Attacking in this manner, as we saw in the second goal, is no simple matter though, it's not as if Liverpool's forwards all sprinted at once, into the box. Intelligent movement is crucial to making incisive attacks, such as the ones we saw throughout the evening. The second goal exemplifies this perfectly: the point at which Mané releases his through ball to Salah, in the centre, Firmino is ahead and to the right of Salah, and Coutinho is on the left flank, but deeper than Mané.
Through occupying different horizontal and vertical positions on the pitch, there's a great deal more variance within Liverpool's passing options – for instance, if Coutinho were on the same horizontal line as Firmino when Salah receives the ball, he would likely have been picked up by a defender, or at the very least would not have been able to make the late run that he did, and would instead be in a static position, waiting for the ball.
Salah and Firmino, through being advanced, draw most of the attention away from Coutinho, whilst Salah's direct run down the centre attracts the Spartak player supposed to be watching Firmino – giving him the time and space to pick out a pass for Coutinho's late run.
Liverpool's third is the product of pace and opportunism, but also positioning, and this is where we can really credit Klopp's formation too: Mané's press and subsequent drive with the ball is of such pace that by the time the Spartak players are in a position to close him down fully, he is already at the edge of the box. Salah's pace has meant that he has lost his marker, and his mere presence, as a player targeting the far post, puts off the Spartak centre-back who handles the ball, only for Firmino – positioned as a classic poacher – to finish with aplomb.
Liverpool's fourth is similar in approach to Firmino's against Brighton. What the Liverpool forwards do is compact the Spartak line, on the ball side, with a number of players (Coutinho, Firmino and Salah) attempting runs into the box, as Milner pulls the wide man, making space inside of him, and between the centre-backs, as the full-back moves out to cover the wide player. Firmino and Salah, in particular, draw the attention of the Spartak defenders, and push them back to the six-yard box, allowing Mané to steal in, unnoticed, and unmarked, with a two-metre radius of space around him to volley home from.
Liverpool's fifth, and Coutinho's third, was less of a counter-attacking goal, but a well-worked, slick and fast passing move. The passing interplay and positioning is key here: Coutinho starts deep, out wide, with Milner hugging the touchline ahead of him, and Firmino sitting in the half-space between the Spartak defence and midfield. As the ball goes into Firmino, Coutinho starts his run, towards and eventually past where Firmino is positioned. Firmino realises this and tries to make space for Coutinho to run into, through playing the ball into Milner, and dragging his marker over towards the left-side of the box.
Coutinho exploits the channel between the full-back and centre-back, something which the team does not do enough in games where it dominates possession, because of a lack of intelligent movement, and positioning, ahead of the ball.
Liverpool's sixth is similar to the fourth, and again, it's positioning and pace which undoes Spartak. In this instance Sturridge occupies the wide position, and he holds it, allowing for Mané to slip in, as the defenders attempt to move over to take the ball from Sturridge.
There's little to be said about Liverpool's seventh that has not been touched upon, in terms of approach, already. And whilst the attention is rightly on the forwards, we should not forget the quiet but efficient work of Can and Wijnaldum in midfield, whose positioning allowed the forwards to break and flourish. Can himself has 90 touches to Wijnaldum's 64; whilst Can made 77 passes, and Wijnaldum made 53, one of which was a key pass. But it was Liverpool's direct approach on the ball that won the game, and this is reflected in the dribbling statistics, with Salah making 5 successful dribbles, Coutinho 3, and Firmino and Mané with two apiece. Liverpool were only able to dribble into space though because of a remarkable pressing and tackling effort, which enabled quick breaks. Fundamental to a press is that all players contribute, and the figures reflect this too, with Coutinho (3), Firmino (1), Can (2), Wijnaldum (2) and Mané (4) all making tackles, whilst Milner's contribution 3 tackles, 3 key passes and 3 assists was simply remarkable.
Not only did Liverpool take 17 shots, and score 41pc of them, but the team is finally beginning to play the percentages, and instead of taking a large proportion of shots from outside the box, is taking shots from areas with high xG, such as the six-yard box (12pc of all shots) and inside the 18-yard box (65pc of all shots).
What this game shows, more than anything is that Klopp certainly is getting it right, and is illustrating his and the team's tactical flexibility and ability to play in a different manner. Contrary to popular opinion, Liverpool's bad patch of form earlier on this season appears just that, with results now reflecting the performance and the quality put in by the side. The team is free-scoring, brimming with confidence and a joy to watch.
#LFC goal involvement, all comps 2017/18
Coutinho 9G 6A, every 70 mins
Salah 18G 4A, 82 mins
Mane 7G 5A, 86 mins
Firmino 12G 6A, 96 mins
Also Sturridge 3G 3A, 86 mins

— Dan Kennett (@DanKennett) December 7, 2017
For me, the game only served to underline Firmino's importance to this side, but also that he performs even better with a forward alongside him – something I hope to see more often.
But even more pleasing is to see how well the team played under pressure, when they had to win. This by no means signals the end of nervy games for Liverpool fans, but for the players, this should be an experience – like the Villareal UEL semi-final – that they should draw upon and learn from, when under the cosh.
League matches 2014/15 to current.
Non-penalty goals, non-pen XG and XG ratio.
Coutinho: 30, 21.5, 1.4
Salah: 47, 35.5, 1.32
Mane: 38, 33.0, 1.15
Firmino: 32, 30.5,
Combined: 147, 120.6, 1.22
2017/18: 24, 17.3, 1.39
This is sustainable.

— AIUnderPressure (@AIUnderPressure) December 7, 2017
When Salah, Mane, Coutinho and Firmino are on the pitch together, one of them scores every 23 minutes.

— paul joyce (@_pauljoyce) December 7, 2017
The derby poses a different problem for Liverpool though, as Allardyce will no doubt make the Everton side much more organised and difficult to break down. The question for Klopp is how will he manage the team, in terms of rotation and system, bearing in mind this is just one of a slew of oncoming fixtures. He has already confirmed Henderson will play, but the same way that this 4-4-1-1 brings the best out of Wijnaldum, it may too do the same for Henderson, so it shall be interesting to see if Klopp sticks with the 4-4-1-1, or reverts to the 4-3-3, which did so well in big games last season.
Liverpool really are flying now, but they still have ground to make up on Chelsea and United, and keeping an eye on the table now is rational, as we are soon to hit the halfway point of this Premier League season.
As always though, whilst this was a fantastic performance, and so too was the previous one against Brighton, we should be aware there's still room for improvement for the side, but also that any short-term set-backs should be regarded as such, as from what we've seen in the past two and a half seasons is steady growth, that is manifesting itself in occasionally brilliant performances; with time we should be seeing these sorts of performances more frequently.