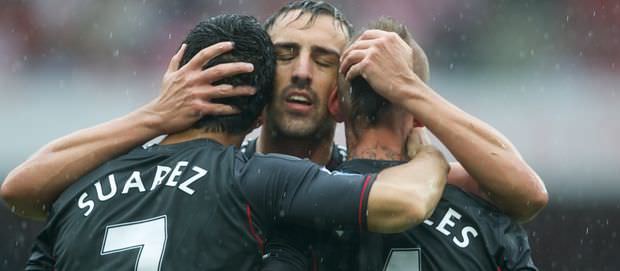 Downing & Enrique | Effectiveness Vs BWFC
The left-wing has been an area of weakness for many years at Liverpool. But that problem looks to be resolved with Jose Enrique at left-back and Stewart Downing playing ahead of him in midfield.
The pair link-up very well with each other and have settled into the starting line-up extremely well. In three league games, they've already proven why the club signed them with Enrique solid in defence and Downing excellent in attack.
They were both instrumental in today's 3-1 victory against Bolton.

First, I'll look at Jose Enrique's performance. He was up against Chris Eagles, not the toughest of opponents, but certainly would provide the Spaniard with a challenge.
Let's start with his defensive performance. He won two tackles (100% success) and four of his eight possession duels, was dribbled past once and made one clearance.
Now those numbers may not be brilliant, but that is largely down to the lack of threat from Bolton. Such was the domination of Liverpool's forwards and midfield, that the defenders had nothing to do for the majority of the match.
His passing was decent throughout as well. He managed to complete 55 of his 69 passes, but it's where those passes where aimed which makes for good reading. Enrique isn't one of these defenders that when in possession turns around and plays it five yards to his centre-back, he'll move forward and carry the ball, then give it to a player that will provide a threat. Having defenders like Enrique, who will bring the ball out of defence is vital in the modern era. With a pass completion of 87% and 46 of his 55 passes going forward, you can see the impact he has on the team's performance. His most impressive passing statistic is that his loss of possession stood at zero. Very impressive.
His crossing, while on the face of it, looks disappointing with only 2 successful crosses from 8. But sometimes stats don't tell the whole story. Anyone who watched the game will have seen the danger his crosses posed and with a bit more movement inside the area and some luck, Enrique would have come away from today's game with a couple of assists.
He is also very good at chipping balls down the line for Downing to run onto, he played two successful chipped balls this afternoon.
Not only does Enrique defend well but he loves to get forward, stepping into the final third of the pitch on 12 separate occasions and completing 14 passes in the final third. In total, he had 94 touches throughout the match, which just goes to show how he likes to get the ball and how important he could be this season.
At £6 million, we have got a top quality left-back.
Now, most people's man of the match was Stewart Downing. It was tough to pick between Stewart and Luis Suarez (no surprises there!) but today's game was probably Downing's best in a Liverpool shirt so far. He provided a directness, a lot of pace and he stretched the Bolton defence. One of Stewart's best assets is his explosiveness, he can gather the ball, take a full-back on and whip a cross in – really testing him for 90 minutes.
A pass completion of 80% with 48 of his 60 completed is very, very impressive. Of those 48 passes, 24 were completed in the final third – that's half of his passes in and around the Bolton defence. He made 20 accurate passes out to the left side of the pitch which showed how good his link-up with Enrique is. They seem to be very comfortable playing with each other, and after only 3 matches. He played one accurate flick-on and 5 accurate layoffs, proving his worth in the final third and showing how good his link-up play is. Already, in the early stages of his career at Anfield, he looks at home in a Liverpool shirt and out on that left-wing.
Unfortunately, Downing didn't score the goal that his performance warranted. He did, however, provide a constant threat down the left-wing, firing dangerous crosses in all match. Just like Enrique, with a little bit more movement inside the area, he definitely would have finished the match with an assist or two.
His shooting wasn't bad; one on target, one off and one blocked shot. His shot that forced Jussi Jaaskelainen into a save came from a wonderful cross from Suarez which was the highlight of the pair's link-up.
Both players have settled into the Liverpool squad immediately and seem very comfortable with their new teammates. With Jose Enrique's solid defending and clever attacking play and Stewart Downing's explosiveness and good link-up, the Liverpool fans may have something to smile about this season. These two players will be very important for Liverpool not just this season, but for many years.
Follow me on twitter: JackWatsonLFC