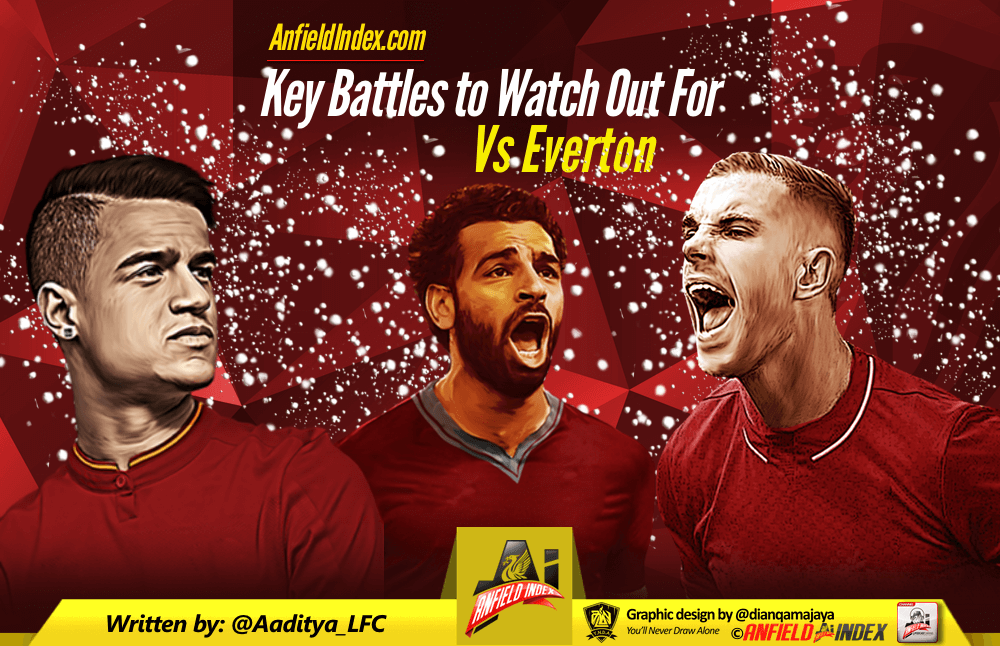 The Merseyside Derby Preview - Key Battles
After the business was taken care off in style in European competition on Wednesday, Liverpool return to Premier League action with something maybe a little more serious at stake – local bragging rights. Also, the continued singing of "Merry Christmas, Everton!" over the festive period.
There is no time to sit back and rest on the laurels of the 7-0 spanking of the Russian champions that must have made Europe take notice of the attacking force that this team is, for the Reds come up against their rejuvenated numbers, who have suddenly racked up three wins on the bounce, and have some of their confidence back, as they aim to win at Anfield for the first time since the turn of the millennium.
Sam Allardyce has gone to Everton and put his major focus on what Sam Allardyce always focuses on – keeping a clean sheet. You cannot blame him for doing that either, given that Everton have had a woeful season at the back, leaking goals at will, and committing schoolboy errors.

For Liverpool, the rotation is sure to continue, given that most of the team that started against Spartak Moscow also started against Brighton last weekend. Skipper Jordan Henderson is likely to come back into the side, but perhaps the biggest dilemma for Klopp will be at the left-back position, with Alberto Moreno all but ruled out. Does Klopp continue to trust his man from last season, or does Klopp finally throw his new signing in a big game?
Here are the key individual battles that could decide the outcome of the game:
Note: This is possibly the most uncertain I have been as an author of this particular weekly feature, given the nature of Klopp's rotation so far. I will stick my neck out and say that the crazy German might well decide to bench all the three Liverpool players that I have mentioned below. 
PHILIPPE COUTINHO v JONJOE KENNY
Coutinho needed the derby back in April to find his mojo back for the Reds, and it was from there that he built his form to push the Reds through to a top 4 finish last season. He ran the show that day, running rings around the unfortunate Matthew Pennington, who was thrown in for a game of this magnitude for the first time in his life.
On Sunday, if he starts, Coutinho will face another youngster from Everton's youth system, the conveyor belt that seems to be in perfect condition, with players progressing to the first team.
Kenny has had his share of shaky moments this season, but for a youngster playing in a side as devoid of confidence as the Blues have been, it hasn't been an easy initiation into life in the big time for him.
But with barely any other options available to Allardyce, the young man will have the unenviable task of facing a little magician at the peak of his powers.
Brighton and Spartak felt the full brunt of that wand that is at Coutinho's feet, and not many inside Anfield would complain if that is the case again on Sunday.
Somehow, contrary to all popular beliefs at the start of the season, Coutinho's best performances so far have come when he has started on the left flank, and not when he has played in midfield, where he has tended to go missing occasionally.
More of the same will be the only message from Klopp to his talisman, who is no doubt waiting to heap misery on the neighbours, and with the other three front players in scintillating form as well, even the best-laid Allardyce trap might be found wanting in the face of the talent, the speed, the decisiveness and the conviction of our front four. The glue that ties the front four together is definitely Coutinho, and another goal in what could possibly be his last Anfield derby would be a nice way to send Liverpool into the festive season with joy.
JORDAN HENDERSON v WAYNE ROONEY
The Liverpool player in question in the individual duel with Rooney could be either the centre-back or the defensive midfielder. That is because Rooney will never stay static, and he will not play on the shoulder of the last defender. Rooney will look to operate in the lines in between the midfield and the defense, and with the way Liverpool are set up, that could be a way to exploit any potential weaknesses.
Henderson is expected to come back into the side and play that role at the base of the midfield, and it will definitely be his duty to mop up any ball that comes into space, and ensure no harm is done.
Enough has been said about his conservative passing and inability to take risks, but a far bigger concern with Henderson is what he offers without the ball. He goes on the mindless bouts of pressing where he is not pressing effectively, and in the process, leaving a gaping hole in midfield. Those holes in midfield are what Rooney will thrive on. You can even say that Rooney is intelligent enough to be patient enough to allow Henderson to leave those gaps.
Even when Liverpool are in their defensive shape, Henderson's positioning is sometimes atrocious, another criminal offence to commit, when there is someone of the calibre of Rooney waiting to pounce.
This is a massive game for the Liverpool captain. There has been enough said about the Reds' ability to win big when he is absent in midfield. So there can be no better time than a big derby to prove that he can still perform at desirable levels, even though the season so far has been a largely disastrous one.
MOHAMED SALAH v EVERTON
Right–wing or left-wing in a 4-3-3? Centre-forward in a 4-4-2? The right-sided attacker in a 3-4-3? Centre-forward in a 4-3-3? You name an attacking role, and Salah has played that role for Liverpool at some point during the course of the season so far.
He has 18 goals already this season, and there are no signs of stopping anytime soon. The Everton defence is not one that is exactly blessed with quick movers, and that could be fatal against him in this kind of form.
Where Ashley Williams and Phil Jagielka lack in speed of foot, they generally make up for with speed of mind, but against someone like Salah, the margin for error is minuscule because a split second is a difference between a perfectly-timed challenge and a foul or him beating you.
It has helped Salah in the last two games that some of the goalscoring load has been taken off him. The two Brazilian boys have come to the forefront again, and it looks like Sadio Mane has finally got a stop-start season well and truly underway.
This is Salah's first ever Merseyside Derby, so it will be a new experience for him, but he is no stranger to these big contests, having been a part of the Rome Derby in the past few seasons. So the passion and excitement of a local rivalry won't be new. Neither is the prospect of being able to smash another mid-table side this season.
For Salah in November, one goal a game never quite seemed enough. We'll have that on Sunday, Mo, we definitely will. For bragging rights, for three points, and most importantly, for "Merry Christmas, Everton!"