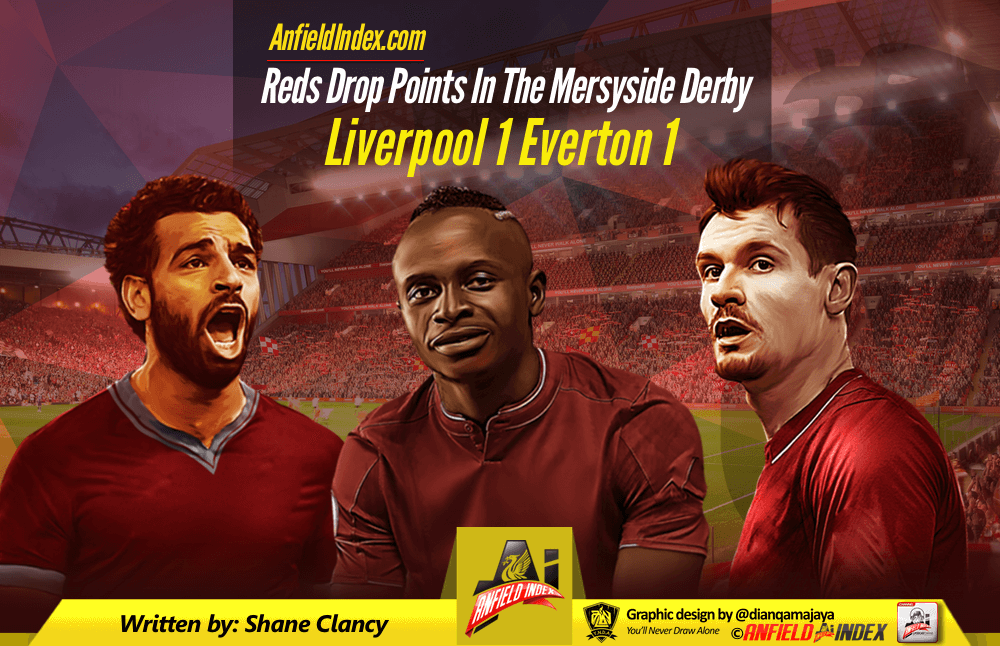 Liverpool 1-1 Everton - Reds drop points in the Derby

Mo Salah scored a brilliant goal, and Wayne Rooney equalised from the spot as Liverpool were held to a frustrating and slightly unfair 1-1 draw in a tense, hard-fought Merseyside Derby.
Tactically speaking, Everton will have been largely happy to sit back and let Liverpool control the game. And whilst the Reds did clearly dictate, dominating possession and having all of the chances, Everton largely frustrated them.
That's not to say that Liverpool didn't have chances, with James Milner having a shot blocked, Mane slipping whilst in a great position and Solanke's shot on the turn inside the box also bouncing off an Everton defender. But with Everton sitting deep and getting behind the ball, it looked like the sort of game where Liverpool would need a moment of magic.
And a moment of magic they got, as Mo Salah lit up the Merseyside Derby. Picking the ball up in the right channel, Salah outmuscled the hapless Cuco Martina, turned and slalomed brilliantly past Idrissa Gueye before firing into the top corner from a tough angle. Another sensational moment from Liverpool's, and the Premier League's top goalscorer.
And despite Salah's goal coming late in the half, the Reds should have scored a second before the break, with Mane brilliantly running clear, only to selfishly shoot wide on his left foot with three players to his right begging for a tap-in.
And Liverpool, despite an Everton double change at halftime, should have moved two clear after the break as well, with Salah on the end of a brilliant cross from Milner, but unable to direct his admittedly difficult header into the corner of the net.
Liverpool continued to dominate as the half wore on, with Lovren and Mane nearly beneficiaries of brilliant crossing from the right flank and Gomez heading over after an excellent free-kick from Salah.
But Liverpool suffered from missed chances and Everton took advantage of some poor refereeing, as Calvert-Lewin fell over under pressure from Lovren, and Wayne Rooney dispatched the resulting spot-kick.
Liverpool's frustration went from bad to worse as the game ticked on, as Phil Coutinho came off the bench to rattle a brilliant free-kick into the arms of Pickford, and then produced a great corner that was headed over by Lovren.
Overall, it was a really infuriating result for Liverpool, as this was a game that was there for the taking. But ultimately, it was another example of luck just not going Liverpool's way, and they have to settle for 4th place, on a weekend where Chelsea and Arsenal both gifted them an opportunity.