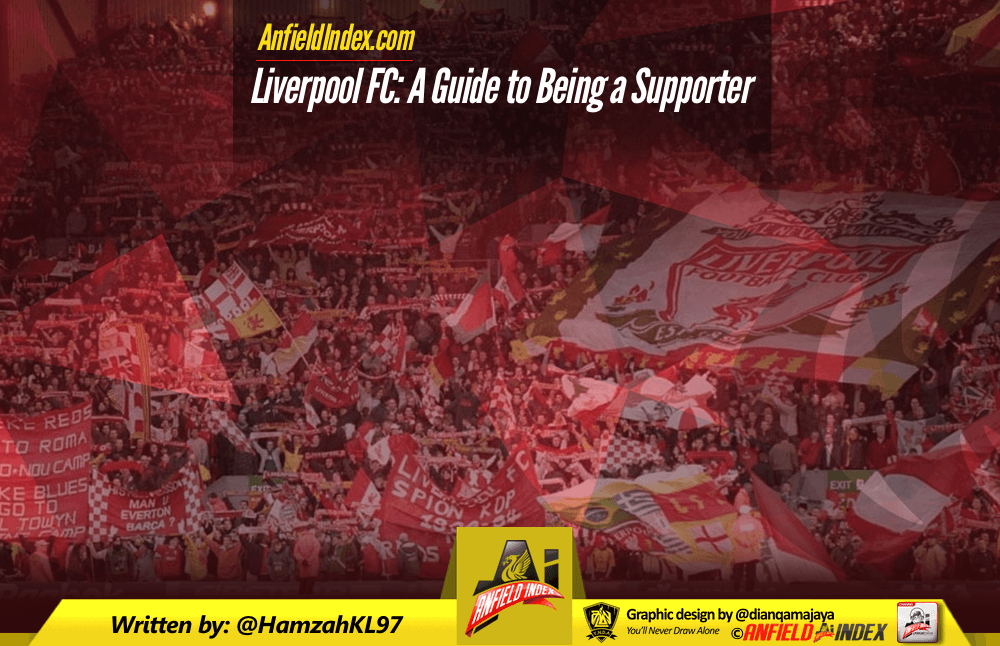 Liverpool FC: A Guide to Being a Supporter
I start this piece knowing full well I am standing against the strongest of currents. Here I am, in my privileged position, as a writer and as someone who is fortunate enough to go to Liverpool and watch my team play, dictating how to support my/your/our team, Liverpool Football Club.
It's a strange position to find myself in, and I feel we must at least explain how we have got to this point, where it's harder to discern between fellow Liverpool 'supporters' and their ardent, militant factions than it is between Liverpool fans and those who support another team. In other words, I can't tell if followers of Liverpool FC really support the club at all.
We have an especially large contingent of FSG Out people, a sizeable Klopp Out following, and then there's the anti-Lovren/Henderson/Moreno/Wijnaldum/Mignolet/Milner/Sturridge etc. groups that can't even get behind the team before kick-off.

This sounds like Brexiter rhetoric – but unlike leaving the European Union to pursue overseas trade, resecuring sovereignty rights and all of those familiar tropes – supporting a football club is precisely about supporting.
Yes, supporting.
The act of backing your team, players and manager. I remember back when I was in primary school, and those Monday mornings following a Liverpool defeat. I'd go in, and get an earful from the Arsenal, United and Chelsea fans. But unlike the armchair social-media supporters of today, I wouldn't stick my knife in the team.
Here's a typical exchange:
"Liverpool are shit."

"Still better than Arsenal."
It was a complete lie. Arsenal had Henry and Viera. Liverpool had absolutely nothing on Arsenal back then, but the way I understood it then, and still do now, was that I don't go out and slate my team, precisely because they're my team. Supporting a football club isn't like a job, you don't have to back one. And if you don't back one, and just moan about one side, that doesn't make you a supporter, that just makes you a moaner, who watches Liverpool.
What then is a supporter or a good supporter? How do you know if you're a Liverpool supporter? Well, I have one surefire test that will absolutely let you know if you're a supporter or not.
If you've ever uttered the words, "I hope Liverpool lose today", you're not a supporter. And as far as I'm concerned, at this point, you can close this article, pick up a Manchester United scarf and complain about Lukaku's finishing, the Moyes era, José's new haircut, or whatever hot topic there is for Manchester United fans.
If you haven't uttered those words, congratulations, you've met the bare minimum standard for calling yourself a supporter. But you're by no means out of the woods yet.
Before we continue, I'd like to make something clear. Supporting your club is not about how much money you pay, how much time you spend commenting on articles, or reading about the club, 'liking' posts on the LFC Facebook page, or even watching every single minute of every match. It's simply about backing your club, and backing the team when they step out onto the pitch.
There's barely a game when the Liverpool team is announced prior to kick-off, and Liverpool Twitter is not up in arms about selection.
Even during the game, Liverpool followers will be abusing and criticising players, on social media, or at the game.
And I've never seen a reaction to a draw or defeat that is anything but fickle, volatile, excessive, and abusive.
Liverpool drew against Everton, having controlled the game, and wasted two very good chances to put the lead up to 3-0. But the full 90-minute experience is thrown out of the window, as the referee gave a contentious decision, for an Everton penalty.
Instead of taking the draw, as a draw. Liverpool Twitter was in an uproar. How dare the mighty Liverpool drop points again? We must go and abuse our centre-back Dejan Lovren, and make threats to him and his family!
What?
Death threats?
Again?
I'm afraid you guys have got it all wrong.
When a player pulls on the Liverpool jersey, you support them. No matter how great or how poor their performance is, you back them unless they disrespect that jersey. Dejan Lovren is a prime example of a player who has struggled, and to most people, looks as if he simply is not good enough to play for Liverpool. And that judgement may or may not be right. But a player's quality is irrelevant to a real fan, once the player pulls on the jersey. Once they're on the pitch, I know that we should want them to play to the best of their ability, and to help the team. But the modern Liverpool fan wants anything but that. More important than a victory is being proven right.
A player can make an error, and the first thing you'll hear is, 'I told you he's rubbish!'.
Whoopee-do! Want a gold star? Shall I write a letter to Peter Moore and John Henry detailing all the times this individual has said something and they've seen an instance to support their case?
The same goes for Simon Mignolet, who recently let in an absolute clanger against Arsenal. It's a bad mistake, a really bad one, and costly too. He has not been close to the signing we had hoped he would be. But if you're the sort of melt who replies to his Christmas message on Twitter about not playing for Liverpool again, or hoping he gets injured, you can piss off. Club captain Jordan Henderson receives this vitriol constantly, with supposed fans cheering his injuries or hoping he's sidelined for a long period of time. Rival fans don't even do this sort of nonsense, but so-called Liverpool "supporters" are ecstatic to jump onto Twitter and spew stupid abuse and criticism at players. It's utterly bewildering to me, and I would imagine it is for most people too.
But before we go further, we have to establish something absolutely fundamental. Football is a sport. In short, there are winners and losers, and teams that are not quite either. (Don't recite that Shankly quote about first place to me, because we all know it's hyperbole.)
Anyway, in sport, a team cannot always win. Teams drop points. If a team does not drop points, then they would win the league, the cups, and absolutely everything else. But this is not Football Manager or FIFA; teams don't go out and win every single game 9-0.
But that's sport in general: football is even more ridiculous. When looking at why a team did not win, there are variables absolutely everywhere – individual performances, team performances, opposition tactics, the managers, the referee, the sideline officials and so on. Football is unlike tennis and snooker, in which a single player faces off against another, and, in most cases, the better player on the day wins. Football is geared around key moments, decisions, luck and all of the individual characteristics, skills and challenges that make up one versus one games like snooker or tennis.
The modern Liverpool followers though, they don't just want it two ways, they want three or four. It's worse than Katy Perry's Hot n Cold:
Karius out. Mignolet in. Mignolet out. Karius in. Karius out. Ward in.
'Lovren out.' 'Gomez in.' 'Gomez out.' 'Use Klavan, what did we sign him for!' 'Klavan is useless, what did we sign him for!' 'Let us be shot of Klavan, Gomez, and Lovren!' Proceed to complain about a player previously demanded out not being selected.
'Henderson out. Anyone in.'
'The club doesn't spend money! We need a new centre-back!' *Liverpool purchase Van Dijk* 'The club spent too much money!'
'Klopp out' one moment. Klopp is the 'best manager in the league' the next.
'Liverpool are awful, and will never win the league with this team' one day. Then, 'Why did we draw to West Brom? This will cost us the league!' the next.
'Why are we rotating?' on Tuesday. 'Raymond the egg told me, Klopp's training gets Liverpool players injured', on Friday.
This isn't to say you can't be annoyed when the team plays poorly or drops points. Well, knowing the people that often read my pieces, I'm fairly confident most of you are just as, if not more impassioned than I am. But I'm also fairly sure you're of the ilk that doesn't go out and abuse players online or create accounts calling for the manager's sacking, or anonymous abusive accounts detailing some sort of contrived conspiracy and agenda. There's nothing wrong with having an opinion, but having an opinion is one thing, delivering it in a caustic and malevolent way is another. Not only are you bringing disrepute on yourself, but the club as a whole.
The point is though, it's time for Liverpool fans to get back some decorum and self-respect. It was only a few years ago that laughing at Arsenal Fan TV and their explosive, reactionary, populist videos was the norm, but Liverpool fans, and football fans, in general, have degenerated into a cesspit of toxic opinions, with a battle for the most vitriolic and sensationalist take now the most sought after.
What happened to the proud Liverpool fanbase and family? It has now become one that before kick-off that simply mouths the words to You'll Never Walk Alone, with no regard for the lyrics themselves, or the heart behind them.
If there was evidence that the club was in terminal decline under the ownership, management or because of players, I would begin to understand some of the criticism they get. But the criticism is not only disproportionate, it is completely unfounded, and counter to the reality of what we are seeing right before us. Liverpool have gone forward under Klopp's leadership, and appear to keep doing so at a promising rate.
Liverpool's owners started well, through managing the financial troubles the club found itself in, then appeared to cut corners, and trying to away with spending as little as possible – however, now it looks as if they've realised the demands of running a top Premier League club with ambitions.
Liverpool had a number of players in recent years that were simply sub-standard, and now have a few players that are error prone, but this does not excuse or justify the hateful and disgraceful messages they receive.
Back the team, back the players, back the manager and back the club. And if you have nowt constructive to say, or nothing conducive to the club going forward, go back to your fantasyland, and have a long hard look at yourself.