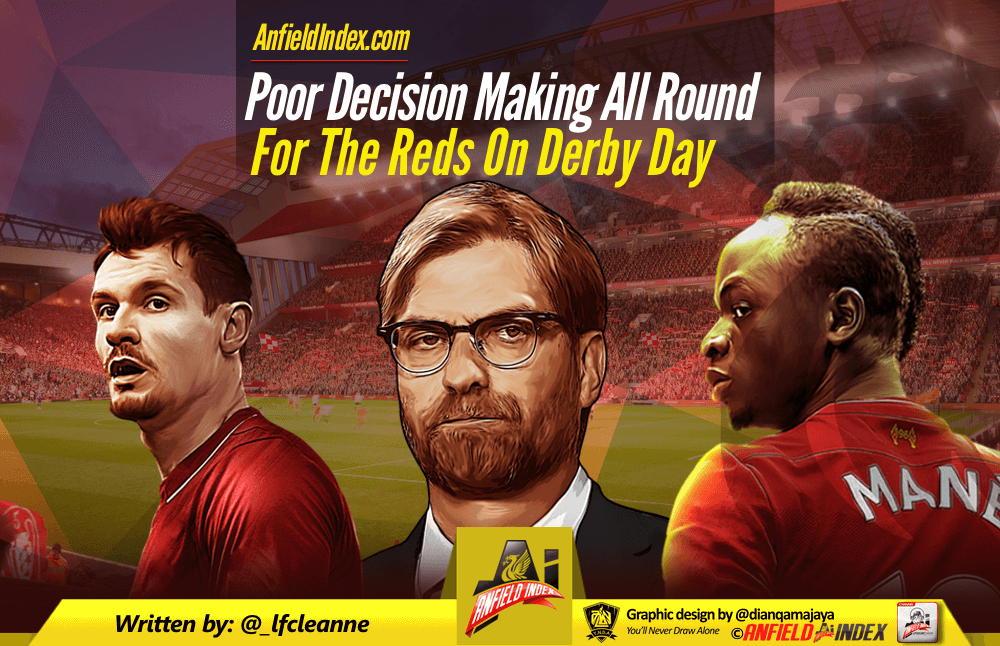 Poor Decision Making All Round For The Reds On Derby Day

79% of possession, 23 shots and 12 corners and yet somehow, Liverpool came away with just a point against The Ev.
Jurgen Klopp delivered a roll of the dice before kick-off, opting to demote Philippe Coutinho and Bobby Firmino to the bench in favour of Dominic Solanke and Oxlade-Chamberlain. A double pivot of Henderson and Milner raised some eyebrows, too. Still, there was more than enough firepower out on the field to expose a youthful looking Everton back line.
Mohamed Salah set that in motion when he banged in his 19th (and best) goal of the season, equalling his tally for the entire of 2016/17 in the Serie A. Guiding the ball into the top right-hand corner, the Egyptian international continues to steal the headlines for his barnstorming start to life on Merseyside.
However, the game was invariably decided by two big moments, neither of which fell on the side of those in red.
First was a moment of selfishness from Sadio Mane who opted to shoot (on his weaker foot at that) instead of squaring the ball to one of three unmarked teammates who had a clear sight at goal.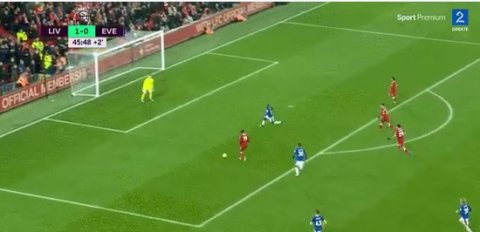 Shooting across goal with your weaker foot is far, far harder than the 2-yard pass to Chamberlain or Salah and while Mane has proved himself a talented finisher on various occasions, it was ultimately a decision that proved very costly. Should Liverpool have headed into the break 2-0 to the good, it would've more than likely been game over there and then.
Then there's the penalty; a very soft decision but one that Dejan Lovren should never have allowed the referee to make in the first place. To make contact with Calvert-Lewin when he's headed away from goal was always asking for trouble and while the Everton forward cleverly manipulates Lovren's movement to get the penalty, such a lack of awareness from the centre-back saw Liverpool squander the chance to go third in the league.
https://twitter.com/Riddock__/status/939906011615453187
Henderson chipped in with some rash decision making of his own in stoppage time, opting to try and curl one into the top bins despite being off-balance when he went to strike the ball. This wasn't the first time we've seen such hot headedness from The Reds in a game they've dominated from head to toe, either; Klopp's side have dropped 10 points this season having been in a winning position in the 70th minute.
Four of those points came against Sevilla in the Champions League, while Britos' injury time goal on the opening game of the season and a rather fortuitous goal from Willian saw Liverpool drop four other points prior to Sunday's game.
Add to that frustrating 1-1 draws with Burnley and Newcastle and there's a pattern of missed opportunities from this Liverpool side. You've got to deliver that knockout punch when you're dominating a game in the manner we did at the weekend, or it'll come back to bite you.
We can sit here and point to Klopp's starting eleven asking questions as to why he didn't field his strongest side for a game with such importance attached to it, but the reality is had Mane slotted the ball to his right or Lovren not conceded a late penalty, we'd all be praising the German for getting the points and resting key players ahead of a gruelling fixture schedule. Ultimately, the flack lies with the decision making on the pitch, not off it.
Football is a game of fine margins and two rash moments gifted Everton a point on what should've been a celebratory day for the Red folk of Merseyside. Chelsea, United and Arsenal may have all dropped points too, but this is a result that will feel like a defeat for some time.
It's no wonder Klopp almost bit the Sky Sports reporters head off…