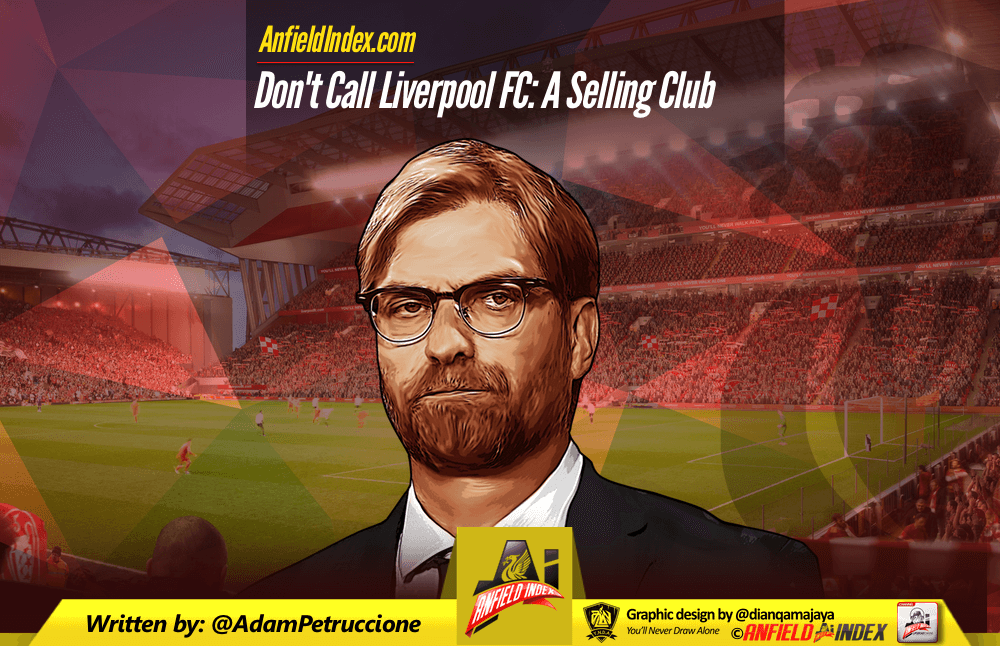 Don't Call Liverpool FC A Selling Club
Aidy Ward. At one time the name was enough to put Liverpool supporters into a cold sweat. That was remedied somewhat when he brought us Oxlade-Chamberlain from Arsenal…  But prior to that he was considered the slimiest of all of the snakes in the reptile genus for facilitating Raheem Sterling's move to Manchester City.
That dark period was 2 years and 5 months ago; the last time any Liverpool player of significance to the club was sold.  Mr. Ward was reviled at the time because it was thought that he was forcing the move rather than allowing his client to develop at the club that had given him a chance so early in his career. It was thought to be the continuation, the latest in a procession of Liverpool's best being sold off year after year.
Since that time though elite clubs like Juve sold off three and let Dani Alves go to PSG on a free. Dortmund have sold off four front-line players with several more looking to leave.  Monaco sold off four starters in just the past summer window.  Some of our European rivals, Arenal and Roma, have even sold starters to us… perish the thought.
More importantly, in the time since Raheem Sterling moved to Manchester, Liverpool have not sold a starter to anybody.
Sales of Starters By Europe's Top Clubs Post Sterling
2017 
Arsenal – Alex Oxlade-Chamberlain (Liverpool)
Dortmund – Ousmane Dembele (Barcelona)
Monaco – Kylian Mbappe (Paris SG)
Monaco – Benjamin Mendy (Manchester City)
Monaco – Tiemoue Bakayoko (Chelsea)
Monaco – Bernardo Silva (Manchester City)
Barcelona – Neymar (Paris SG)
Chelsea – Nemanja Matic (Manchester United)
Chelsea – Diego Costa (Atletico Madrid)
Spurs – Kyle Walker (Manchester City)
Juventus – Leo Bonucci (AC Milan)
Juventus – Dani Alves (Paris SG – Free)
AC Milan – Mattia DeSciglio (Juventus)
Roma – Antonio Rudiger (Chelsea)
Roma – Mo Salah (Liverpool)
Atletico – Theo Hernandez (Real Madrid)
2016
Juventus – Paul Pogba (Manchester United)
Juventus – Alvaro Morata (Real Madrid)
Dortmund – Mkhitaryan – (Manchester United)
Dortmund – Mats Hummels (Bayern)
Dortmund – Ilkay Gunogan (Manchester City)
Roma – Miralem Pjanic (Juventus)
Paris SG.- David Luiz (Chelsea)
Sevilla – G Krychowiak (Paris SG)
Sevilla – Kevin Gamiero (Atletico Madrid)
Chelsea – Oscar (SIPG China)
Atletico Madrid – Jackson Martinez – (Guangzhou)
Napoli – Gonzalo Higuain (Juventus)
How is it possible that Liverpool do not appear on the list above?  What am I missing here, because I read on Twitter that Liverpool were a selling club.  I heard that Liverpool's greedy owners only cared about pocketing piles of cash from their top stars to spend on yachts and abstract paintings… of their yachts.
Clearly that narrative, in isolation at least, is dead wrong.
If sales are in fact completed by Liverpool for key players like Suarez, Sterling or soon enough, Coutinho, they are done only because the player forces the move and even then the player is made to wait for the club to find a favorable time, a record breaking price and to make arrangements for replacement players.
The rub shouldn't be that Liverpool are a selling club, when that is plainly incorrect or at least, if they are, they have lots of company. Recruitment is the department that the Melwood team has to and does currently seem to be improving at.
The hit rate for transfers since Jurgen Klopp arrived has certainly taken an up-tick, not just on the Markovic-scale, but in comparison to our rivals.  Liverpool supporters aren't fretting over a Bakayoko or a Lindelof that hasn't met expectations like other top-six clubs.  Whether it's the scouting, coaching or coordination between the two, Liverpool seem to be adept at bringing in players that fit over the last two summers.  We just need more.
And it isn't necessarily about the spend. The question is more one of turnover.  If Liverpool's Transfer Committee 3.0 is working so well, can we push it a little harder?  Can we cycle out the Mignolets and Milners from the last regime for targeted replacements, bringing the level of talent up to a point where it wasn't as much of a shock to the system when one player does force his way out the door?
The Reds have been offloading fringe players by the bushel since Klopp's arrival, but some Rodgers era regulars have stuck around against all odds.  Many supporters would gladly take Liverpool actually being a selling club for a window if it would see the departure of the unholy triumvirate of Simon Mignolet, Dejan Lovren and Jordan Henderson.
The club currently running away with the Premier League went about their summer business with a cold professionalism that Liverpool should aspire to in terms of how complete it was.  The Reds have been great at identifying talent under Klopp, but that's only half of the game.  City did a fantastic job of self scouting, identifying where they themselves were weak and then aggressively shopped for top-class talent at those positions.  There was no trying to make due like Liverpool have with Milner at left back or moving midfielders around and hoping that they'll be able to learn new positions on the fly.
Of course, City have unlimited resources and that helps.  But again, Liverpool's transfer team has done a worthy job of bringing in players who weren't Balon d' Or candidates before they came to Merseyside like Mané and Salah.  It isn't so much the overall spending as it is being decisive in positions where we seem to take years too long to decide if current players are up to par.  If the club could find a centre-back and a defensive midfielder with the efficiency that they have shown in acquiring attacking players Liverpool will be adding trophies in no time.  The trouble is, what weaknesses will have cropped up by then? It has to occur to ownership that there are only so many years with this manager, only so many windows to get the combination right.
In a perfect world, Liverpool would be a club where no player would ever seek an exit, but as we've seen with Barcelona over the summer that status is reserved for only Real Madrid, United and City at the moment.  As Liverpool progress on the road from also-ran to European power, surely selling players at a rate less frequent than other top clubs on the continent can be tolerated.  And if Juve, Chelsea and Barca aren't considered selling clubs, then surely neither should we.
Liverpool just need to be quicker to pull the trigger on roster moves in our weakest areas. They don't sell too much. They don't need to spend more. They need to turn over the squad faster until we find a trophy winning combination. So regardless of what happens with Emre Can or Phil Coutinho going forward, don't call us a selling club, but feel free to call Liverpool a careful club for better or for worse.