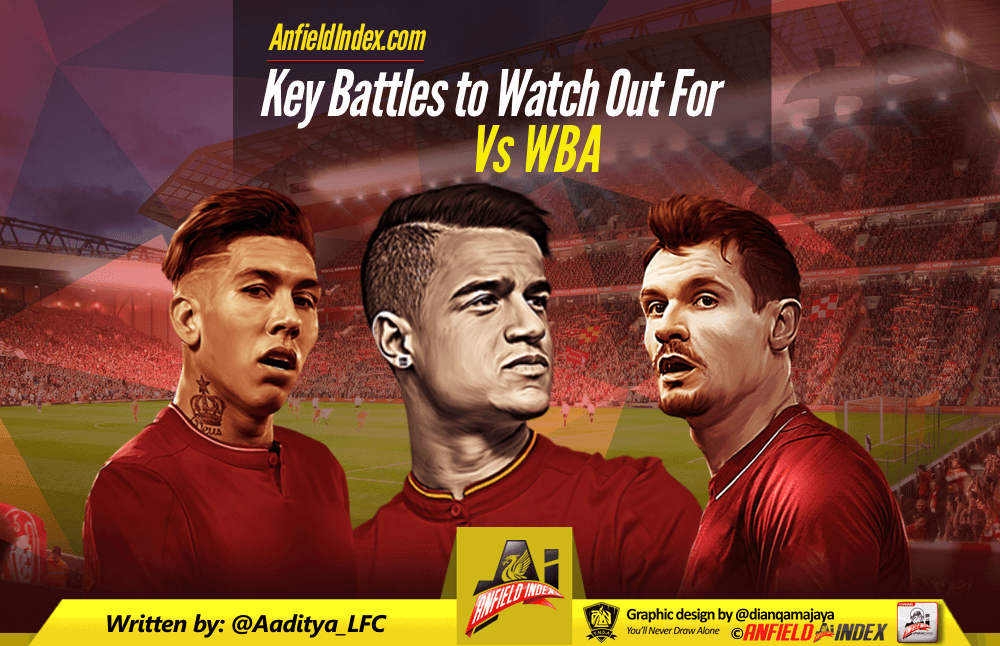 Liverpool v West Bromwich Albion Preview - Key Battles
After peppering the neighbours in the Merseyside Derby at Anfield for no reward on Sunday, Liverpool get ready to welcome another nomad Premier League manager to Anfield, as Alan Pardew brings his West Brom side to face a Reds side itching to get back to winning ways.
Jurgen Klopp knows that this is the period of the season when dreams are made or shattered, and a team like the Baggies should ideally not pose too many questions to a side of Liverpool's quality at Anfield. West Brom lost 1-0 to Swansea at the weekend, a result that lifted the Welsh side off 20th in the table, with their first win in a long time.
Compare that with the Reds, who haven't lost a game of football since that dreadful October evening at Wembley, and you should think there is only one winner in this game, but the Reds have a history of making things unnecessarily difficult and complicated.

The German is expected to continue his rotation with the squad, as the festive period well and truly sets in, with a trip to Bournemouth looming around the corner. So it will not be a surprise to see maybe Mo Salah drop to the bench, along with a few more changes in midfield.
Here are some key individual battles that could define the nature of the contest.
ROBERTO FIRMINO v AHMED HEGAZI
The engine of the side sat out the derby after putting in three spectacular shifts against Stoke, Brighton and Spartak Moscow, and he would have had enough time recharge his batteries to go again on Wednesday night.
Firmino makes this Liverpool side tick, there is no question about that, and he is just the kind of striker that West Brom would not like facing. They have big, strong defenders who are aerially strong, but none of that will matter when they are up against the Brazilian who relies on intelligent movement, and supreme technical ability to be able to get the better of defenders.
Firmino has been on the end of criticism during the course of this season, for not having enough end-product, but the numbers suggest he is not doing too badly on that count either – he's up to 12 goals in all competitions following his goal in the drubbing of Spartak.
So now, there is no real stick to be beating him with, and with the goal return becoming a lot more consistent, it is only more reason for opponents to fear the kind of impact Firmino can have on any side.
Hegazi had a flying start to life in the Premier League, but much like his team, his form too has tapered off slightly. Hegazi is a typical Tony Pulis-style centre-back and could be found wanting by the speed at which Liverpool generally like to move the ball around.
Maybe, a chat with Salah before the game to suss out the good and bad of Hegazi?
PHILIPPE COUTINHO v ALLAN NYOM
The magician got his first hat-trick for the Reds against Spartak and sat out the immediate next fixture, the derby. That, in a nutshell, has been the unpredictability of Klopp's rotation for the last one month. Much like Firmino and Hegazi, this will also be a battle of – without being disrespectful – the sophisticated against the old-fashioned.
Nyom is strong, burly and quick across the ground, but dealing with someone of the ability of Coutinho required a lot more than just physical attributes.
For Nyom, it will be important to not let his confidence levels drop all game. It is only natural that a player of Coutinho's ability will dribble past a defender a couple of times at least, but the recovery and the communication will be crucial for Nyom if West Brom are to maintain a solid shape as they did for a large part of Pulis's tenure.
Coutinho seems to be delivering his best output from the left flank, contrary to popular belief at the start of the season, but for the Reds, it is trivial where on the pitch the contribution is coming from, as long as the creative output remains the same.
The Reds have been considerably better against teams that have defended deep and absorbed pressure this season, and once again on Wednesday, Coutinho will be the man tasked with splitting the defense and making life easier for the likes of Firmino.
DEJAN LOVREN v SALOMON RONDON
Was that a penalty? Was it not? I'm of the opinion that it wasn't a penalty, but once again, it put the scanner on Lovren and the unpredictability he brings in a position where reliability is a much more important factor than being pleasing to the eye.
After three quiet games on the bounce, it would have almost felt wrong if Lovren had not made the headlines for the wrong reasons pretty soon, and there he was, albeit for little fault of his own.
Rondon recently ran Davinson Sanchez ragged at Wembley with his power and aerial ability, and that should be the plan for West Brom again. Rondon is a willing runner who will move into the channels to receive the ball. So, for West Brom, it will be important to get men up in support as quickly as they can so that Rondon is not left isolated up top.
Pardew needs goals from somewhere and looking at his no. 9 to provide inspiration wouldn't be a bad place to start. West Brom started their Pardew-era with a 0-0 draw and a 1-0 reverse to the two sides at the very bottom of the Premier League, so it's clear what their problem is.
Liverpool will likely dominate possession and maybe even the chances, but for West Brom to stay in the game, their ability to hurt Liverpool on the break is going to be as important, if not more, than their ability to absorb pressure at the back.