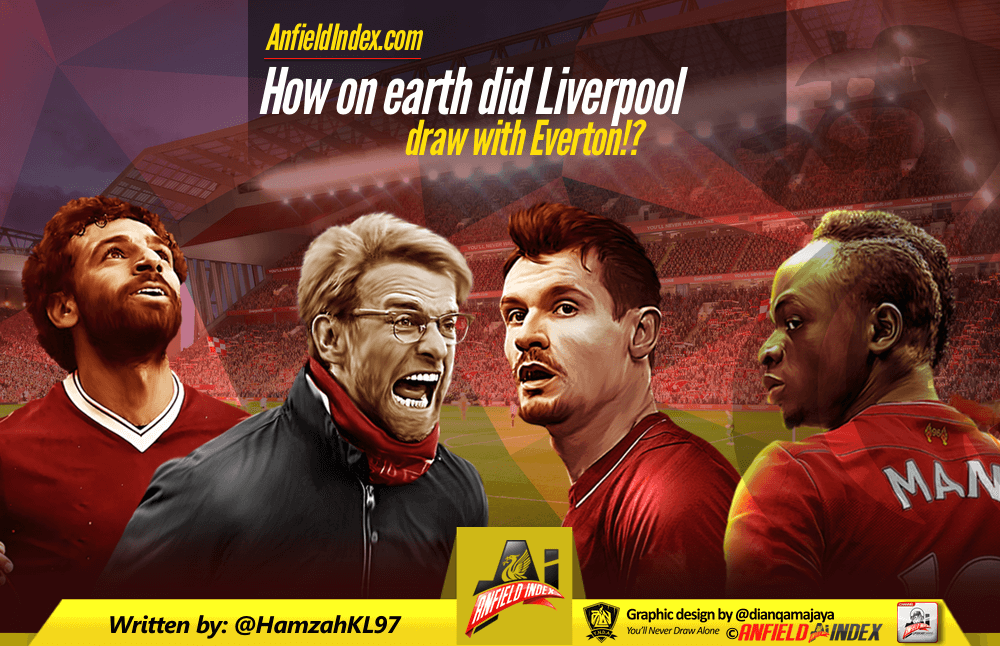 How on earth did Liverpool draw with Everton?
40 goals in the previous 11 games for Klopp's Liverpool and 18 years since Everton last won at Anfield: as the game entered the 75th minute, it appeared that wait would have to go on, until the FA Cup 3rd round fixture at least, as Liverpool were absolutely cruising.
The reflected such a reading of the game too: 79.4pc possession, 964 touches (to Everton's 384), 23 shots to 3, 88pc pass accuracy to Everton's 50pc, and 644 complete passes, to Everton's 99.
And that's before we even look at this unbelievable graphic: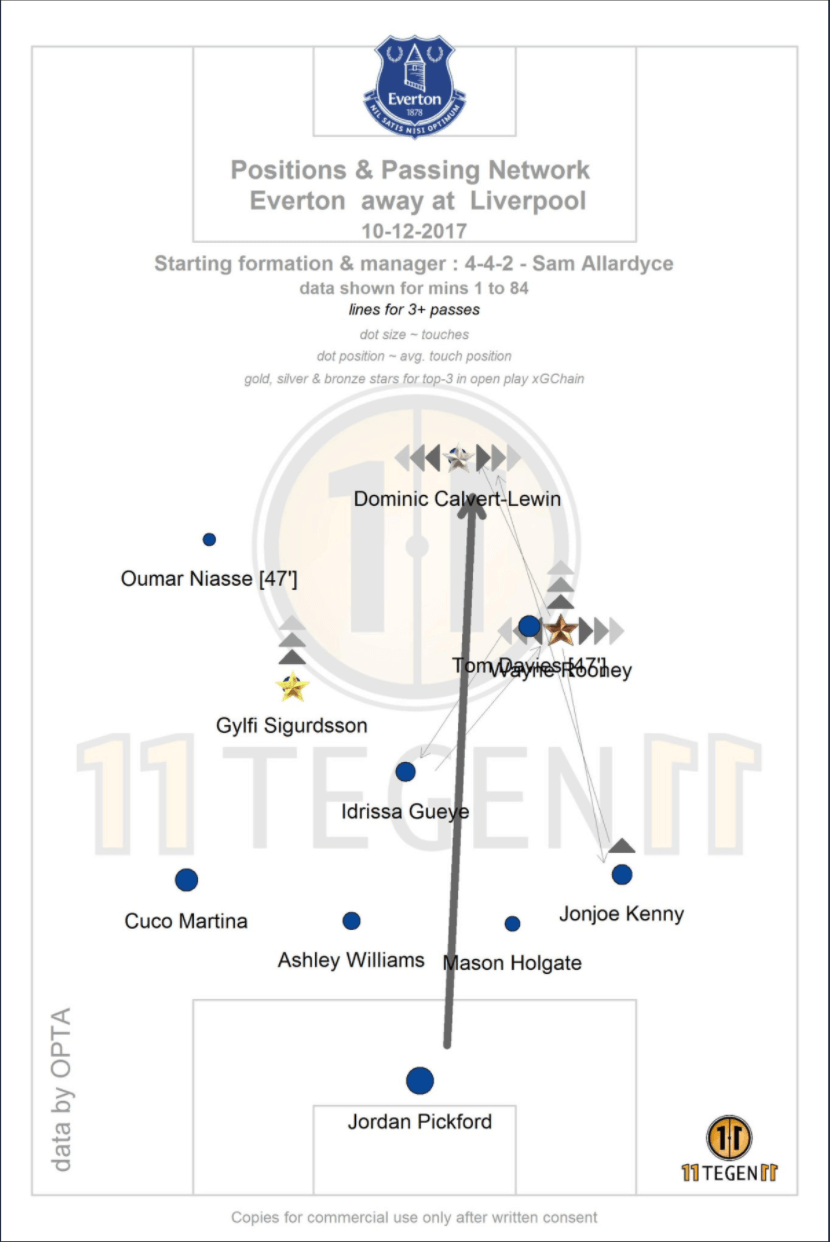 Passmaps & xGplot for Liverpool against Everton. #passmap #xGplot #autotweet pic.twitter.com/M0pME4V6p4

— 11tegen11 (@11tegen11) December 10, 2017
But as we all know, Everton were awarded an extremely contentious penalty, but beyond this disputable decision, what did Liverpool do within the game well, and where did they go wrong?
Everton's 1st half:
1 shot from outside the box
0 successful dribbles
0 corners
20% possession
53% pass completion
Pickford most touches

— Dan Kennett (@DanKennett) December 10, 2017
Liverpool set up with a 4-3-3, different to the 4-4-1-1/4-2-2-2 which they've used in a number of recent games when Can and Wijnaldum start together. But this 4-3-3 has brought considerable success in a number of games over the past two seasons, and as we'll discuss later, Liverpool created a number of very big chances with it too.
Everton, though, went into the game with a clear defensive gameplan, very much a damage limitation approach, and bearing in mind Liverpool's blistering form of late, and the quagmire Everton have found themselves in prior to Allardyce joining, who can blame the management for looking to secure a point, when the 3 was never really on offer at all for them?

Everton's positional map reflects this, with Liverpool set up well inside Everton's half, but Everton resolutely tight, packing out the middle. That's not to say Liverpool could not work their way through Everton's defensive shape though.
Sadio Mané's chance, near the end of the first half, springs to mind immediately: it was one of the few occasions Liverpool's forwards actually got to run into space with the ball, and Mané exploited the space brilliantly, driving into the box, and into a shooting position. It looked a certain goal if he were to pass onto any one of Chamberlain, Solanke and Salah.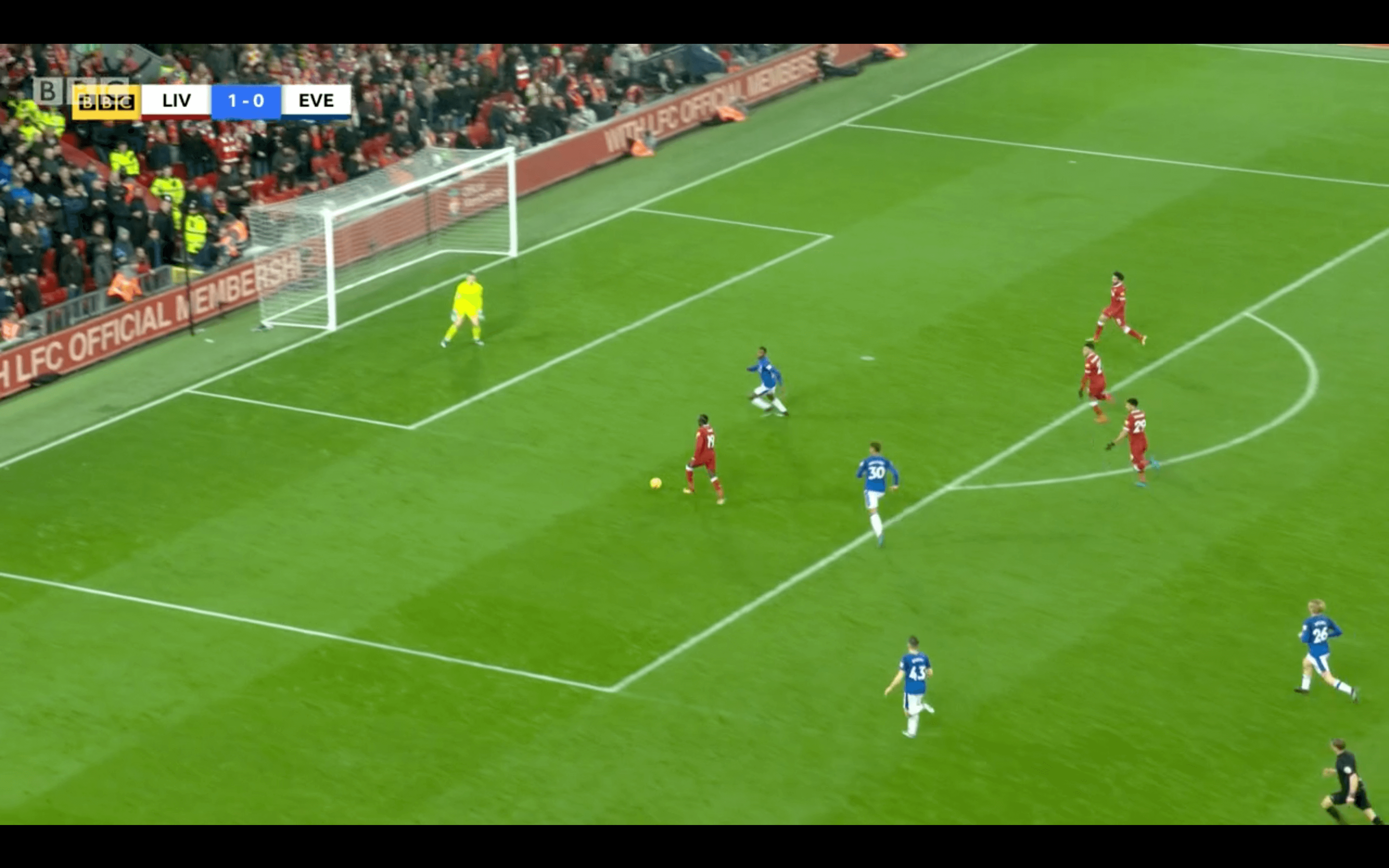 But while Mané was wasteful, that was by no means the end of Liverpool's scoring opportunities. Indeed, Liverpool, when they used the wide areas enjoyed some success, which is why it is incredibly frustrating to see the team not use it more often.
Everton went into the game with a shape not dissimilar to that of Mourinho's United, who visited Anfield earlier this season – they packed the middle of the pitch and the box when under pressure, but left the wide areas open.
There were two Liverpool crosses in particular, from wide areas, that were very close to being goals, one provided by Chamberlain, and the other by Milner: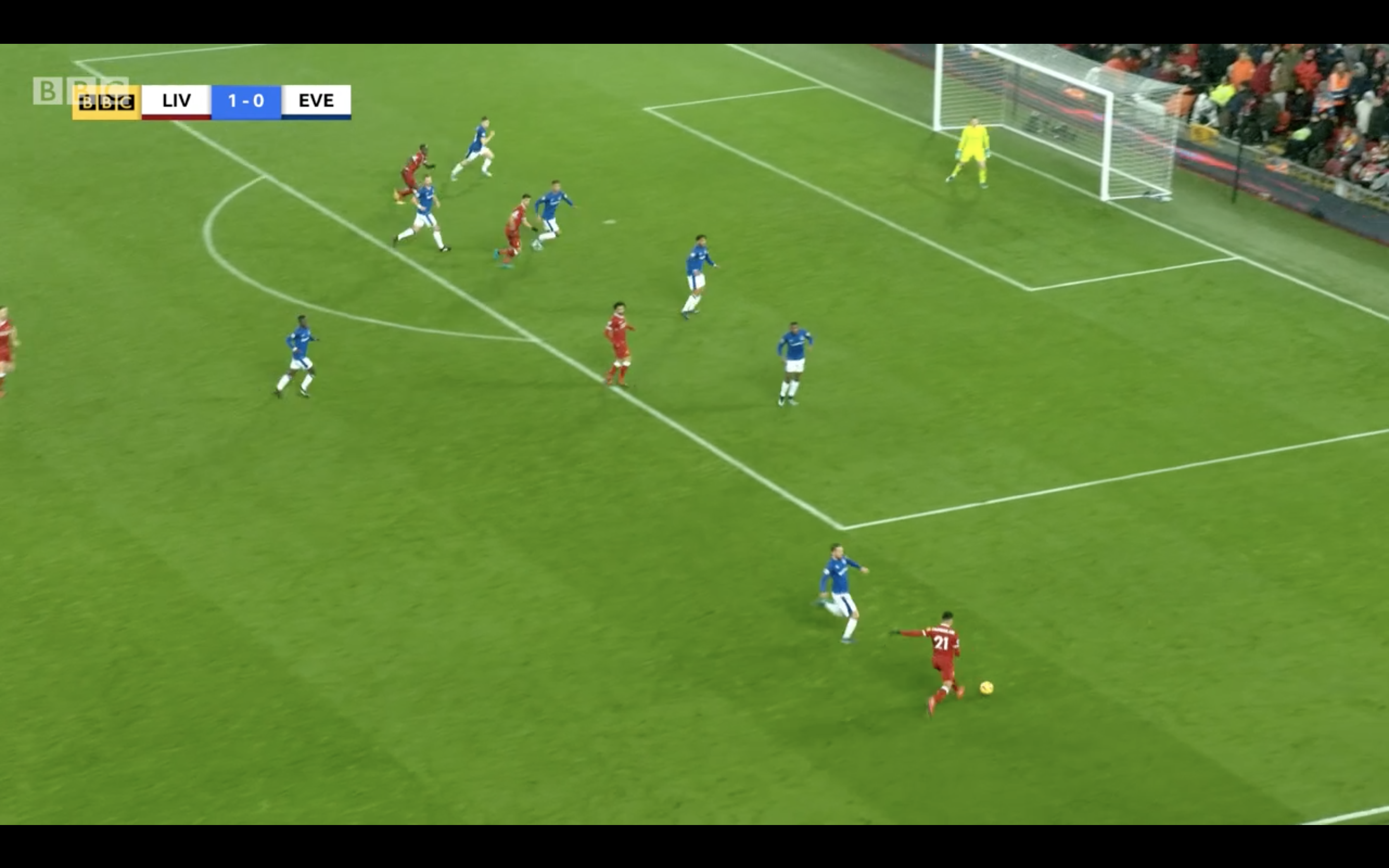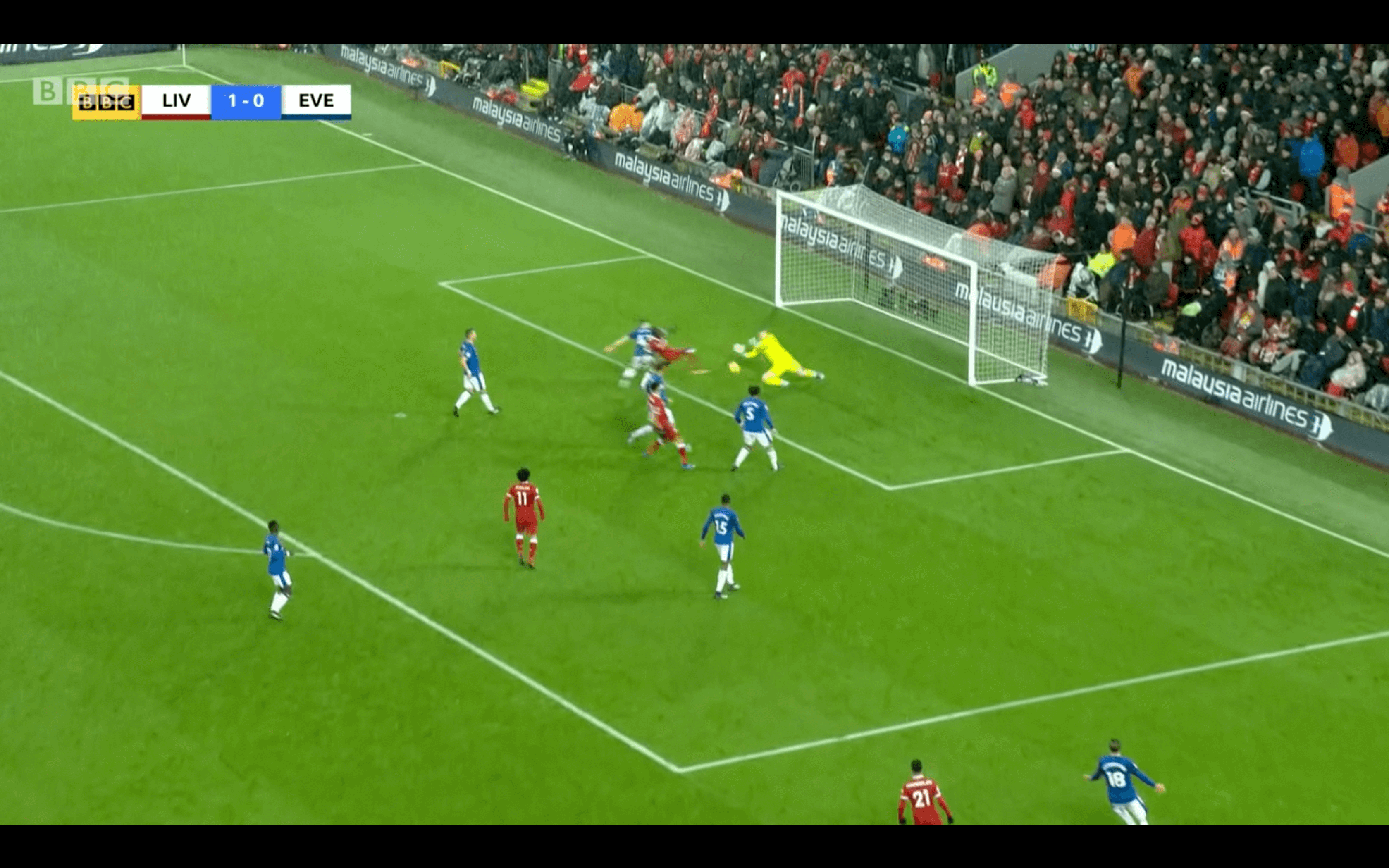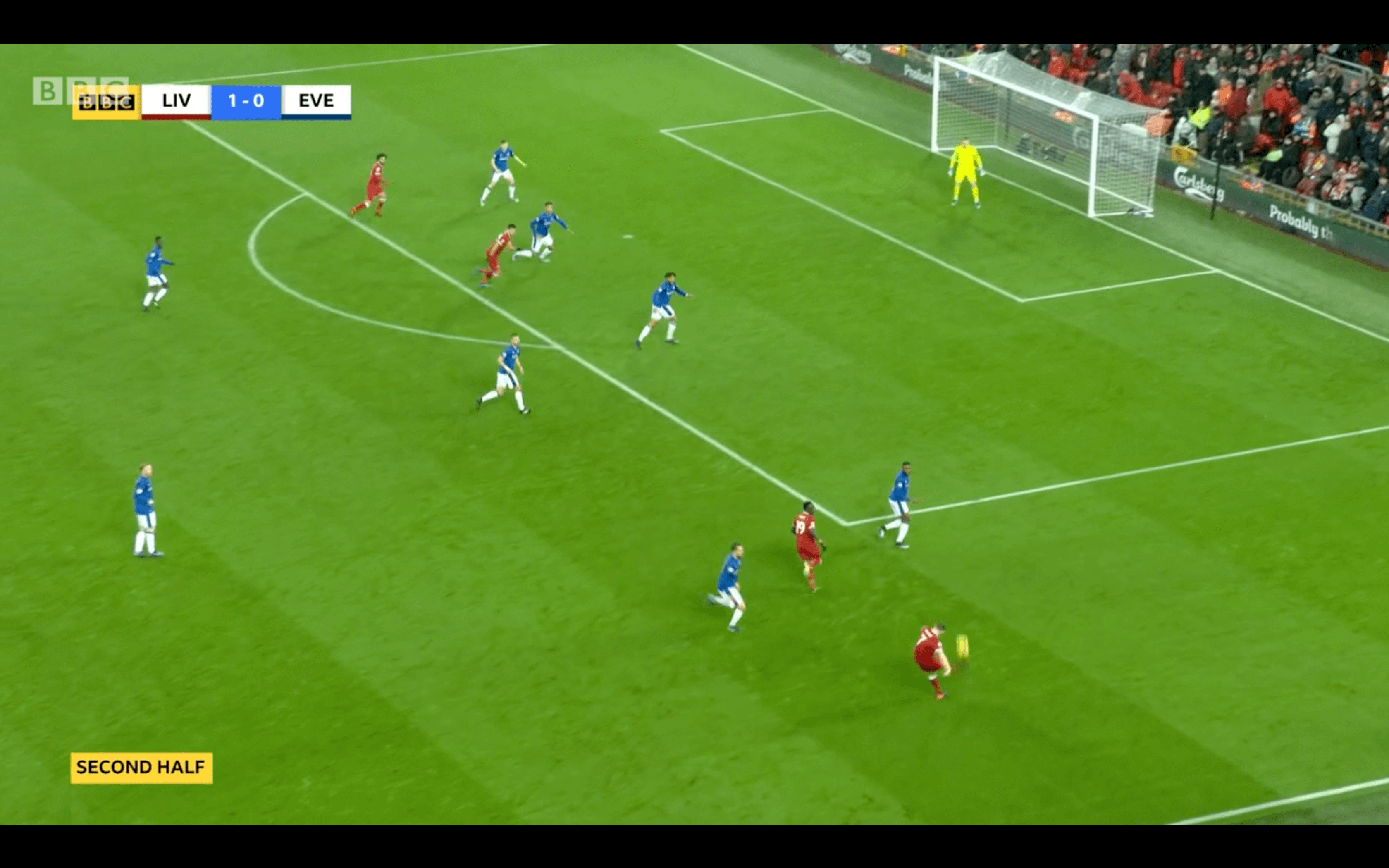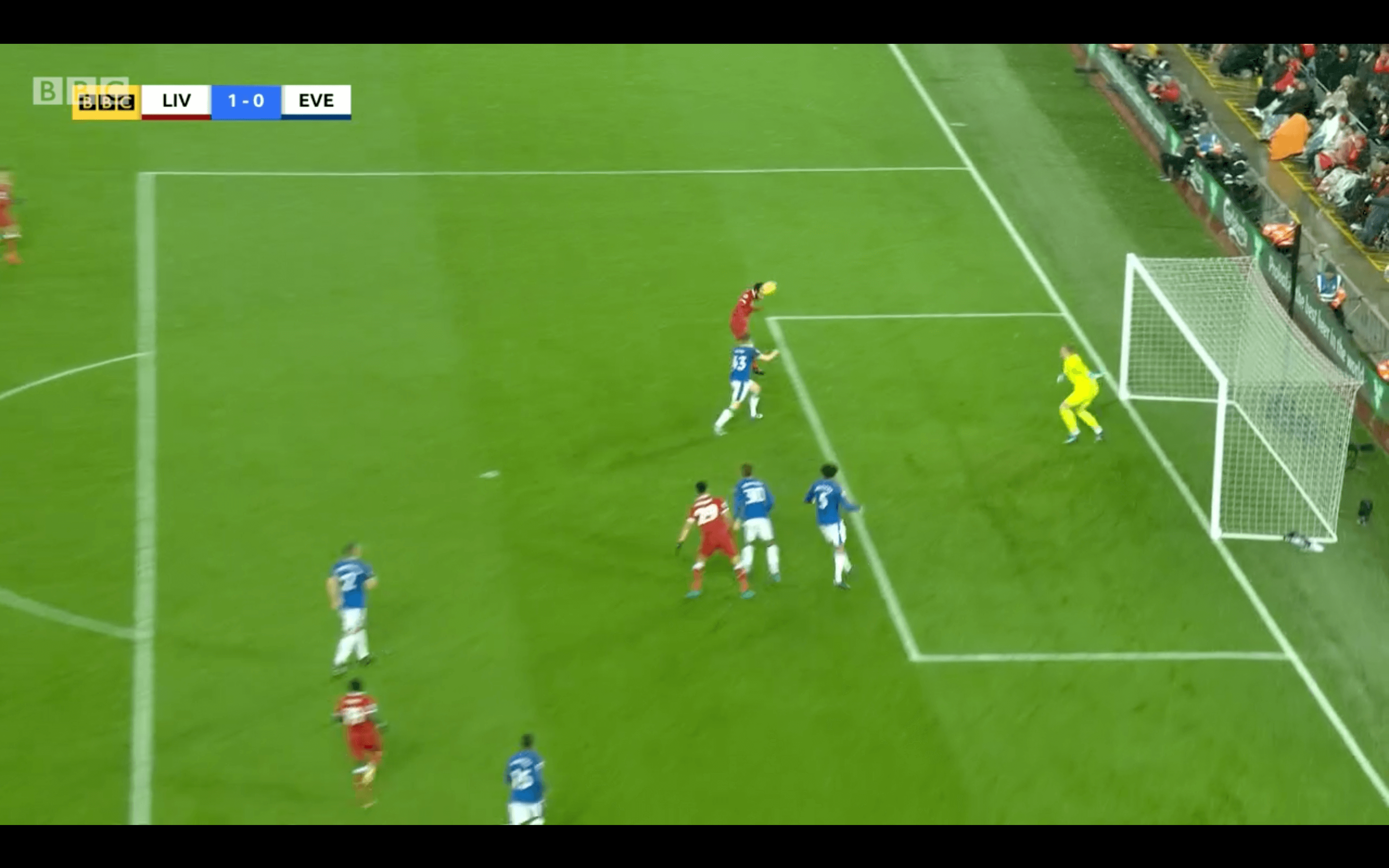 Why then, with such vast spaces left out wide, which we can see in the WhoScored? average position graphic, used earlier, did Liverpool not exploit those spaces enough?
Perhaps it's something to do with the tactical setup and the personnel. Mané and Salah are both inside forwards, and when Liverpool play in a 4-3-3, they are expected to get the goals and be around the box. But with Milner and Chamberlain (who has not played in a Liverpool midfield three often), both of whom like to play centrally, the provision of width is entirely dependent upon the Liverpool full-backs, Gomez and Robertson, who both had good games, but were simply not offensive enough to tactically exploit the space Everton vacated out wide.
The two frames below, one of which just precedes Salah's goal, shows the typical position of the full-backs, which whilst generally is fine, was not offensive enough for this game, and the spaces ahead of them.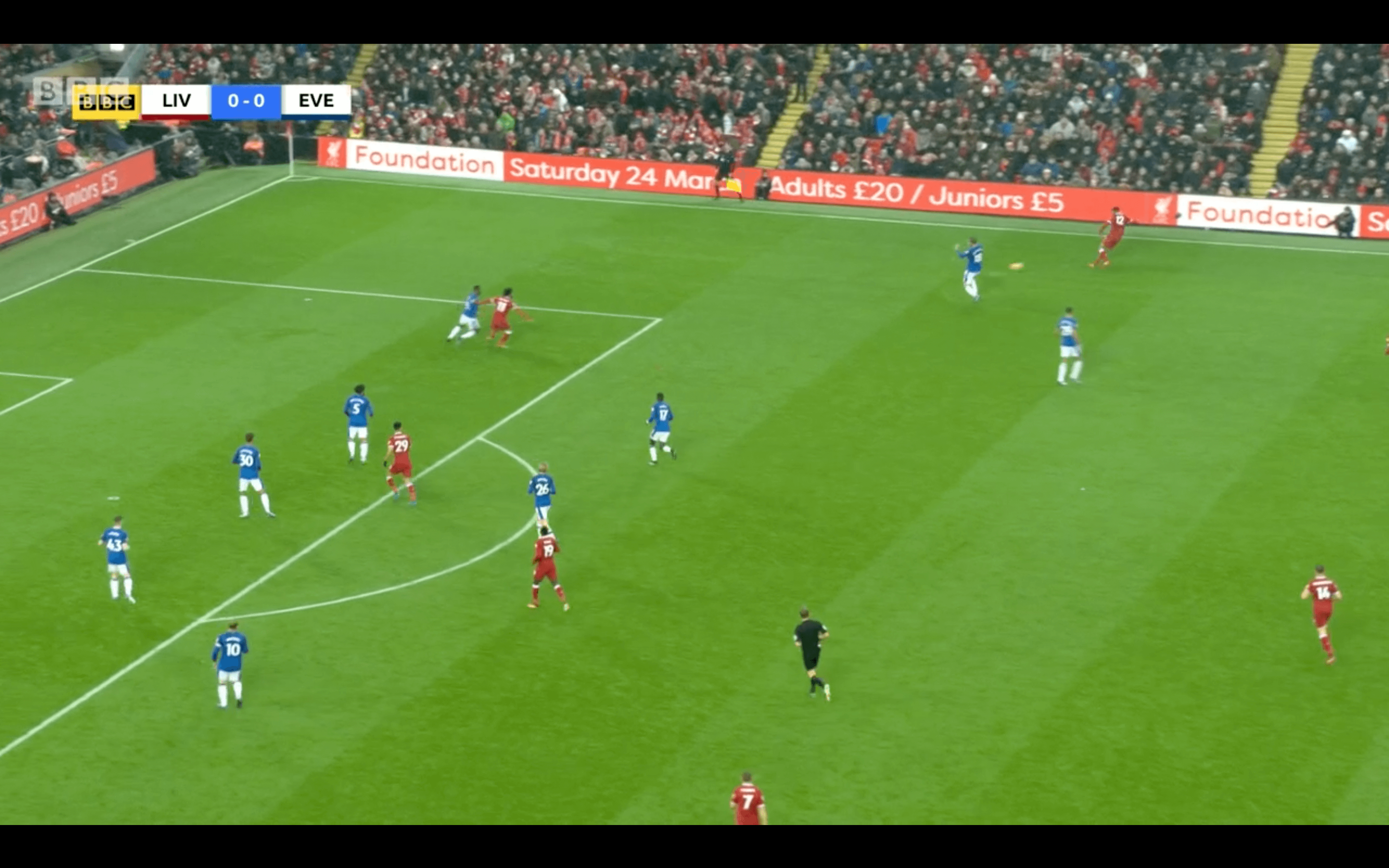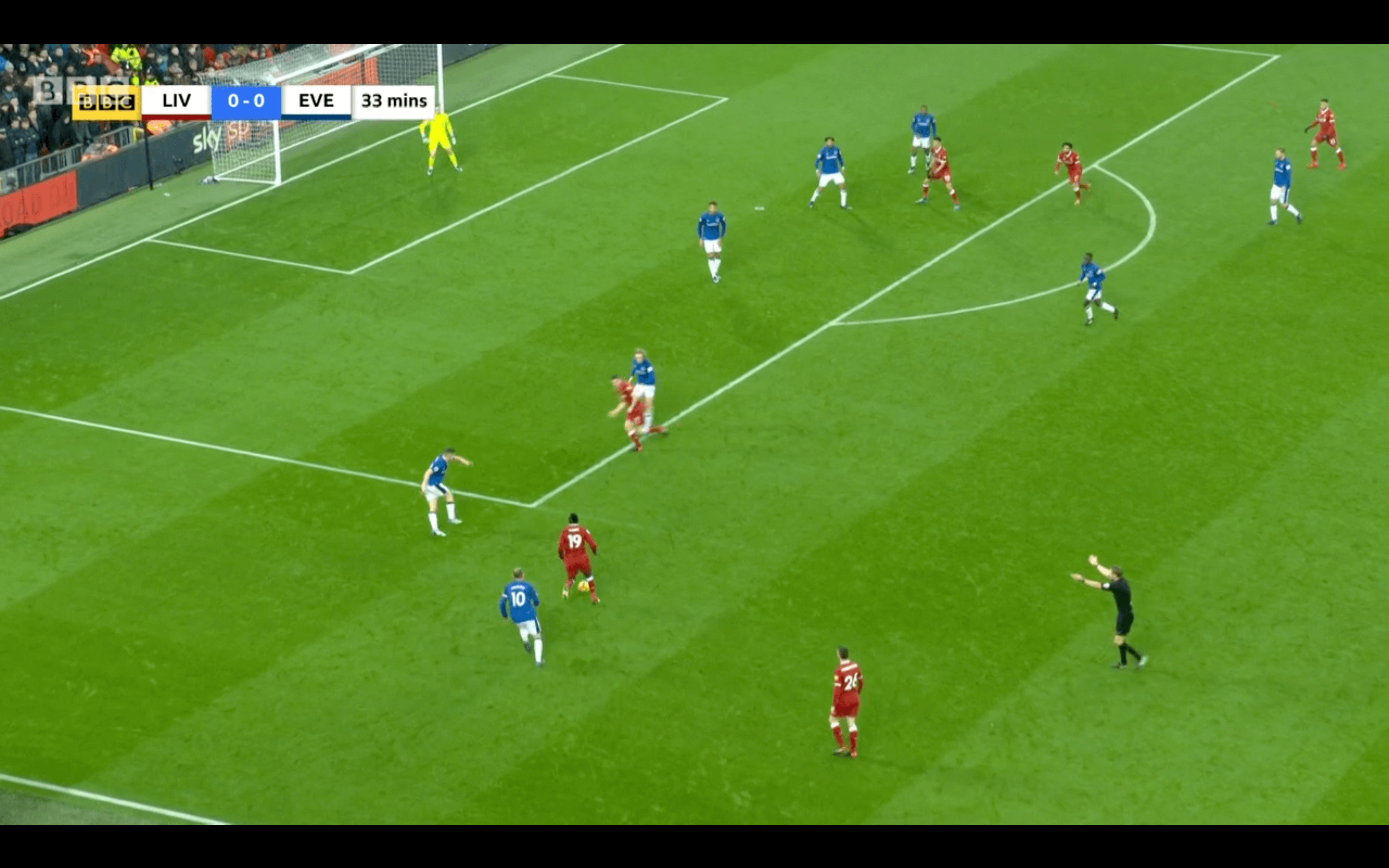 Even without using the wide spaces though, Liverpool could still have won, when Gomez headed over from a Salah free-kick: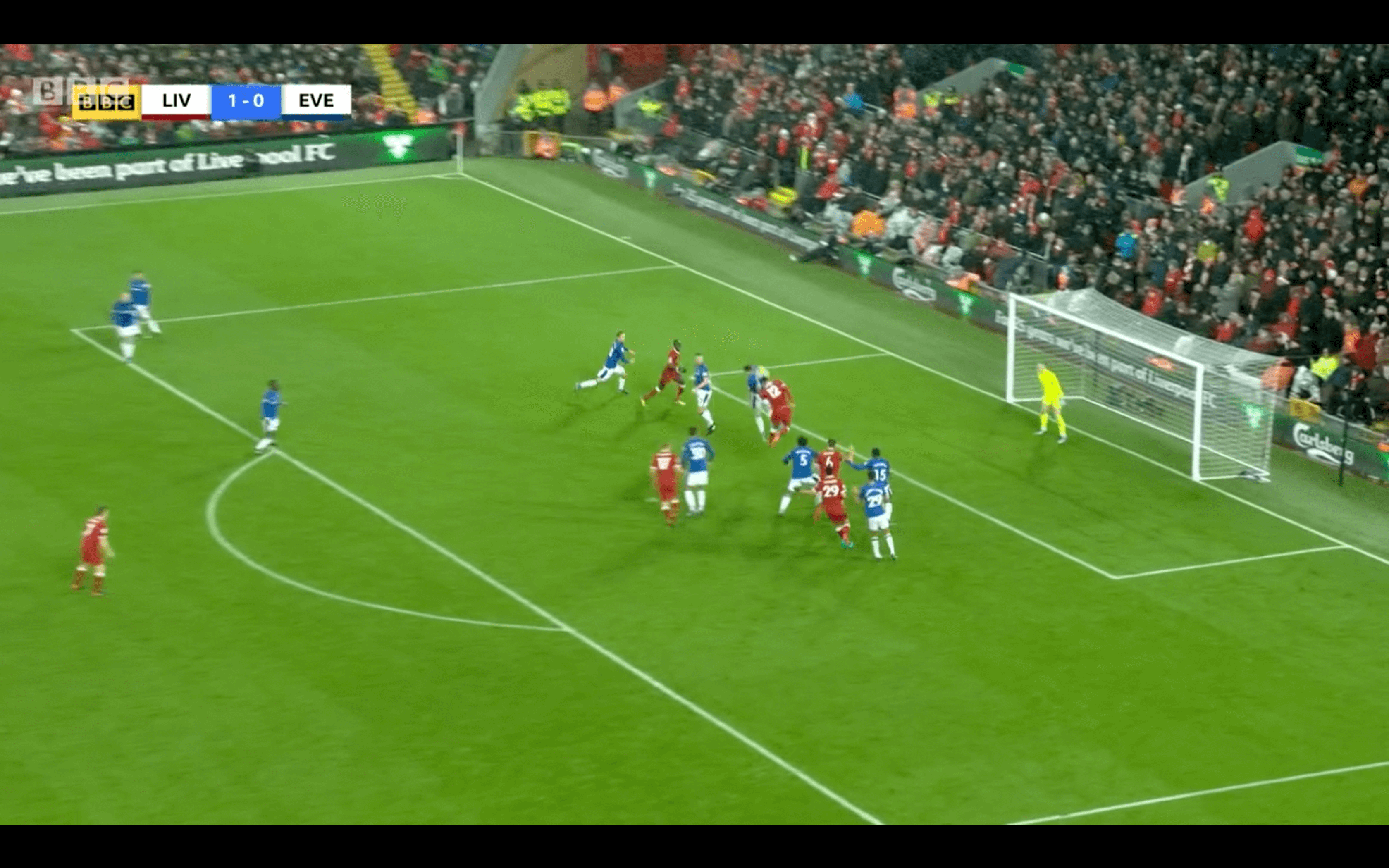 But Liverpool also had another fantastic opportunity in the 75 minute, only seconds prior to the penalty decision, as Chamberlain found himself in space out wide, only for Firmino to intercept a pass which Mané indicates afterwards, is meant for Chamberlain.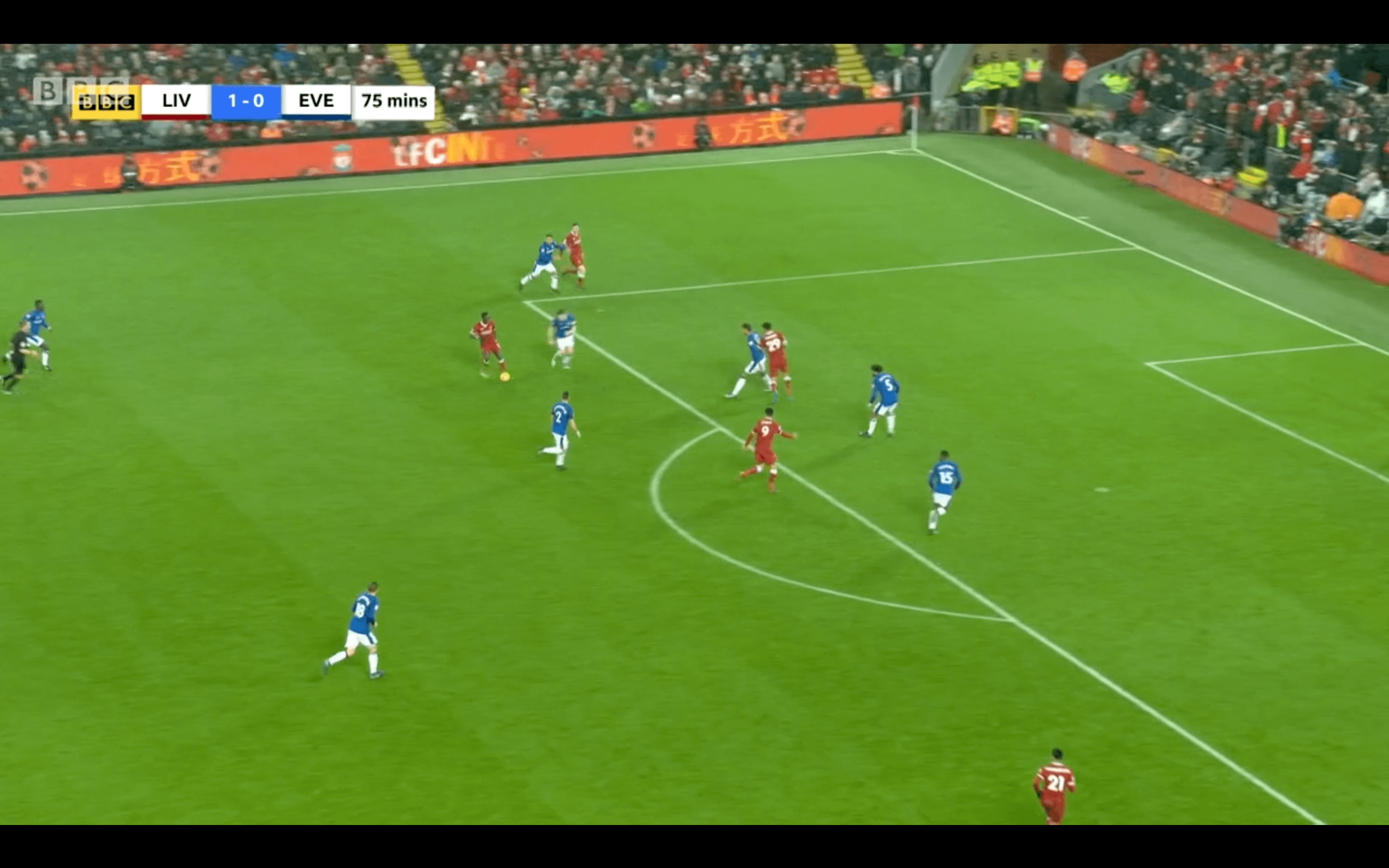 One really big contention point on Twitter, 5live and on Match of the Day was what's going on with Liverpool's selection?
Coutinho had just scored a mid-week hattrick, Firmino had also scored two against Brighton, and they both appeared high on confidence and in-form: why on earth would Klopp drop them for the derby?
If we cast our minds back to 1st January 2017, we may just find out why. Liverpool were second in the table, having just defeated Manchester City, and were now in prime position to challenge in the title race, although, Player of the Season, Sadio Mané, was at the AFCON. Fast forward a few weeks, and Liverpool were in the middle of an injury crisis, with a youth team fielded against Wolves in an FA Cup replay, then fast forward to March-April and Liverpool were in full-on crisis mode, as the discussion had now shifted from winning at least one cup and vying for the title to one of missing out on top four. Even Roberto Firmino, the workhorse, told the manager he needed a break, prior to the Stoke match. Come the end of the season, and Liverpool scraped fourth, by a point, in one of the toughest Champions League qualification challenges ever.
Today was the middle fixture of the 13 games in 44 days
7 games in 22 days since the international break, W4 D3
7 games in 22 days starting from today

— AIUnderPressure (@AIUnderPressure) December 10, 2017
Number of starts in 22 days so far:
6 Salah
5 Migs, Albie, Lovren, Klavan, Hendo, Gini, Phil, Mane, Bobby
3 Matip, Emre, Milner, Ox
2 Karius, Trent, Robbo, Solanke
1 Studge

— AIUnderPressure (@AIUnderPressure) December 10, 2017
It seems Klopp is not just mindful of this, he is actively learning from this lesson, and putting the lesson learned into practice. As of now, Liverpool's front-four are injury free, as we really get stuck into a throng of games in quick succession – the period in which players are most likely to get injured. Considering injuries to Mané and Coutinho almost cost Liverpool Champions League qualification last season, it makes total sense to rotate players, to keep them fresh and less likely to get injured.
Rule: if you rotate your team you must win every game you play
Also a rule: if you DON'T rotate you must win every game you play after half your team's legs fall off and you end up fielding a bunch of 17 year olds.

— James Yorke (@jair1970) December 11, 2017
"But it's the derby!" I hear some of you say. Very true, but it was a derby which the Liverpool side fielded had more than enough opportunities to put the game away – the tactics and performance were good, the result was not – but we can place the blame for this result, on this occasion, with either the forwards for some poor finishing, or the referee for a dodgy decision – take your pick.
It's hardly as if this is the only game Klopp has rotated the starting XI, for instance, in the Chelsea game, a much bigger one in terms of final league standings than the derby – as a "six-pointer" – Daniel Sturridge started up front, a surprising change, given Firmino's record against top-six sides.
I digress; this was a disappointing result, but one in which the team played well. Everton have well and truly swindled Liverpool, but only at the cost of a point. Maybe if Coutinho and Firmino started, Liverpool would have won, but so too if the starting XI capitalised on their strong start, or a number of big chances within the game. With 23 shots, 19 key passes, an xG of around 2.0 to Everton's 0.1 (+1 pen), it's clear Liverpool were the better team, but as is football, you can never take anything for granted.
xG map for the Merseyside Derby.

Mel Brooks said, "Tragedy is I cut my little finger. Comedy is when you fall in an open sewer and die." pic.twitter.com/vbYOAsp525

— Caley Graphics (@Caley_graphics) December 10, 2017
Still, Liverpool sit in fourth, and have a number of winnable games before a key game against Arsenal.
Onwards!