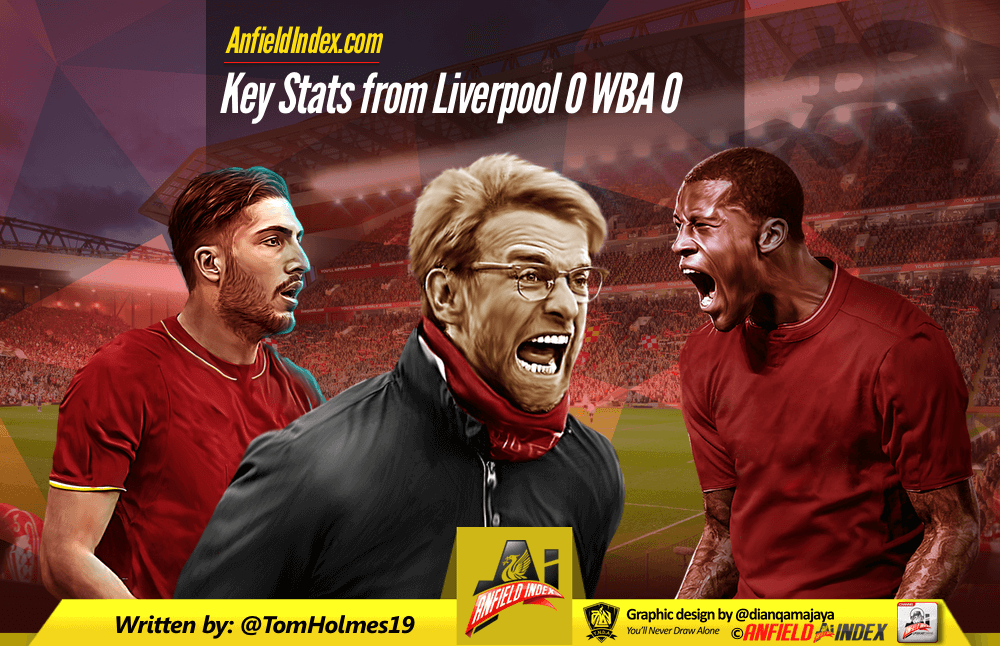 Key Stats from Liverpool 0-0 West Brom
Liverpool were frustrated by poor finishing and bad refereeing once again as they came unstuck against West Brom, drawing 0-0 to lose more ground in the race for top four. But what were the key stats from the game?
Emre Runs The Midfield
Can and Wijnaldum each made 33 passes backwards, Wijnaldum made only 59 total, Can had 91

4 passes into the box to 2
2 key passes to 0
2 dribbles to 0
2 possession losses to 0
22 final 3rd passes to 8#Ghost

— SimonBrundish (@SimonBrundish) December 13, 2017

Starting with a positive one. Alongside Alexander-Arnold, Emre Can was Liverpool's best player. The only player to play more than one key pass, Can also made five tackles, had the second highest xA (0.10 compared to Salah's 0.34) and kept the game ticking. It's a shame that Wijnaldum had another quiet game in comparison, but Wijnaldum rarely has any impact on these sorts of games so it's hardly a surprise.
What's more worrying is how Can's stats compare to Coutinho's. More key passes (2 to 1), more dribbles (2 to 1), won more free-kicks (2 to 1), less misplaced passes (9 to 23), less dribbled past (0 to 1) and less failed dribbles (0 to 4). That's pretty awful from Phil.
Dominance…but not on the scoresheet
71% of the possession, 70% of the shots, 83% of the shots on target, 88% of the expected goals. Stop me if you've heard this one before. I honestly hate making these articles repetitive but since the Reds have decided to do exactly what they did against Everton, here we are again. The best chances fell to Bobby Firmino from a tight angle in the first half and Mo Salah's header in the second. Neither tested Foster, and the Reds failed to score. Here we are again.
Home Woes For Klopp's Reds
Despite not losing a single game at home this season, Anfield has not proven a happy home for the Reds in the Premier League this season. They've won just four games, drawing five, with Burnley, Everton and West Brom all coming to Anfield and securing a point – along with Chelsea and Man United. The Reds record of 14 goals from 9 games at home is the worst of the top six at 1.56 goals per game. For comparison, Man City have twice as many goals – 28 from just 8 games. Compare this with Liverpool's away record – 20 goals from 8 games, and a worrying trend is starting to emerge. This is definitely tactical and links to the possession discussion and counter-attacking I've mentioned in previous articles.
Rotation Rotation Rotation
The fact that Klopp has now made 65 changes to his league team – comfortably more than any other Premier League manager – is a stat that has continuously been doing the rounds. And the boss made six more changes made today from the weekend. Coutinho and Firmino returned, Can and Wijnaldum took over in the midfield, Trent started at right-back and Karius started in goal with Mignolet injured.
Is this a case of rotation? Or just Klopp playing his best available team (with Gomez being rested is the obvious exception). Yet for all the talk of rotation, eight of Liverpool's outfield players have started at least 18 of the Reds' 26 games this season, with seven of those playing more than two thirds of the available minutes. Of Liverpool's best eleven, only the right-back slot has been properly rotated, with neither Gomez nor Trent playing more than 60% of the minutes, and with Mané and Coutinho the only regular starters having missed significant minutes – both of those through injury.