 Liverpool 0-0 West Brom: Tactics and Stats
Days after a disappointing result in the Merseyside derby, Liverpool lined up against West Brom, in a game which many called a "must-win" fixture. Liverpool lined up with the full Fab Four, despite reports of Coutinho and Firmino not being fully fit for the derby, only a few days prior, and a hamstring strain for Salah.
Despite their phenomenal goalscoring average when playing together, against West Brom it didn't quite click. What went wrong then?
On initial viewing, I bemoaned poor chance creation and a lack of midfield impetus, however, having rewatched the game, I reconsidered the extent to which these judgments held true.

Liverpool created a number of chances, with Firmino, Salah and Mané all wasting very scorable opportunities. But credit to West Brom, they set up deep and well:

Like Everton and Manchester United, West Brom defended narrowly, and just like in those games, Liverpool did not use the wide areas efficiently enough. Time to time, Mané would move out onto the left flank and stay there, but with Coutinho dropping deep into midfield to play passes, Firmino, on occasion, would find himself as the widest offensive player – instead of positioning himself on the shoulder of the CBs or between the CMs and CBs.
Some of Liverpool's most successful play came from wide work though – making it an even more curious matter as to why they did not use that space more often. Nonetheless, while West Brom defended very well, Liverpool still made enough chances to win the game, and thus, while the tactics may not have been spot on, Liverpool still had the tactics right enough to make chances of match-winning/goal-scoring quality.
The Firmino and Salah chances exemplify this best, as Liverpool use their right flank to deliver crosses, which should be finished better: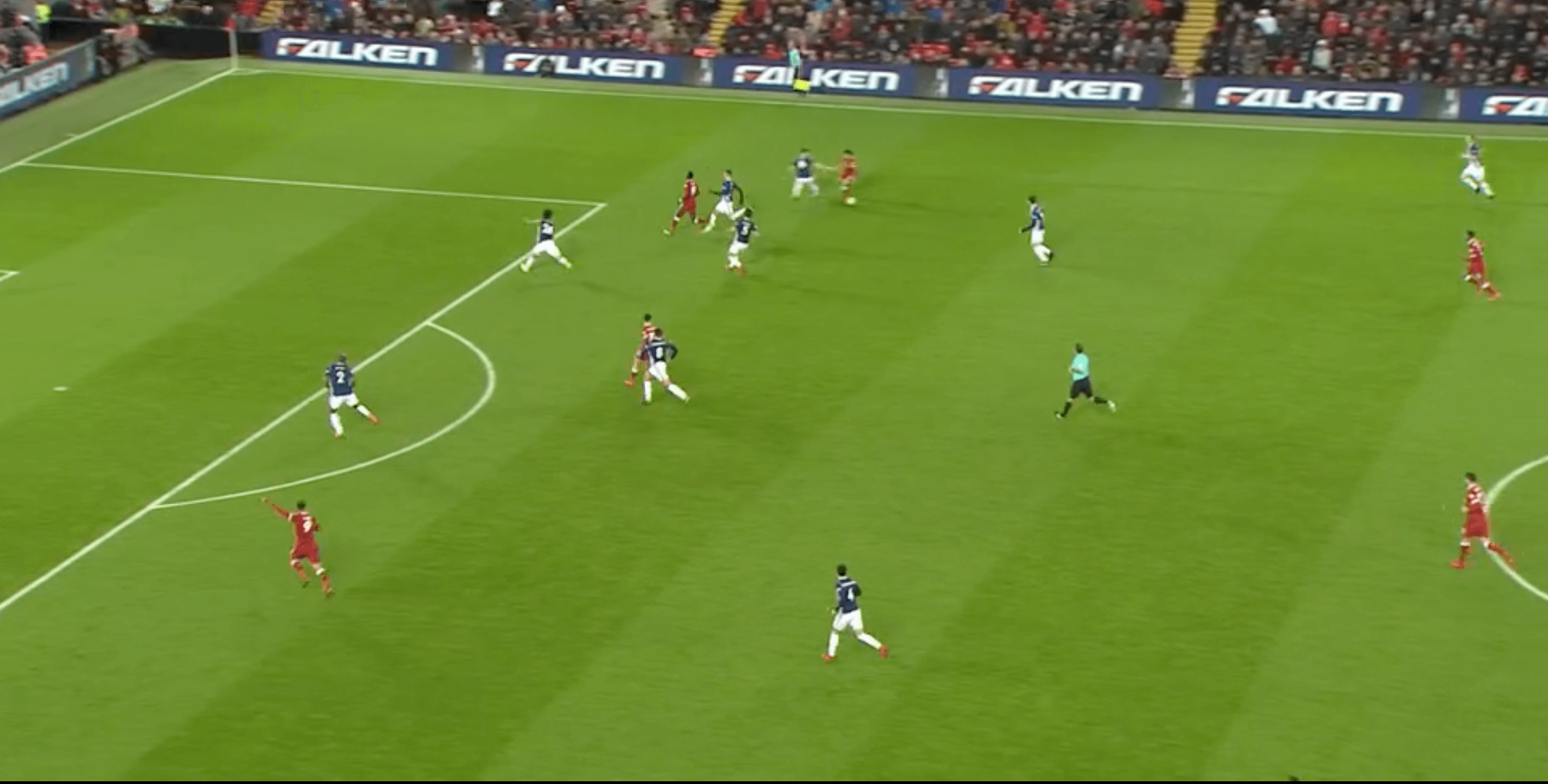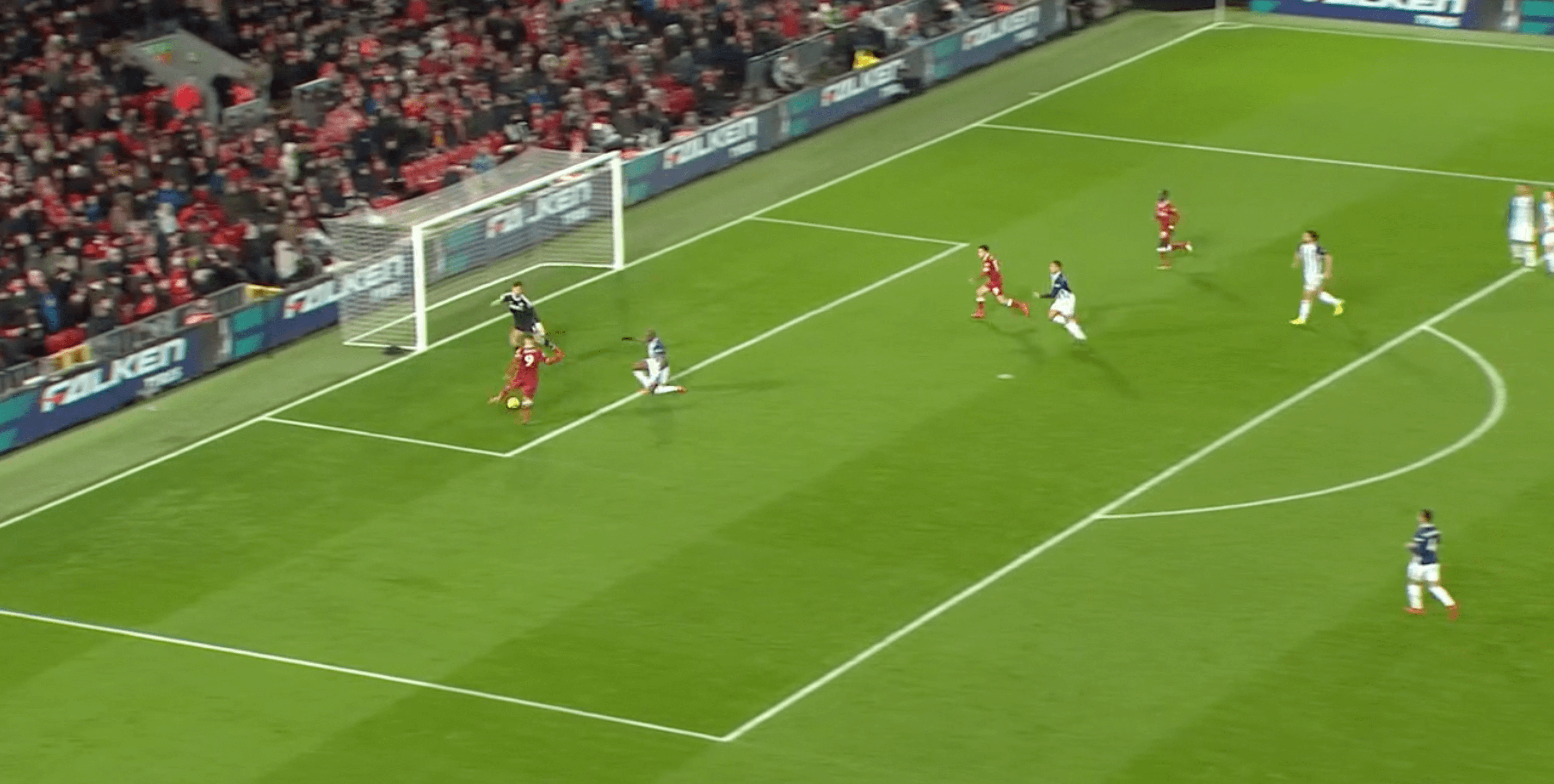 One concern, which we'll touch on later, is not the poor finish, or the option to shoot instead of passing, but rather the lack of offensive midfield support in this (above) move. West Brom have 9 outfield players ahead of the two Liverpool CMs, and the Liverpool attack only compromises the front four. Surely, one of the Liverpool CMs should be offering themselves as an offensive, or at least a contributory option within this attack – ideally, in the pocket just ahead of the referee.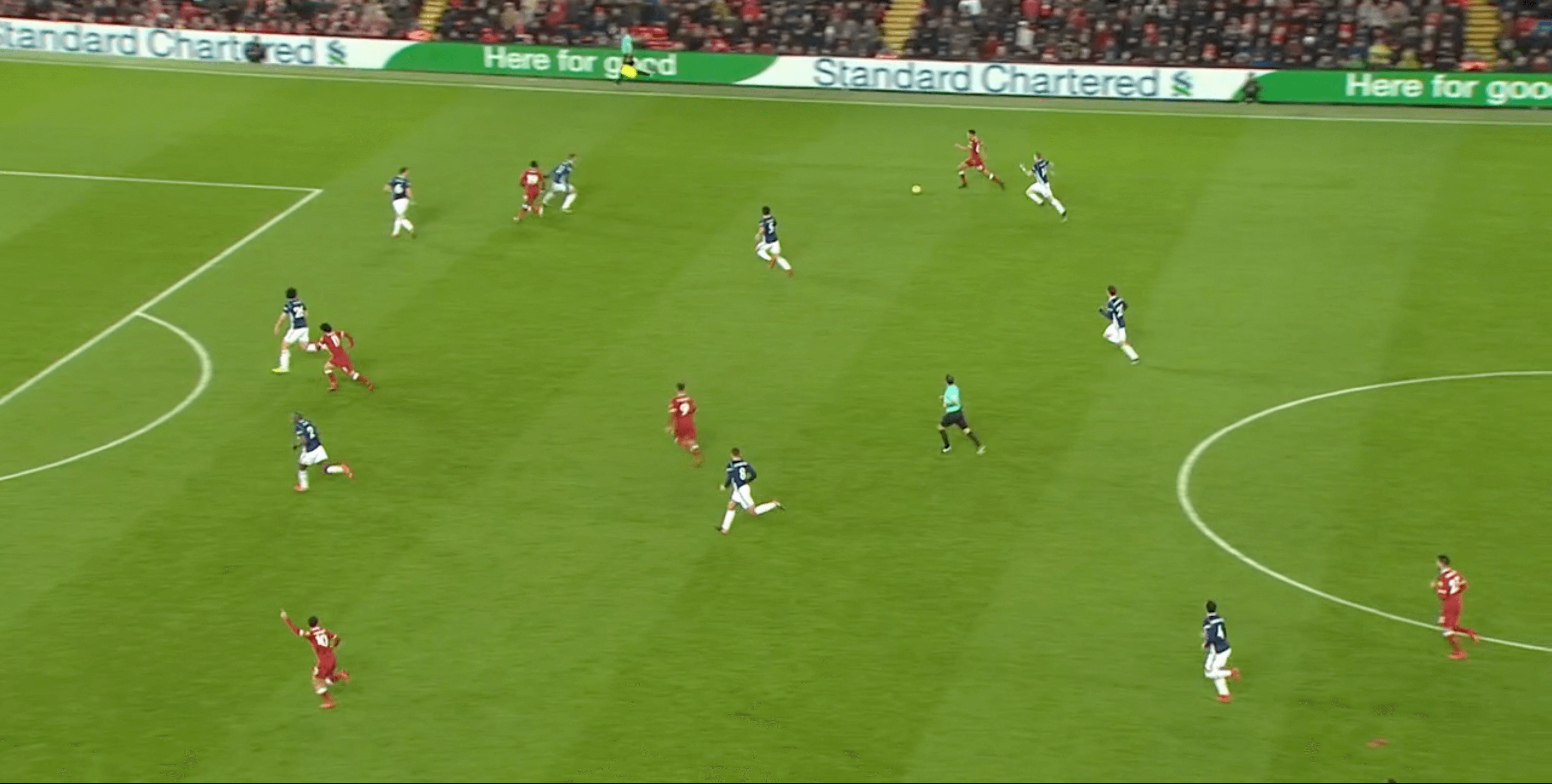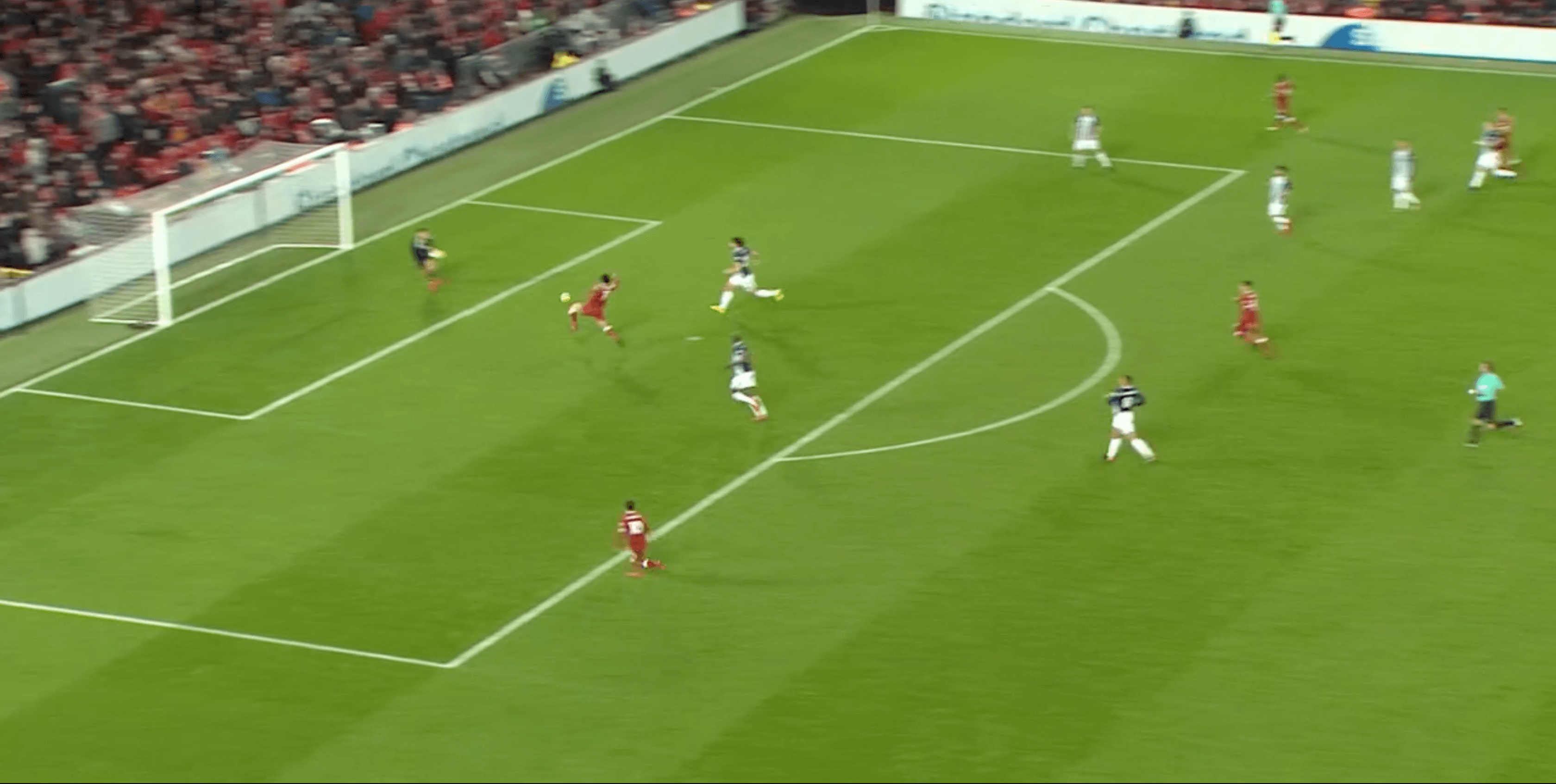 This is a delightful cross by Alexander-Arnold, from a deep position too. It's a shame Liverpool attacked down the right only 26pc of the time. But that was also one of the few chances Liverpool had to run into space, as West Brom defended, and minimalised the available space to run into very well.
However, one of those few occasions is below: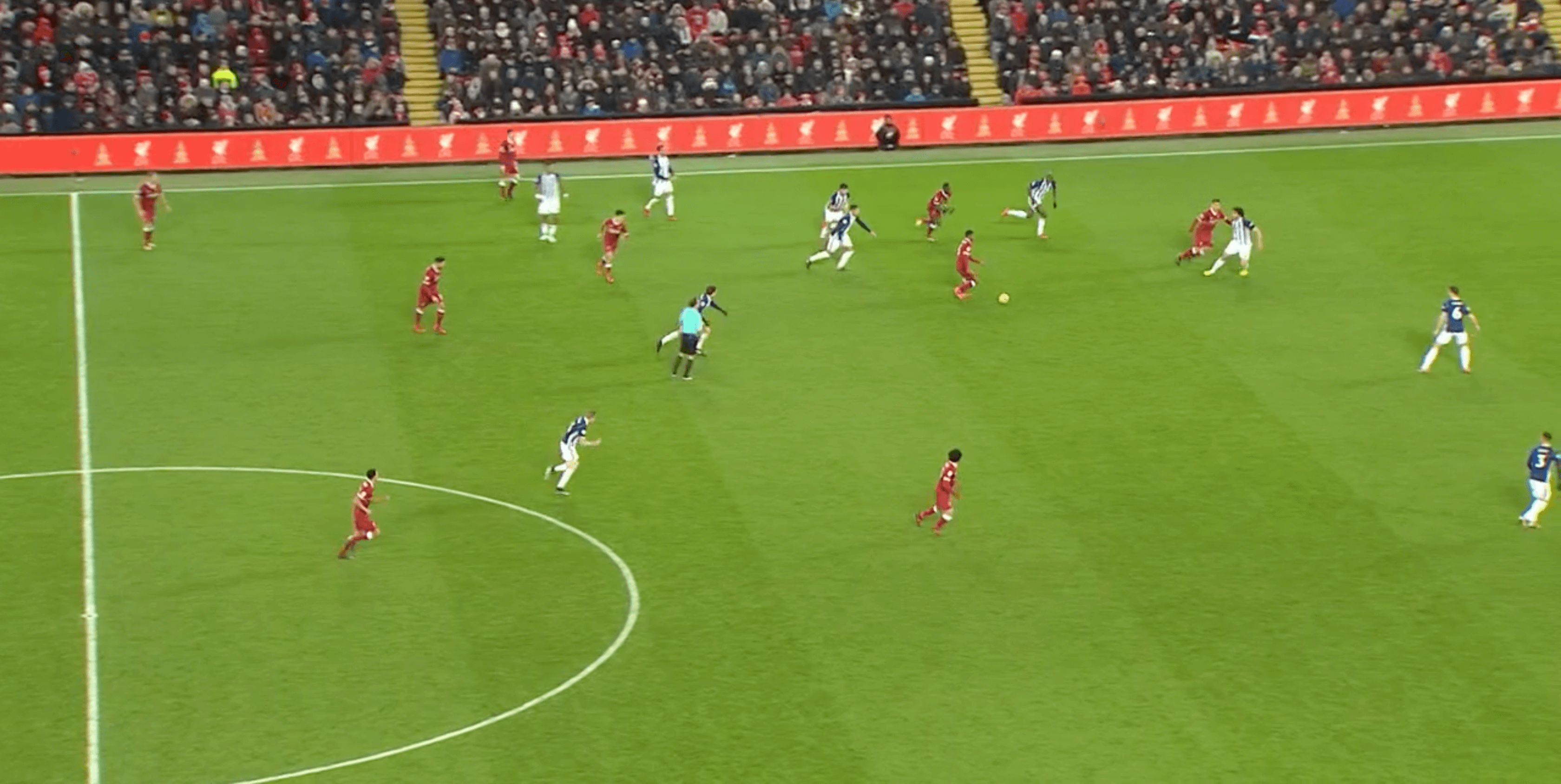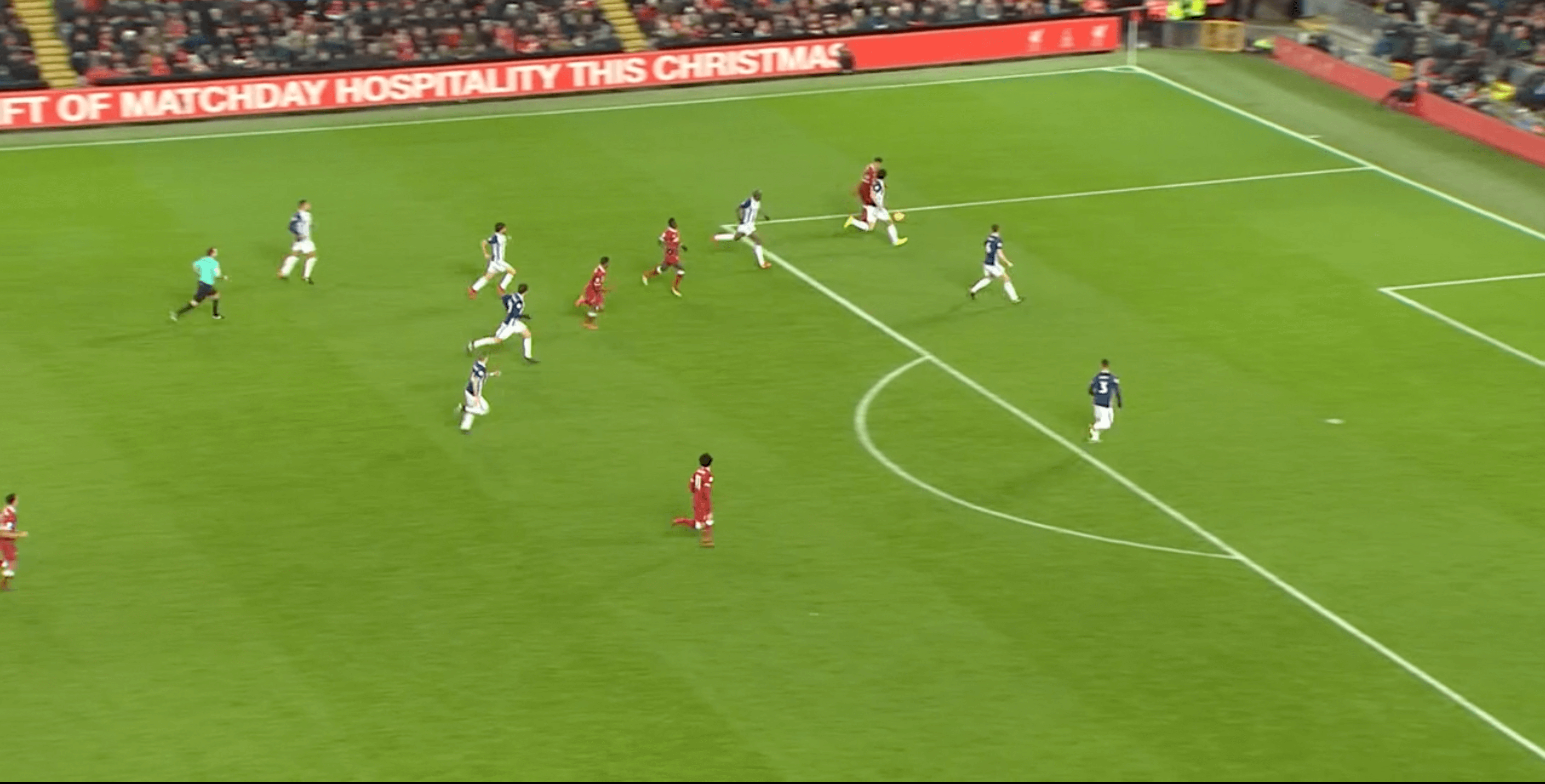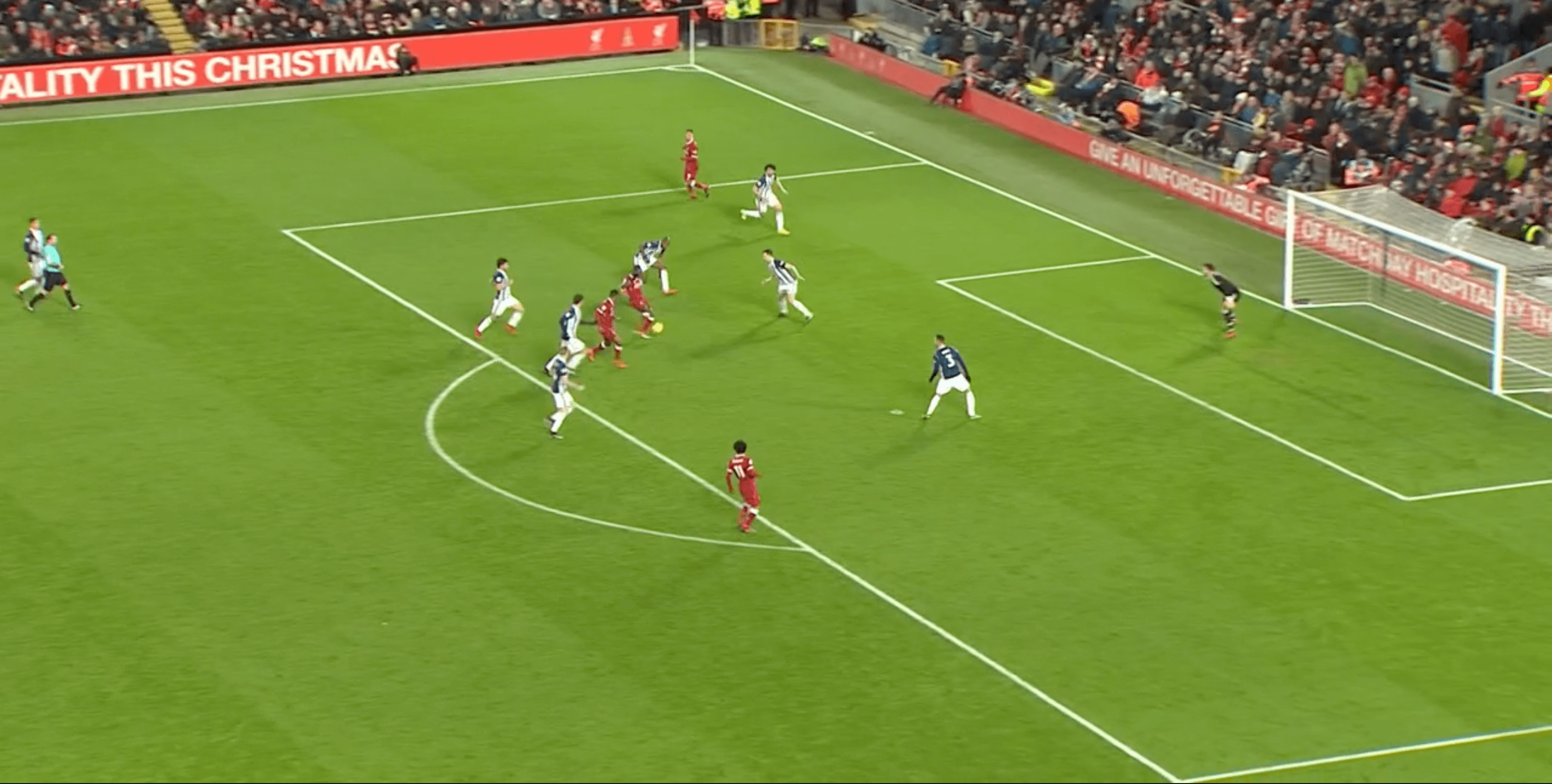 In this case, Wijnaldum joins the attack, but the only error he makes is to not tell Mané to leave the ball, as he shanks wide, leans back and opens his foot, rather than keeping his head down and striking the ball against the way it comes at him – which is easier to direct, than trying to glance a sideward moving ball.
The midfield movement and contribution seemed to lessen as the game went on though. Below we see Wijnaldum in an advanced position in the box, contrary to the point I made earlier, however, the threat provided was minimal, as was the movement. Instead, Liverpool relied on Coutinho to pull the strings from deep. But in truth, whilst a creative midfield contribution would have been fantastic, Liverpool did not need one, as all they needed to do was finish off the chances they made, like this one below: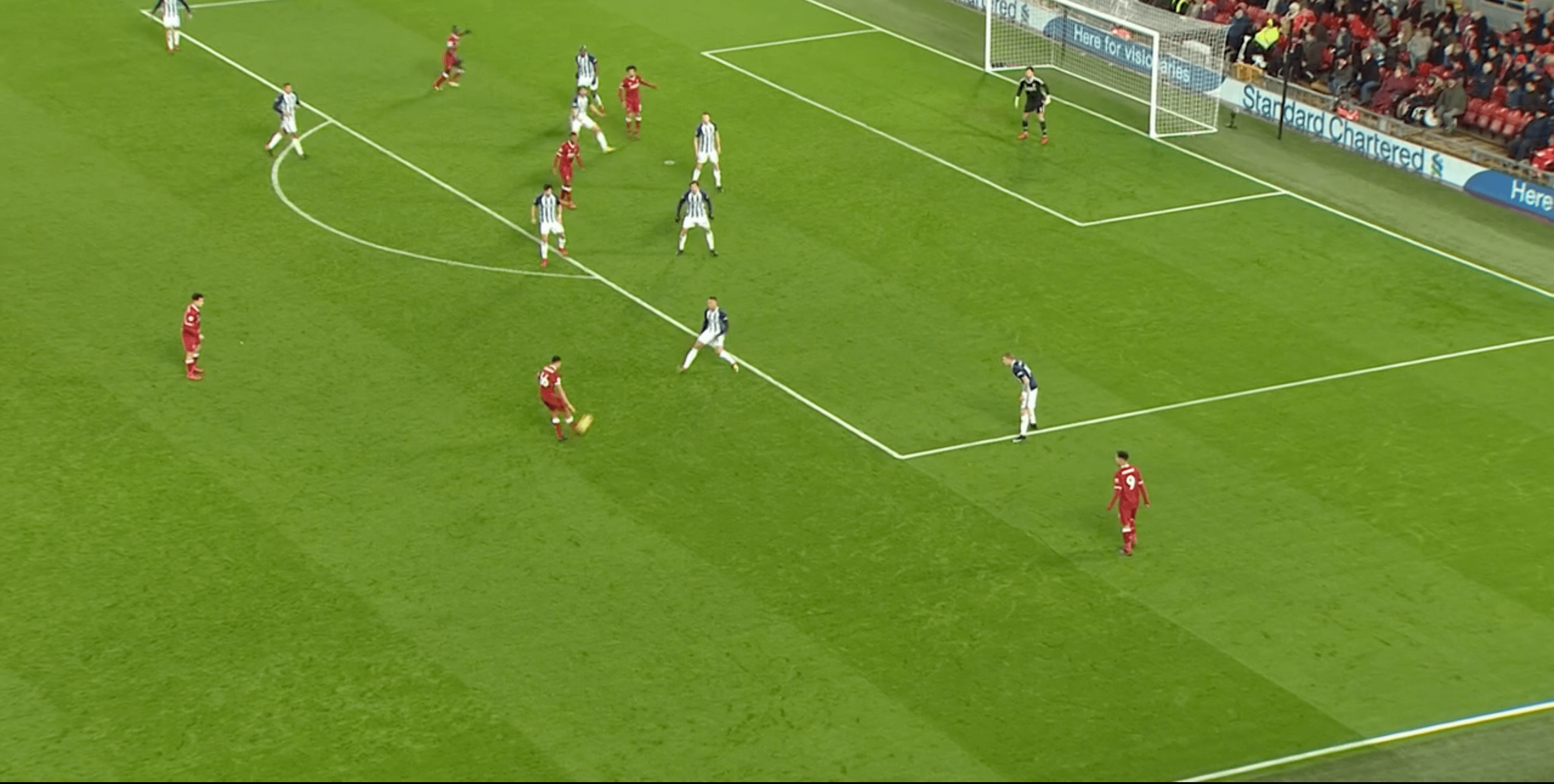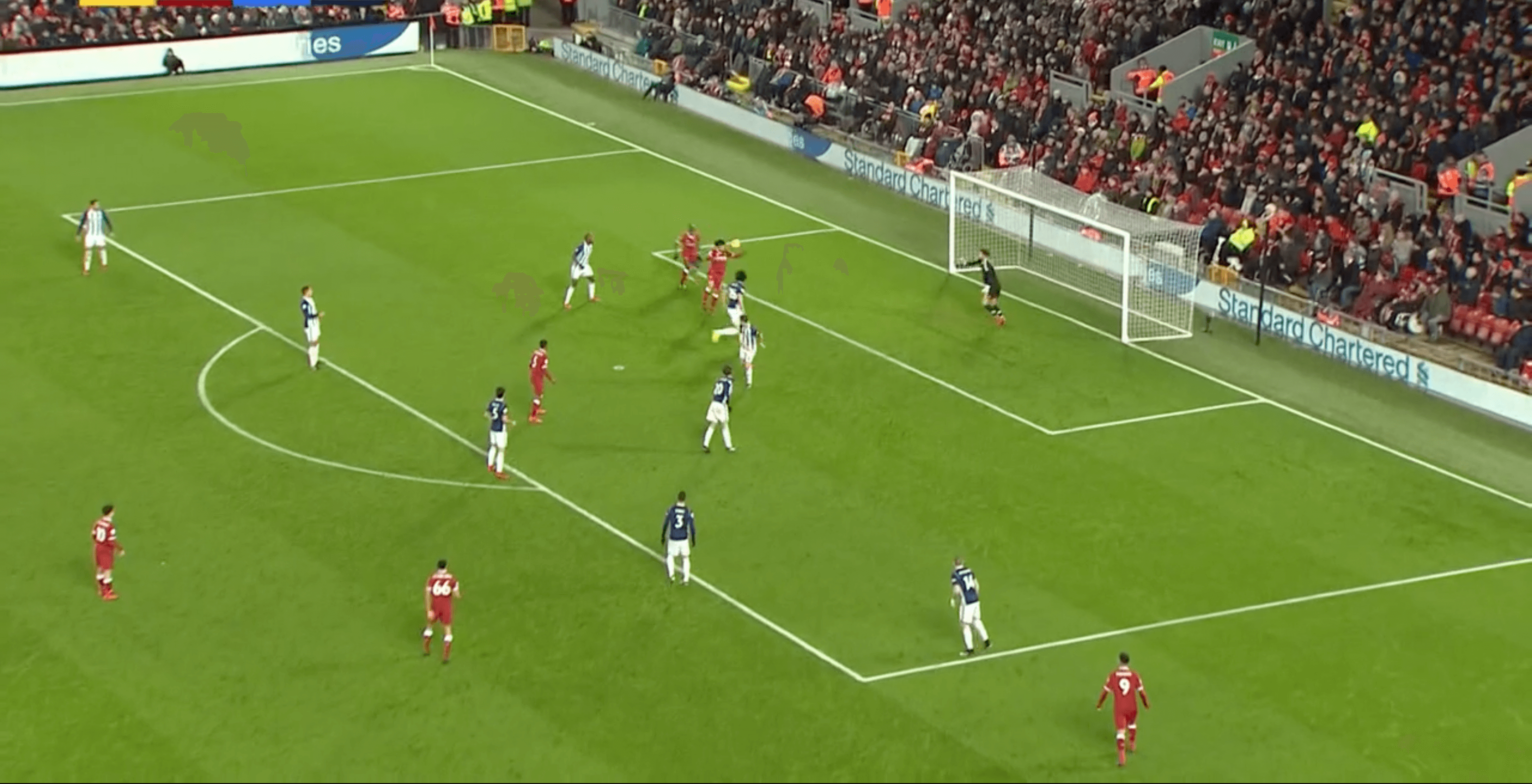 Liverpool had 70.2pc possession, Lovren taking up the biggest individual percentage, with 9.8pc, but Coutinho was not far behind with 9.6pc, whilst Klavan, Can and Robertson clocked in at 9.1pc, 8.5pc and 7.6pc respectively. Wijnaldum's 5.5pc was disappointing for a CM, but more than any West Brom player, although he was substituted with near 15 minutes left in the game, so bear that in mind if quoting his figures. Liverpool's key passes was down from the Everton game to seven, but as noted before, the team created enough to still win the game despite this.
A big problem last night was that Phil behaved like Hendo did when Can was playing CB, dropping in and taking it off him from 2 feet away making 10 defenders only have to pick up 8

— SimonBrundish (@SimonBrundish) December 14, 2017
In terms of dribbles though, the team disappointed: Salah made 5 – a respectable tally – whilst Firmino and Mané both made three – most disappointing though was the mere one made by Coutinho, the two of Can, and the zero of Wijnaldum. In a game in which Liverpool attacked primarily down the middle, they failed to do so through running with the ball, at opponents, creating space, gaps, pressure and opportunities. Perhaps the need for Naby Keïta is clearer than ever before.
Can and Wijnaldum each made 33 passes backwards, Wijnaldum made only 59 total, Can had 91

4 passes into the box to 2
2 key passes to 0
2 dribbles to 0
2 possession losses to 0
22 final 3rd passes to 8#Ghost

— SimonBrundish (@SimonBrundish) December 13, 2017
I think Wijnaldum is a really good player, I think he's been good alongside Can in midfield. He just didn't play well tonight, and rarely does against dross

— SimonBrundish (@SimonBrundish) December 13, 2017
As always though, we'll have a quick run through the numbers, to see if they back up my assessment of the game:
xG map for Liverpool – West Bromwich.

POLL: Is this funny? pic.twitter.com/vrSXcJBNRu

— Caley Graphics (@Caley_graphics) December 13, 2017
BBC had Liverpool's xG at 1.90, and West Brom's at 0.44, while this tweet below only serves to underline Liverpool's wastefulness in a game that typically does not offer many opportunities:
6 big chances Vs Everton and West Brom. % chance of scoring N goals based on 1000 simulations
0 = 6.2%
1 = 21.2%
2 = 31.7%
3 = 26.7%
4 = 11.7%
5 = 2.8%
6 = 0.3%

— AIUnderPressure (@AIUnderPressure) December 14, 2017
6 big chances were missed by Salah x2, Mane, Firmino, Gomez and Solanke.

— AIUnderPressure (@AIUnderPressure) December 14, 2017
Indeed, on assessment of the chances created Nate Silver's FiveThirtyEight (the analyitical group which predicted the 2012 presidential election spot on) gave Liverpool an 83pc chance of winning, on the chances that were created: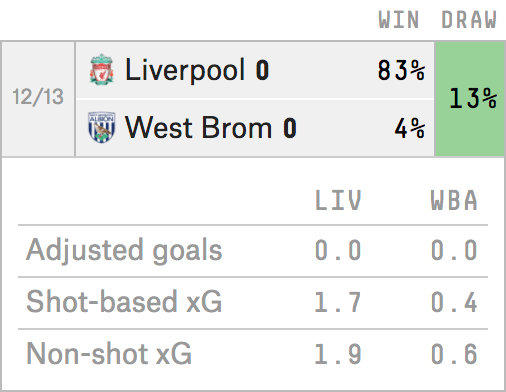 You can find their models here, if you want to have a look at previous games: https://projects.fivethirtyeight.com/soccer-predictions/premier-league/
My final thoughts on the game then? Tactically, there's little to discuss – whilst the midfield offensive contribution was not great, the defensive record with a double pivot is far better than without, and even without a decent midfield contribution, Liverpool created enough to win.
Liverpool were not at all near their best, and West Brom defended well, and Liverpool made enough chances to win the game, in what was a drab affair, but they did not. With more games to come though, there are opportunities to make up on this lost ground, but days like these are hard to take: especially given the Solanke chance below, and a handball decision that we've seen go the other way, as was noted on Match of the Day.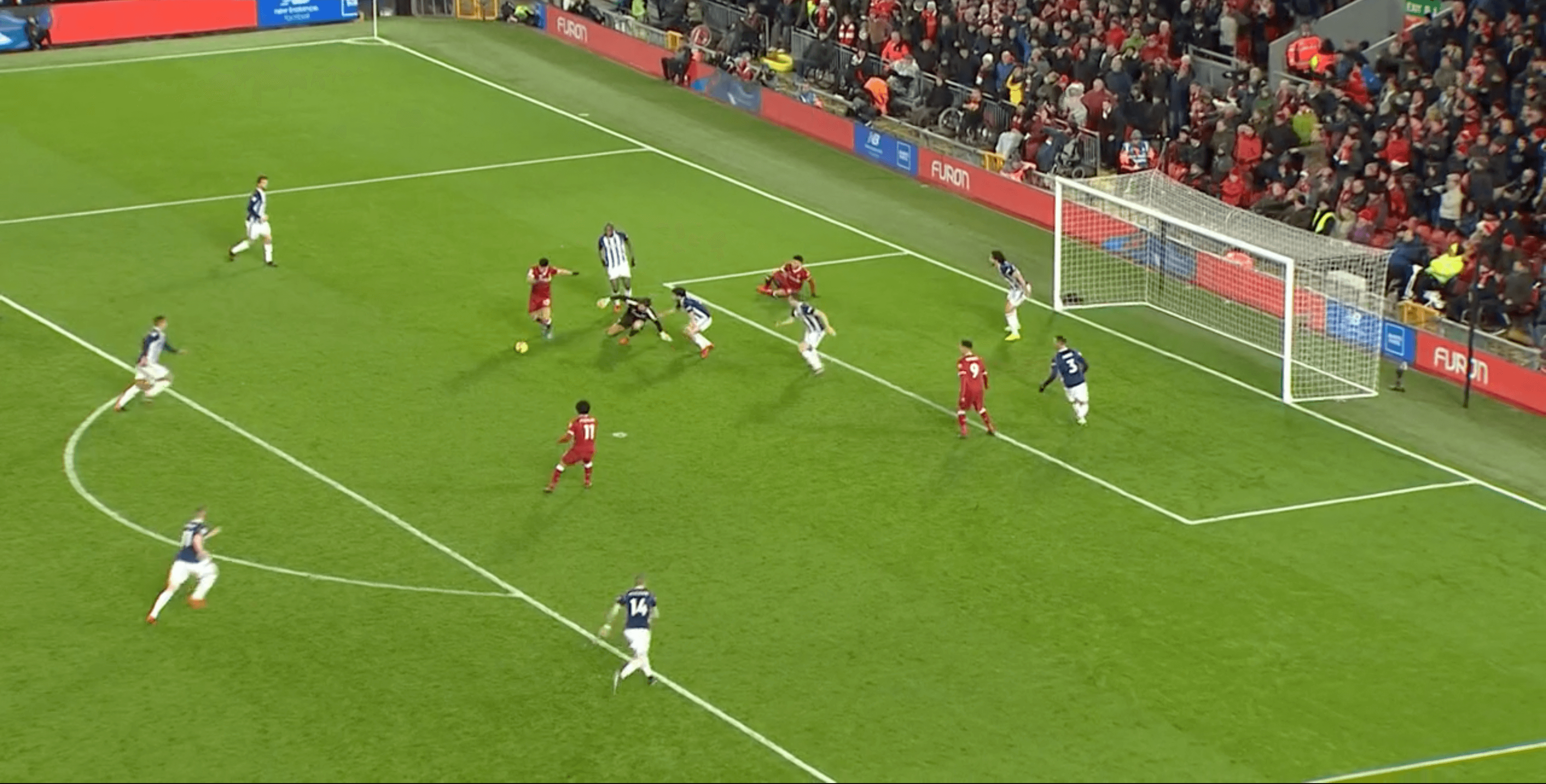 On a final note, Loris Karius put in a decent performance, and dealt well, for the most part, with a number of aerial balls – something he struggled with initially. As a strong shot-stopper, and a player with good kicking ability, his command of the box will largely define whether he can and will make it at Liverpool in the season(s) to come. Keep an eye on it.
Anyway, Liverpool were wasteful and spatially poor in a frustrating game, which can only really be considered as two points dropped, but perhaps this goalscoring blank is just a blip after a few barnstorming attacking displays. Time will tell…