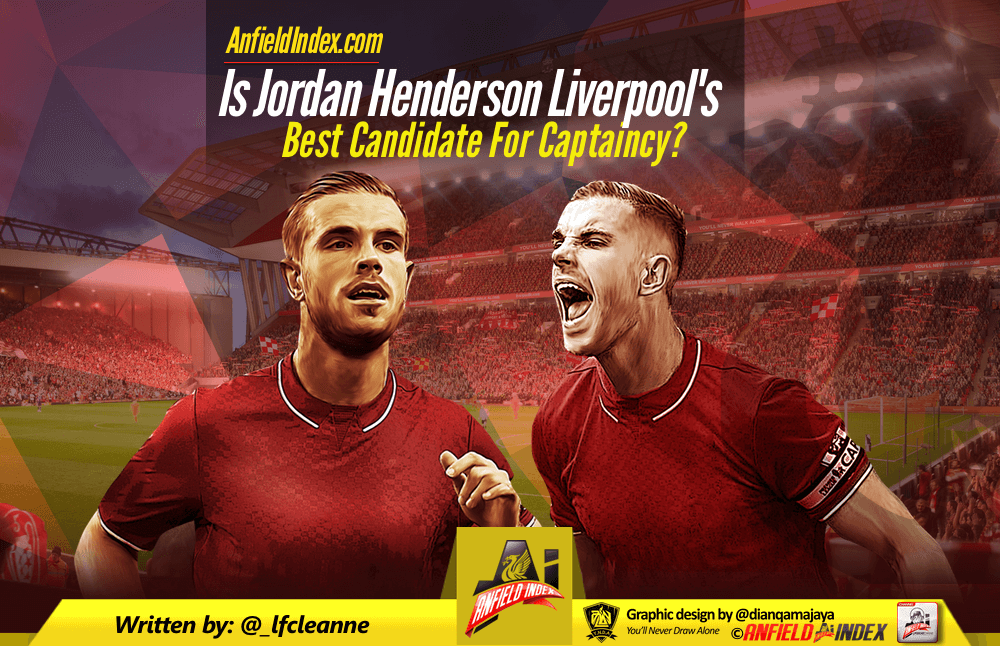 Is Jordan Henderson Liverpool's Best Candidate For Captaincy?
Jurgen Klopp previously claimed that "being skipper of Liverpool is the hardest job in world football because the man who had the armband before you is Steven Gerrard." That premise seems to be ringing true.
In truth, whoever took over from Gerrard was destined to fail in the eyes of Liverpool fans. Perhaps that's why Henderson is often left to bear the brunt of criticism.
When stacked up against Liverpool captains of old; players like Emlyn Hughes, Graeme Souness or Steven Gerrard, Henderson doesn't compare. The way Stevie grabbed each game by the scruff of his neck, pulling off last-gasp winners or providing killer balls behind the line of defence was never something Henderson could bring to the role.

None of this is to say that Henderson is a bad player, in fact there are many fans who appreciate his unselfishness and attribute his omission from the final few games of the 13/14 season to Liverpool's failure to win the title, with Rodgers' side winning 68% of their games when he was in the side as opposed to 33% without him. Merely, it is a rather frank statement of fact – Henderson is not comparable to the great leaders that have stood before him. 
Yet, it's hard to think of a more suitable candidate for the armband.
Despite signing for the club in 2013, Simon Mignolet still hasn't truly established himself as the club's number one goalkeeper and sometimes struggles to command his own six-yard box let alone the ten players around him.
In defence, Liverpool no longer possesses a Jamie Carragher type of player; someone with born leadership qualities who are vocal on and off the ball. Such is the case in midfield too where Emre Can's unwillingness to commit his long-term future to the club immediately rules him out of contention, despite being tipped heavily for the role when Klopp first arrived.
James Milner is the most experienced name in the ranks and arguably makes the strongest case for captaincy while none of the 'Fab Four' possess the qualities needed to lead. Coutinho, Firmino, Mane and Salah rack up a lot of points for The Reds and are thus integral to Liverpool's successes, but it takes leaders to win trophies – something unidentifiable in the aforementioned names.
It's important to note, too, that Liverpool's rivals are hardly blessed with true leadership figures. Michael Carrick is Manchester United's captain yet the midfielder is hardly ever seen in Mourinho's starting eleven, albeit out through injury at present.
Arsenal's captain is Per Mertesacker. While a hugely experienced player, the German is frequently absent from the team and hardly covers himself in glory when he does feature. Such was the case against Southampton where Dusan Tadic took full advantage of sloppy defensive errors to put Arsenal on the back foot.
Yet, neither Carrick or Mertesacker seem to suffer the degree of scrutiny from their own supporters like Henderson does.
Too often analysed in the shadow of Steven Gerrard, Liverpool fans are quick to jump on the midfielder's mistakes with 'I told you so's' while sweeping any positive impact he has under the carpet. Jurgen Klopp was spot on when he called it an impossible job, as I'm sure Henderson is finding out.