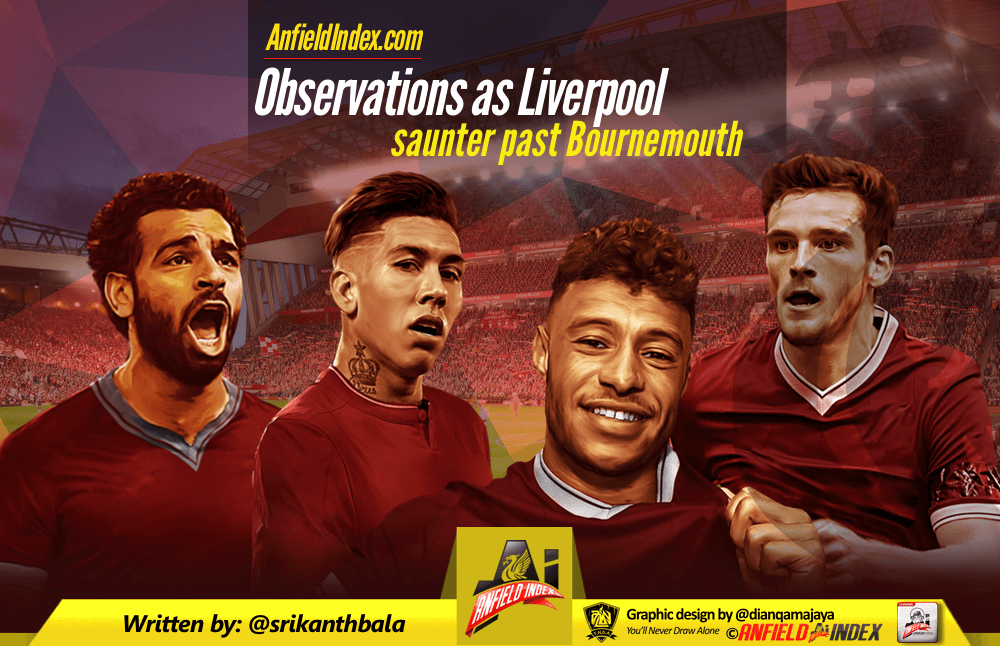 Observations as Liverpool saunter past Bournemouth
Liverpool came into their game hoping to keep their great away scoring form going, and the attack produced an excellent performance to ensure Liverpool walked away with the three points.
Here are the observations from the match.
Importance of the result
Liverpool were coming to Bournemouth on the back of two frustrating home draws and were looking for a favourable result before heading to the Emirates on Friday. The win ensures that Liverpool leapfrog Arsenal into the top 4 as they head into the mouthwatering clash on Friday. The abundance of goals from Liverpool in their last 4 EPL away games would definitely be on the minds of the think tank at Arsenal, who also play in a style which would suit Liverpool.
Roberston more than an able deputy
Robertson has found playing time very tough to come by with the re-emergence of Moreno this season. He has waited for his chance though, and has now got a decent run of games and has managed to impress with his performances. He is more than willing to bomb forward and his intelligent movement to stick to the wing playing a part in Coutinho's opening goal. He has been alert with his defending too, saving Liverpool from attacks on more than a couple of occasions. His interplay with Coutinho also seemingly is getting better as they play alongside each other.
Chamberlain is growing into the role
Chamberlain has also started his life at Liverpool in a similar manner to Robertson, with league minutes not always available. He left Arsenal after expressing his displeasure at his role at Arsenal, but did not start at Liverpool in midfield either in his initial games. As the festive season approaches though he has looked to grow into his role and has gotten up to speed in understanding Klopp's demands. He has been an able runner, darting and passing into the wide channels, and has been one of the first players to close down the opposition. I had initially complained about the lack of minutes afforded to Chamberlain, but will be the first to hold my hand up admitting that I was wrong as Chamberlain seems to be heading into peak form during this crucial period.
What more about Salah?
Another game, another goal, another mention for the King of Egypt. We might get tired of praising him, but thankfully he does not seem to get tired of scoring goals. That is 20 for the season, definitely the signing of the summer so far. There have been concerns expressed about how often Klopp seems to play him, but Klopp addressed the concerns during the pre-game interview and if he keeps scoring so often no one would complain. It is one thing to know what he is going to do, but it seems to be an uphill task to stop Salah. Onwards and upwards.
Bobby the man
These are the perfect games for a player like Firmino. The opposition try to pass the ball from the back, and he is one of the first players to pounce after setting the trap. His hard work was duly rewarded by a goal, with even luck on his side in terms of a marginal referee call. This was after his never-say-die attitude resulting in him retrieving the ball for Lovren to head in the 2nd goal. Coutinho might be the cynosure of all eyes with his individual goal, but let us not forget the industry of Firmino, which allows players like Coutinho, Salah and Mane to shine.