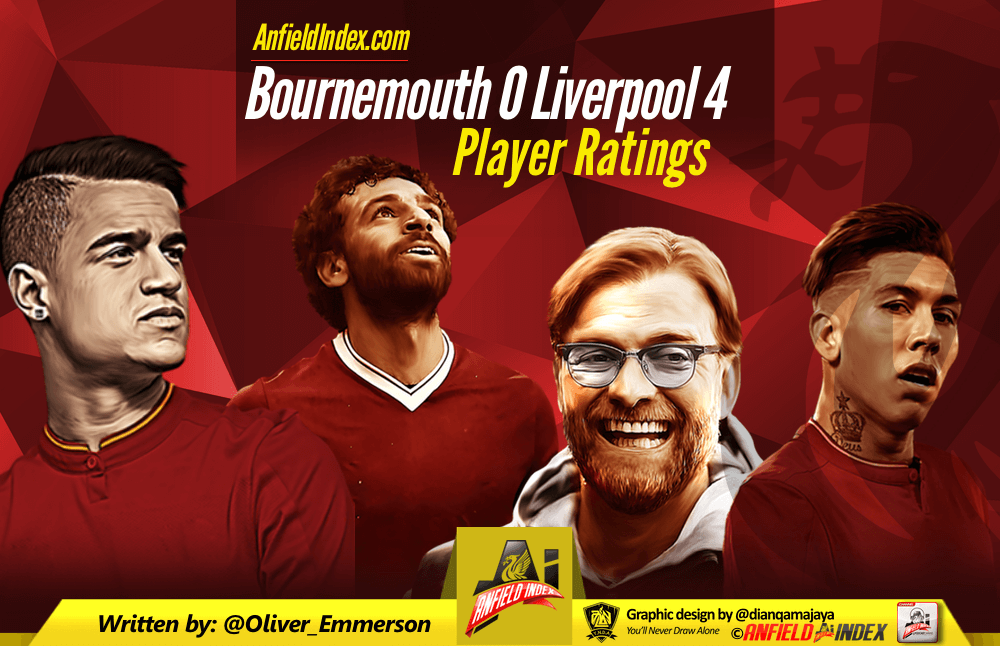 Player ratings as Liverpool cruise to victory at Bournemouth
Always nice to win, always nice to win away. Especially nice to win 4-0, after two depressingly ugly home games with just one goal scored.
The Reds back into the top four thanks to goals from three of the Fab Four, and a first in over 12 months from Dejan Lovren! All guns blazing ahead of Friday's crunch clash with Arsenal, just the way we like it.
Here's how the Liverpool players rated out of 10 in their win against Bournemouth.
Goalkeeper and defence
Simon Mignolet (6): Always hard to rate a goalkeeper when his team wins 4-0 and he doesn't have much to do, so six is sort of the standard line. Mignolet did well to get out to Defoe quickly, that was a crucial moment, but doesn't actually make the save so I'm not going to bump him up one. No mistakes, better distribution than the opposition 'keeper. How often does that happen?
Joe Gomez (6): Not his best performance of the season for sure, nothing hugely wrong but Gomez did let his man in behind him one too many times for my liking. Then again he's a centre-back playing at right-back and Bournemouth have a lot of quick players so he had a harder task than most.
Dejan Lovren (7): A goal! A goal! For a defender whose best defensive attribute is his heading, he doesn't score enough. But he did today, so well in. Okay at the back, one or two things which we might criticise if Bournemouth attack better but overall a good day for the Croatian.
Ragnar Klavan (6): This was his 38th appearance for Liverpool! He's been here less than a season and a half. If you'd have told me he'd be playing that much when he signed I'd have laughed and then been concerned. Regarding his actual 38th appearance, he was fine. Solid, a couple of good blocks. Little else to say.
Andrew Robertson (7): His best performance since the Crystal Palace game in August. Always looks a threat going forward but today he focused more on linking with Coutinho than getting into a position to cross and looked all the better for it. Decent going back, picks up an assist for Coutinho's goal despite playing a simple five yard pass, deserved given some of the crosses he's not seen put in.
Midfield and attack
Jordan Henderson (7): Much better from the skipper, a good performance. Lazy for the Defoe chance (go back and watch it), but very good other than that. More determined on the ball, got forward to supplement the attack more which seemed to help his game. A couple of lovely balls to the King of Egypt, who we'll get onto.
Gini Wijnaldum (6): Every single away game I say he's going to score and he never does. Selfish, in my opinion. Did that thing where you don't really see him but Liverpool win well so you assume he's kept it ticking over and been diligent defensively? Was he? I'll have to watch a replay.
Alex Oxlade-Chamberlain (10): Was going to give him a seven because he was really good. Then he jumped in to save Coutinho in the post-match interview and I decided it was the best thing I've seen this season, that sort of stuff deserves a ten. On his actual game, one of his best performances so far, coming in that central role he seems keen on becoming a regular in. Pressed Bournemouth well, determined in the tackle, nice and direct to offer a good contrast to the wizardry of Coutinho. Proper loves Liverpool, which I like.
Mohamed Salah (7): Missed a few chances but you let him off because it's his fantastic play that creates the chances. Practically retires Daniels. Nice goal, 20 for the season you say? KING. OF. EGYPT.
Philippe Coutinho (8): Savour this man until he leaves. We can criticise what went on in the summer and perhaps rightly so, but he's giving his all for Liverpool right now. A goal, an assist, ran the show. Lots of chatter in the summer about playing him in centre-mid but he excelled out wide today.
Roberto Firmino (7): Does brilliantly for Lovren's goal and scores another goal which is weird given everyone thinks he doesn't score goals. Gets taken off for a rest, will be licking his lips at the prospect of going against Arsenal.
Substitutes
Adam Lallana (0): You're thinking it. I'm thinking it. The hair.
Dominic Solanke (N/A): So desperate for a goal, lovely to see the Reds trying to gift him one.
Danny Ings (N/A): [See Solanke]