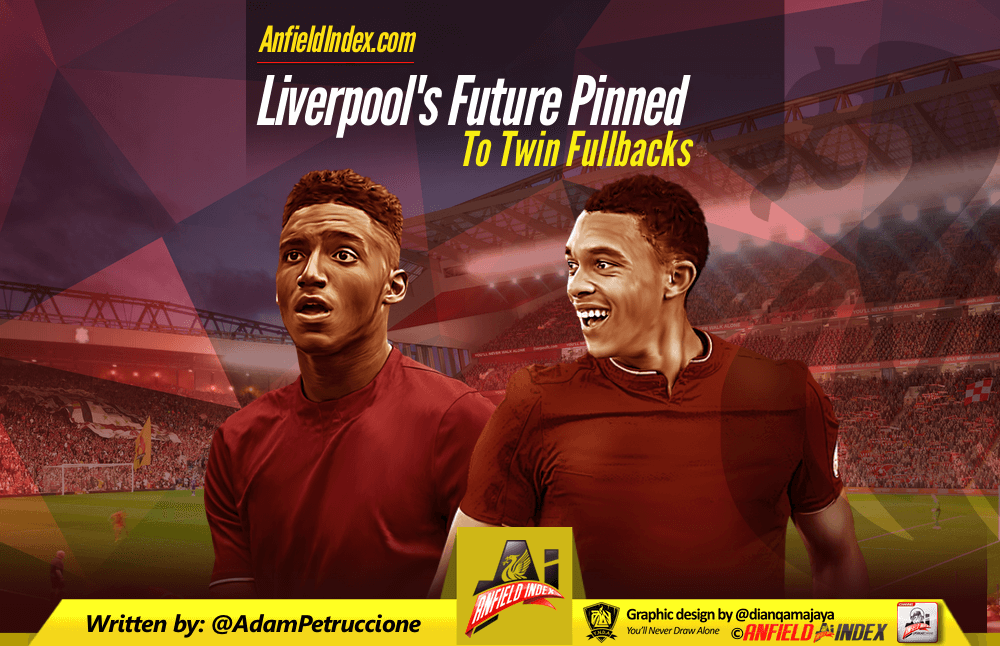 Liverpool's Future Pinned To Twin Fullbacks

The Premier League's top six clubs dream about having English talents good enough to bring all the way through from their academy systems and into the first team.  Liverpool are fortunate to have one of these rising stars in 19-year-old Trent Alexander-Arnold.  Blessed with speed, intelligence, a powerful shot and outstanding passing range, Alexander-Arnold is not only one of the jewels of the academy, he's a local lad.
Just one problem…  His favoured position is currently occupied by another English prodigy, Joe Gomez.  Brought in from Charlton in 2015, Gomez came up as a centre-back but has almost exclusively featured for Liverpool as a fullback; on the left under Rodgers and on the right with Klopp.  Out on the flank, the 20-year-old is a beast, mauling wingers into submission and even providing a calming influence on the Reds' more senior central defenders.
Whoscored.com rates these two as the 4th and 8th most impactful players so far in Liverpool's 2017/18 season ahead of key contributors like Alex Oxlade-Chamberlain, Gini Wijnaldum, Jordan Henderson and Alberto Moreno. The question is, how long will it be before Klopp tries to get them both on the pitch at the same time?
On one hand, you can see the logic of having them caddy for each other exclusively at right-back through the remainder of the season.  The jump to this level is a big one and there's a risk of regression if too much is thrown at them at once.
However, as two of Liverpool's most talented, it has to be tempting for the manager to figure out a way to rearrange the starting eleven so that both youngsters can fit simultaneously.
Here are four ways that could happen.
BABY BACK 3
While Jurgen Klopp has used this formation out of desperation at times, this is the least likely scenario.  In isolation, it may suit Gomez and Alexander-Arnold the best though.  A 352 or 343 would put Joe Gomez on the right of the back line with Trent Alexander-Arnold at right wing-back.  With Moreno, Robertson or Oxlade-Chamberlain well suited for the other wing it would be an entertaining set-up.
DUELING FULLBACKS
In Klopp's 4222 the fullbacks have kept more conservative positions, staying back to help out in defense for the most part.  In that system Gomez could go back to the left-back position he initially played in under Rodgers, leaving the right open for Trent to utilize his deep diagonal balls.
ADVANCED TRENT
'TAA' has the skill-set to play in midfield.  He played the '6' before being moved out to the right in Liverpool's academy.  In a scenario where Coutinho, Can or both forced their way out in January or If there was another rash of injuries Trent could be played in a midfield role similar to Oxlaide-Chamberlain's where he roams centrally without the ball but flares out wide in attack.  As he showed against Swansea, Trent is already as much of a goal threat from the edge of the 18-yard box as any of our more senior central midfielders. A move to midfield would leave right back for Gomez and the eventual return of Clyne.
JOE TO THE RESCUE
The most likely scenario would see a confluence of poor play by our existing centre-backs and Gomez's continued advancement.  It's not too hard to imagine Gomez eclipsing Lovren or Klavan before the end of the season.  Any injury would force this scenario as well without new recruits in January.  Gomez has already played in central defense for England's national team and the long-term plan is to have him play there for the Reds.
Whether it ends up being one of them on the field at a time or both, the rapid growth of these two talents will be an important chapter when the story of this season is written.
Do you have another way to get both of Liverpool's defensive starlets on the same pitch or do you think they should continue to partner at exclusively at right-back?
Let us know in the comments below.