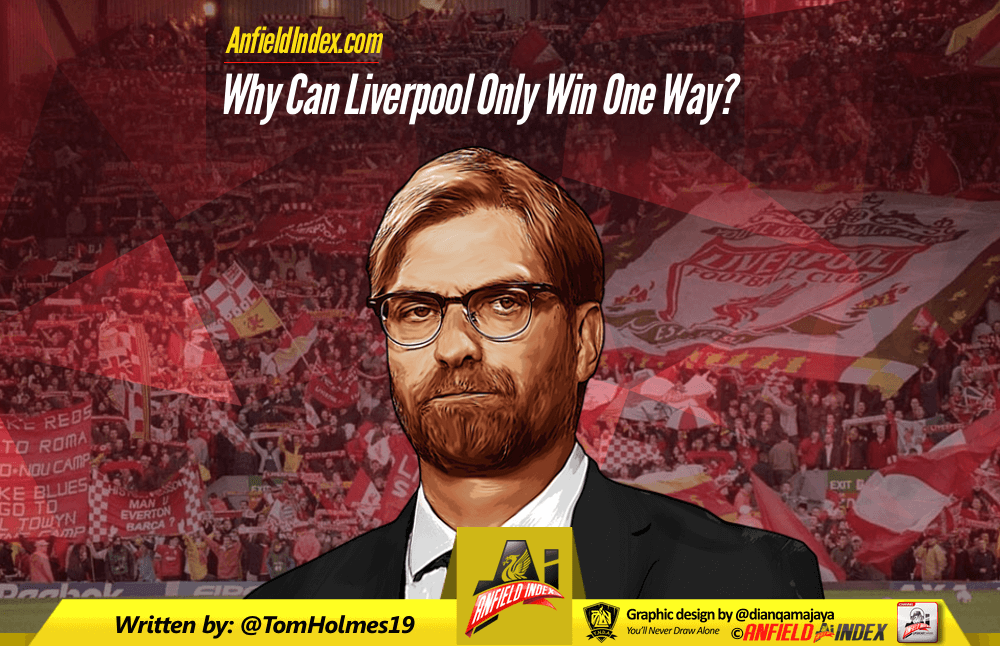 Why Can Liverpool Only Win One Way?
Whilst looking at some of the stats that fell out of Liverpool's win over Bournemouth, one, in particular, stood out to me – seven out of Liverpool's nine Premier League wins had been by three goals or more. I quickly realised that our three Champions League group stage wins fit this narrative too, and so when it was pointed out to me that in fact, Liverpool's last eight wins were all by three or more goals – now nine since Bournemouth makes it six straight league wins by three or more – I wasn't surprised.
So isn't that one hell of a stat? Liverpool's victories this season have been, by and large, one dimensional. Even one of the two league games where the Reds have won by just one goal, against Leicester, the Reds scored three, winning 3-2.
This is a bizarre set of circumstances, and any season where a team has more 7-0 wins than 1-0 wins is insane, but why is this such a phenomenon? Why can Liverpool only win one way?

Well, part of it is simple tactics against smaller teams. When Liverpool score the first goal in a game, particularly early on, they tend to win – in fact, the only Premier League game where the Reds have been leading at halftime and not won is the derby. This is because at that point, teams that have tried to park the bus or be hard to break down inevitably have to change tactics, as they're losing. And Liverpool's front four are so good on the counter that when given time and space to operate, they tend to eviscerate teams. When Liverpool score the second, they go on to score the third, the fourth, etc.
Whilst this is certainly part of it, why is it such that the stats are so heavily weighted in favour of these kinds of wins? Well, there are two easy answers. The first is that Klopp's Liverpool have no off button. Whilst other teams like Chelsea or Spurs are happy to wind down a game, Klopp's side will keep going for the throat to finish off the opposition. This is partly because the players are hungry for goals, but also partly an acute awareness that for this Liverpool team, attack is the best form of defence.
The second is that our attack is just extremely good. Once things slot into place, our team at full throttle is more than good enough to consistently score three or four goals against weaker opposition – and sadly it is almost exclusively weaker opposition.
Unfortunately, there is a reverse to this, because whilst Liverpool consistently romping teams is absolutely immense fun when it comes off, the flip side is that the team are woefully incapable of snatching 1-0 or 2-1 wins, with just one of each in 27 games in all competitions.
Indeed, Liverpool have drawn seven of their eighteen league games so far, comfortably more than any of the other top six, and the second most in the league behind West Brom. Six of those seven draws have been 1-1 or 0-0, indicating that Liverpool have issues when games are tight.
Part of this is the calibre of opposition – Man United and Chelsea have both picked up draws at Anfield, as have high-flying and incredibly tough to beat Burnley, whilst West Brom have the most draws in the league and have only lost by more than two goals to Chelsea all season. But part of this is also tactics. Whilst Liverpool have clearly become better at breaking down a parked bus, they still have issues at times.
It doesn't help that defensively, Liverpool have at times been sloppy in critical games, with Newcastle and Burnley the obvious examples. And luck has often been against the Reds in those sorts of games, with Chelsea's fluke equaliser, Everton's ridiculous penalty and Solanke's disallowed goal against West Brom all good examples, not to mention the inhuman nature of David De Gea.
So overall, there are clear tactical reasons, both good and bad, why Liverpool only tend to win one way. And there's nothing inherently bad about the way Liverpool win either, winning seven league games out of eighteen by at least three goals can do no harm to your goal difference. The problem is that through a combination of fatigue, bad luck and clearly some mental issues, Liverpool almost never find ways to win tight games of football – the clear exception being the 1-0 against Palace early in the season.
If Liverpool can fix this problem and start finding a way to grind out difficult wins, then we could be on for something very special with this side. Until then, just enjoy the carnage. I know that for the most part, I am.