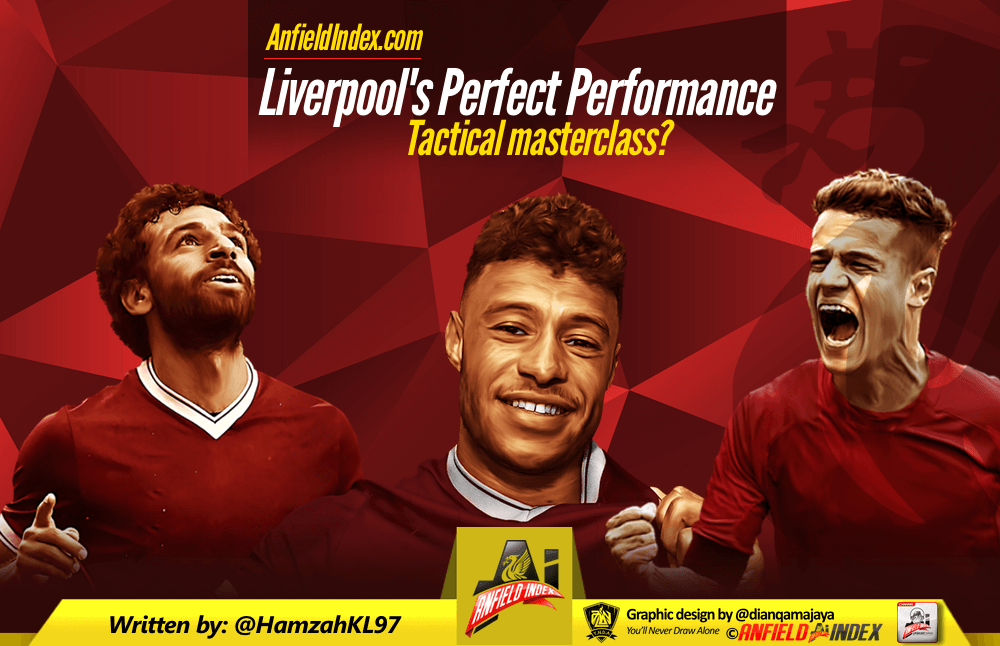 Liverpool's perfect performance: Tactical masterclass?
Liverpool's demolition of Bournemouth appeared to be one of the complete performances of the season. Utterly dominant and prepotent in the first half, Liverpool romped to victory, with a pressing, passing and offensive performance which defied all expectations.
xG map for Bournemouth – Liverpool. Hey, they won the xG *and* the game. pic.twitter.com/8G278mGvT1

— Caley Graphics (@Caley_graphics) December 17, 2017

To me, Liverpool looked distinctly better with their passing. Indeed, Liverpool had an 88pc passing accuracy, whilst retaining 56pc of the possession. In terms of the number of passes, Liverpool made 655. Considering this, I wondered if there was a way to quantify ball speed or "activeness" with the ball. So, I tried something different, and divided the number of passes by the percentage of possession (655/56), to get a number of passes per percentage point of possession.
In this game, it was 11.7. Obviously, that means little without context – and I do understand there are limitations to this rudimentary method of presupposing activity on the ball. However, my thinking was as follows; Liverpool often have the lion's share of possession – and if a team has less possession, they have to do more with the ball on the occasion they do have it. In which case, a high number of passes with a high amount of possession will not really yield an exceptionally impressive ratio e.g. when Liverpool played Everton, they made 736 passes, with 79.4pc of possession (9.27 passes per percentage point), and when Liverpool played Spurs, they had 9.86 passes per percentage point. However, the more passes made with less overall possession indicates the game is not one in which the ball is recycled at the back, and is instead a more competitive one in terms of offensive styles.
The Brighton game, I feel, reflects this rough idea, with 11.6 passes per possession point, so too the Arsenal match (10.5), the Spartak demolition (10.0) and City's victory over Liverpool, in which City secured 11.04 passes per possession point.
I admit, this method is exceptionally rudimentary at best, however, despite its clear limitations, I feel it is the best way to show you, without narrating a video of the game back to you, how Liverpool used the ball well, and at speed.
N.B. after writing this article, I was reviewing some statistics, before I submitted it, and found something remarkable with the passes per percentage point statistic:

Lovren (7.9pc), Henderson (7.9pc), Gomez (7pc) and Klavan (6.8pc), all had very large portions of Liverpool's overall possession, and this was reflected in their passing stats too: Lovren (95), Henderson (94), Klavan & Gomez (82). These four players had the four most possession points, and passes of any other Liverpool or Bournemouth player.

This meant players like Coutinho (3.2pc), Firmino (2.7pc), Salah (2.8pc) and Chamberlain (4.6pc) all had meagre possession figures, relative to other players within the side. The most remarkable thing is though, despite this, Coutinho made 36 passes, whilst Firmino and Salah both made 30, and Chamberlain made 53. Giving them 11.25 passes per percentage of possession (Coutinho), 11.1 (Firmino), 10.7 (Salah) and 11.5 (Chamberlain).

Despite the more challenging nature of passing in the final third, Liverpool's forwards were near as prolific in their passing rate as the defenders, illustrating a pace and verve to their ball speed and pass frequency, consistent across the pitch – unaffected by the pressures and challenges of trying to pass through a defence.
In terms of key passes, Liverpool were blessed with creativity: Coutinho made four, as did Chamberlain, whilst Henderson made 3, with Firmino (2), Lallana (2), Salah and Robertson (1) all contributing.
Passmaps & xGplot for Bournemouth against Liverpool. #passmap #xGplot #autotweet pic.twitter.com/6IvbkjTKqG

— 11tegen11 (@11tegen11) December 17, 2017
 In some respects, Liverpool completely outsmarted Bournemouth, but similarly, Bournemouth also played into Liverpool's hands. Bournemouth's press, whilst effective at pushing Liverpool back at times, was completely counter-intuitive.
With Bournemouth players pushing up the field, the gaps between the goalkeeper/defence, defence/midfield and midfield/forwards grew greater and greater apart. As the defenders moved up, they gave Liverpool exactly what they desired most – space to run into.
With Coutinho, Mané, Salah and Chamberlain on the field, it was tactical suicide, with Liverpool able to play through balls in behind. On a number of occasions, these through-balls were overhit – but Salah's goal exemplifies it perfectly, as there was space available in behind, for both the pass to be made from deep, and for Salah to run into. From there he made the goal his own, but his ability to isolate the defender, and take him one on one, stemmed from the high positioning of Bournemouth's defenders, as they both pressed, and Liverpool drew them out – alongside the pass in behind.
The Coutinho goal though displayed something to me which I found far more impressive. Bournemouth had decided to sit back, and Liverpool's defenders circulated the ball, around the back, enticing the Bournemouth forwards. The genius of this move was the haste in which the ball was played in a transition phase for both Liverpool and Bournemouth. Coutinho took up a half-space on the wide side of the midfield, playing a one-two, before driving at the defence. They key here is his ability to drive at the defence and not the Bournemouth midfield – as his quick pass, and Liverpool's previous possession play had drawn the forwards and midfield out. Again, like Salah's goal, this was then a product of individual brilliance, but the team positioning and tactical awareness in the build-up was superb.
Initially, the structure seemed to strike me as a 4-2-3-1, but I soon realised it was the trusty 4-3-3, with Chamberlain in a midfield role, but Henderson in a free role too. Instead of Henderson sitting deep permanently, he, far more often than usual pressed from deep, and instead of retreating, held his advanced position – and he seemed liberated in doing so. This was one of the best performances from Jordan Henderson in many a match, perhaps in the entirety of this season thus far. Chamberlain facilitated this at times, and whilst he was playing as a quasi-forward in possession, when Liverpool lost possession, he dropped into the midfield, covering Henderson on occasion, but also playing a great part in the overall press.
The first half was almost a story though, as it developed from a cut-and-thrust start to a possessional and positional match, with movement and passing key.
This article is a break from the norm, but I've tried to quantify what I saw on the pitch in numerical and statistical terms, so as ever, I will be interested to hear your thoughts. Beyond this though, what we should be taking from this game is a confidence in Liverpool's tactical awareness and ability. Having struggled to break down a low block in two consecutive games, Liverpool drew Bournemouth out and changed the game to suit their strengths – sacrificing possession for the ability to break, run at pace, and press relentlessly inside the Bournemouth half.
Liverpool attacked down the right 43pc of the time, 31pc down the centre, and 26pc on the left side. Unlike in several games, which we've discussed, over the course of the season, in which Liverpool attacked predominantly down the centre, and ignored the space out wide – in this game Liverpool actively targetted and exploited it, but were also allowed to do it, due to Bournemouth's setup.

(Bournemouth left, Liverpool right)
The most remarkable thing about the image above is the huge gap between the two Bournemouth centre-backs. But Liverpool created this gap through attacking their wide-right area, bringing over the left-sided centre-back to support the left-back. From here, Coutinho and Firmino were able to roam with freedom and exploit space – with Chamberlain in support.
But again, before we end, I'll re-state the importance of Liverpool's passing performance. Rather than panicking as the team did against Burnley, or being stifled as the team was against West Brom, the team was purposeful and patient with their passing, and this was the key to breaking down and dismembering Bournemouth. Indeed, the number of shots reflects this, with 18 attempts from open-play, and 72pc of all attempts within the 18-yard box.
Arsenal, away from home, will present a different challenge, but providing Liverpool put in the same pressing performance, there's little chance Liverpool leaving the Emirates without a point. It promises to be an interesting match to break down, especially if Arsenal play 3 at the back, as they did at Anfield.
4 – @LFC are the first team in top-flight history to have won four consecutive away games by a margin of at least three goals. Record. pic.twitter.com/Kjowqc6676

— OptaJoe (@OptaJoe) December 17, 2017