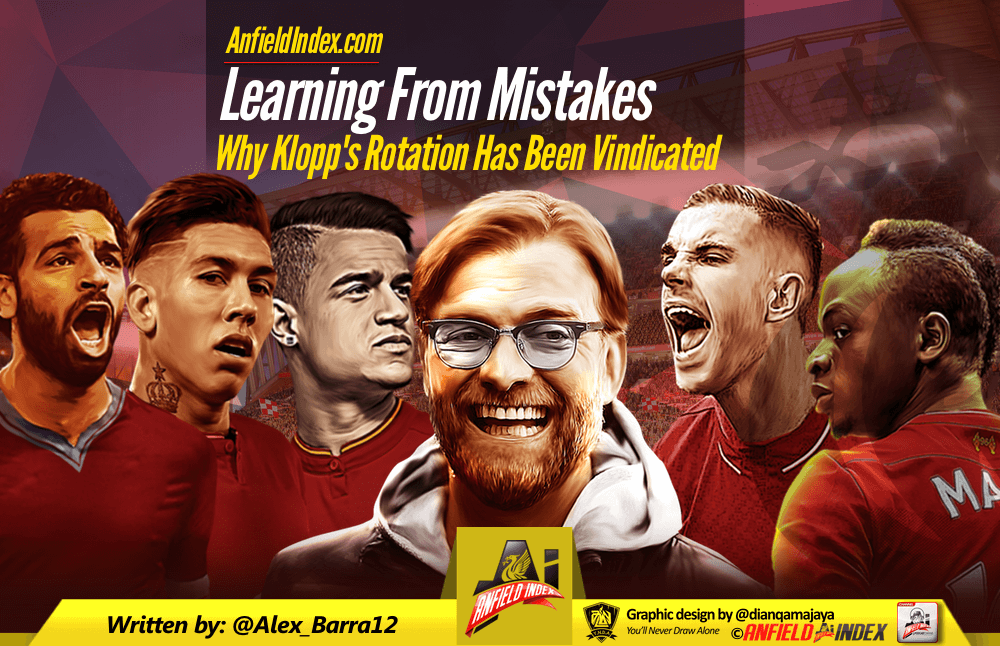 Learning From Mistakes - Why Klopp's Rotation Has Been Vindicated
An emphatic statement saw Liverpool return to the top four at the Vitality Stadium on Sunday, and with it came some satisfaction for Jürgen Klopp, in the face of criticism for a maligned "rotation policy".
The sentimentality that clouded fans' perception of the 1-1 draw against Everton and the subsequent misfiring at Anfield a few days later against West Bromwich Albion lead many to bemoan Klopp's decision to "over-rotate" – disregarding the importance of games in some sort of sheer defiance to prevent key players from becoming fatigued.
Thus, armed with far less information regarding the fitness of the Liverpool players and (the majority) without a degree in sports science, Liverpool fans opted to do the very Liverpool thing and lash criticism at the manager, overreact wildly and question what on Earth could be going through the mind of the man in charge.

Everton had a single shot on target for the entirety of the Merseyside derby, and yet a single moment was enough to earn them a point. Then, once more, as West Bromwich Albion's refusal to allow more than two players outside of their own box at any time thwarted Liverpool, self-righteous clamours of "Told you so" echoed around the sphere of social media, and everyone seemed to enter meltdown mode.
Then Liverpool smacked four past Bournemouth, and the reality came crashing down. Maybe the manager was right to learn from history, rather than blindly ignore it in the face of irrational sentiment.
Everton have been dire, this season, and if it weren't for a brain fart from a centre-half who has no right to start in a top six side, Liverpool would've escaped with a 1-0 win. Of course, you can lambast Klopp for his inability to get the Virgil van Dijk deal over the line (pursuing an alternative is another issue entirely) but the reality was that Everton only had a single shot on goal, and deserved absolutely nothing from the derby. That's what happens in football sometimes.
The idea that Klopp was wrong to rotate in a game against the worst Everton side to come to Anfield in years is, quite simply, wrong. Especially given a heavily rotated side stuck seven goals past Spartak Moscow in Klopp's most important game of the season up to that point.
Liverpool's "fab four" have hit 50 goals, and Mohamed Salah has already swept away the club's top goalscorer charts in the seasons since Luis Suarez's departure (the highest tally before Salah was Phillipe Coutinho last season with 14 – a tally Roberto Firmino is on the verge of breaking).
Now imagine if Salah had been injured in the hectic Christmas period. Going into the New Year, into the month of January where Klopp has only ever won a single game at the helm of Liverpool – that chaotic 5-4 win against Norwich in early 2016. Being without the mesmeric goalscorer would be considered a far greater calamity than dropping points against West Bromwich Albion.
Liverpool were never going to be Champions this season. The aim is without a doubt top four, and in an intensely competitive atmosphere within the chasing pack, being without any of the Fab Four, just as Liverpool were without Sadio Manè last January, would be a disaster. The result against West Bromwich Albion is one that occurs during every season, for those with Champions League aspirations. One only take a peek at the results of last January to see just how bad it could've been – a 3-2 loss to Swansea at home, a 2-0 loss to Hull at the KC Stadium, and a 2-2 draw at the Stadium of Light, against a tightly compact Sunderland side.
Aside from that, like West Bromwich Albion frustrated Liverpool and caught them on an off day.
The Reds then turned around and immediately rectified that, hammering Bournemouth 4-0, with one of the game's key players being Alex Oxlade-Chamberlain, a man signed to facilitate the rotation. Even without Adam Lallana, the German has made 69 changes to his side this season, more than any other Premier League side.
By December last season, Klopp had only made 26 changes to his starting eleven. To turn a colloquialism; the proof is in the pudding. Liverpool topped their group in the Champions League stage, scoring more goals than any English side ever has in the process. Except for centre-half, each position has multiple players able to cover it, with tweaks to the system the only result. The 4-2-2-2/3-3-3-1 seen at West Ham saw Klopp's side give away possession to create more chances on the counter-attack. Indeed, it is the counter-attack that has been the most devastating weapon for Liverpool this season (Liverpool have scored twice as many counter-attacks as any other Premier League side) and despite insistences that "momentum exists in football" there is a very simple truth:
Counter-attacking is tiring. So is pressing. And Liverpool wouldn't be where they are without either of those facets in their game. So it really shouldn't be a surprise that Liverpool are rotating so heavily, given the disaster that was last January. After all, every Liverpool fan seemed enamoured with the idea of "having a squad" in the summer transfer window.
So don't get annoyed when the manager uses it.