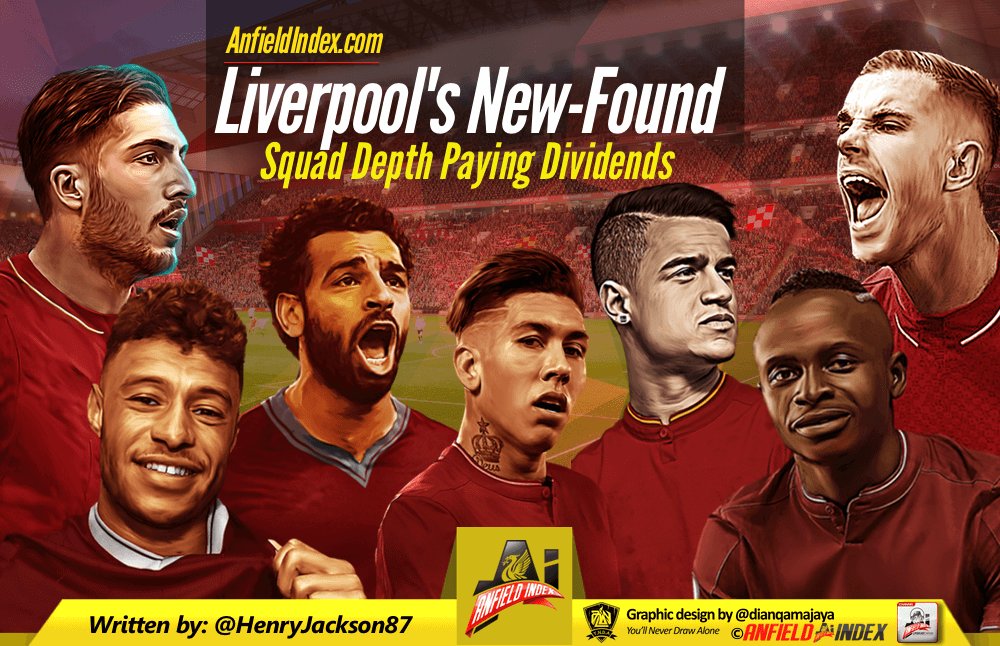 Liverpool's New-Found Squad Depth Paying Dividends
Since Liverpool stopped ruling English football in 1990, there are many reasons why a return to the summit of the game has continued to evade them.
There have been dreadful signings, bemusing managerial appointments, unprofessional squads and rivals spending vast chunks of money, among many others factors.
One of the Reds' greatest Achilles heels has been a lack of squad depth – something that has held back many of their best teams over the last quarter of a century.

The talented side of the mid-1990s didn't have the options that Man United did, and it ended up seeing them fall short against their bitter rivals time and time again. That and their aforementioned unprofessionalism.
Rafa Benitez's superb 2008/09 outfit, is still the most complete Liverpool team have had since the league title was last held aloft by them, had poor back-ups.
When Pepe Reina, Jamie Carragher, Javier Mascherano, Xabi Alonso, Steven Gerrard and Fernando Torres were all in the team it was often plain sailing, but what about when rest was required or injuries arrived?
It would be Andrea Dossena, Ryan Babel, Andriy Voronin, Nabil El Zhar and David N'Gog who were called upon, while United often had Paul Scholes, Ryan Giggs and Dimitar Berbatov waiting impatiently for some minutes.
The class of 2013/14 that came so close to winning the title were similar, and it was the luxury of very few injuries and using a minimal amount of players in the second-half of the campaign that gave them a chance in the first place.
The addition of European football and injuries to key men that year would have seen no title bid even threaten to build.
When the season reached its climax, fatigue had started to set in, and there was no quality to come in and help ease the workload of Luis Suarez, Daniel Sturridge, Raheem Sterling and Philippe Coutinho.
Last season was magnificent before the New Year when Jurgen Klopp's players were fresh and in-form, but they then fell off a cliff in remarkable fashion.
Once important players started falling like dominoes, the backup options just weren't there, with teenagers Trent Alexander-Arnold and Ben Woodburn finding themselves drafted into the first-team squad unfairly, and others simply not good enough.
Too many times down the years, we have sat there appreciating a really impressive Liverpool starting lineup, only to look at the substitutes' bench and simultaneously shudder. It is a big reason why only one trophy has been lifted in six years.
Having such a limited squad was something Klopp had to address in the summer, and although frustration was shown over some of the business – missing out on Virgil van Dijk, mainly – the manager has now constructed a formidable group of players.
All of a sudden, there are options everywhere you look, with the exception of centre-back, which is still alarmingly lacking.
Joe Gomez and Alberto Moreno are deservedly seen as the first-choice full-backs, but Alexander-Arnold and Andrew Robertson are very solid deputies.
Liverpool's midfield has taken its fair share of flack, mostly from those with unfair, stubborn agendas against Jordan Henderson, Emre Can and Gini Wijnaldum individually, but the trio are all good footballers who possess quality and versatility.
All three are international level footballers who more than held their own in a team that looked like title challengers this time last year.
Add to that trio the industry and experience of James Milner, the ever-improving Alex Oxlade-Chamberlain, the classy Adam Lallana and the fabulous Coutinho, and there are a plethora of choices in the middle of the park.
The prodigiously gifted Woodburn may also come into contention sooner rather than later.
In attack, Mo Salah and Sadio Mane can thrive on either flank or in a more central role, and Roberto Firmino is equally adept at interchanging.
Oxlade-Chamberlain, Lallana and Coutinho are more than capable of shining further up the pitch, too – versatility is clearly something Klopp holds close to his heart – and Daniel Sturridge and Dominic Solanke are good options off the bench.
For the first time in a long time, Liverpool can afford to make a number of changes game in, game out, and it not be too much of an issue.
If two or three of the much-praised 'Fab Four' are missing, it doesn't feel anywhere near as fatal as when Gerrard missed a game, or when Torres picked up an injury, for example.
There are so many players capable of slotting into so many different roles, and it is helping keep the Reds at their optimum level fitness-wise, at such a busy time of year.
It is plain to see that Klopp has realised just how taxing the festive period is, following the post-Christmas capitulation that occurred in 2016/17 – he has made 71 changes in total, more than any other manager – and he is juggling things very well, despite some frustrating dropped points with weakened teams.
This squad isn't yet perfect, with a new goalkeeper and centre-back required – yet another defensive collapse, this time at Arsenal, is proof of that – and the addition of Naby Keita set to make a sizeable difference in midfield, but it still feels like comfortably Liverpool's best in at least a decade.
There is even an argument to say that the last time such choices were available to a Reds manager was Gerard Houllier in 2000/01, when a historic cup treble, and Champions League qualification for the first time, were secured.
That squad was so formidable from back to front and had it not been, there is no way such success would have been achieved, in a season that saw Liverpool play 63 matches in total.
Klopp's Reds could play a possible 64 this season, despite that being highly unlikely (they would have to win both cup competitions, with every FA Cup game going to a replay before the semi-final).
The current Liverpool squad has some way to go before it can be spoken of in exactly the same breath, but they are well set for a top-four challenge in the Premier League, a first FA Cup triumph in 12 years and a shot at a sixth Champions League crown.
It this was a squad with only 14 or 15 good players to choose from, succeeding across three fronts would seem almost impossible.
What Klopp has built gives the Reds a fighting chance.