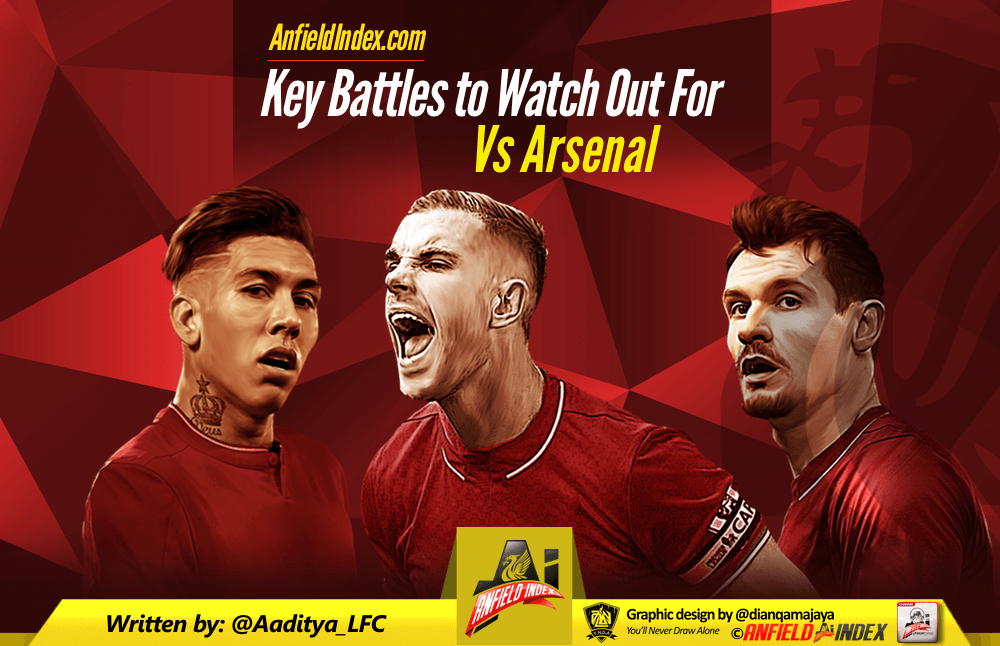 Arsenal v Liverpool Preview - Key Battles

The Premier League brings in Christmas festivities early as Liverpool travel to the Emirates Stadium on Friday night to take on Arsenal in a mammoth encounter as the race to finish in the Premier League Top 4 begins to heat up, and the festive period begins in earnest, with 4 games in the space of 9 days for Jurgen Klopp's Reds.
Liverpool have the advantage of a couple of days extra rest, given the Gunners' Carabao Cup quarterfinal on Tuesday, but the Arsenal lineup on Friday will be vastly different from the one that took the field on Tuesday.
For Liverpool, confidence is high, as a temporary slump was halted with a proper smashing of Bournemouth on the South Coast following two frustrating home draws. Liverpool needed the victory against the Cherries just for the confidence to carry on to such a big game.
Olivier Giroud will miss out for Arsenal, while Joel Matip could make a return to the Liverpool side. With 5 days in between the two games, this could be one game that Klopp could be seen taking lightly, in terms of the number of changes he makes to the squad.
Here are the key individual battles that could decide the outcome of the game.
ALEXANDRE LACAZETTE v DEJAN LOVREN
Lacazette was perplexingly left out of the side when Arsenal came to Anfield earlier this season, but it can be safe to assume that Arsene Wenger will not go down that route this time.
The Frenchman has hit a slight barren run recently, but his quality is unmistakable. From what I've watched of Arsenal, it seems very much as though Lacazette is the kind of striker who will thrive when he gets the right kind of service. Far too often, Lacazette has made very good runs only for his team-mates to ignore it or not find him with their passes.
For Lovren, his struggles are well-documented, but he has bounced back well from a disastrous afternoon at Wembley and looks to be settled on the right side of the two central defenders. The evening at Bournemouth would have done a lot of good to his confidence too, as he scored a goal, that exemplified his bravery.
Lovren is enjoying his best spell of the season yet, but it is important not to get carried away. Liverpool have barely faced a team since their battering against Spurs that has taken the game to them and put the defenders under constant pressure. Lovren has done what he has had to, without too many lapses in concentration, but Arsenal will ask a lot more questions of him than most of our recent opponents, so it is another opportunity for the big no. 6 to prove his detractors wrong.
GRANIT XHAKA v JORDAN HENDERSON
The battle of who will be the bigger disappointment? Xhaka and Henderson have by far been the most vilified by their own fans this season, and this game is a massive opportunity for both to step up.
Henderson is coming off his best performance of the season, against Bournemouth. He was energetic, snapped into tackles, and there was adventure in passing.
That is one thing he has been accused of – being a coward – with his passing, with his leadership and just with being a presence in the middle of the park.
But the Vitality Stadium on Sunday saw glimpses of the Henderson from the 2013-14 season, and Klopp would not be too concerned about that spot if the skipper can put in more such performances on a consistent basis.
Xhaka, on the other hand, has had a struggle of his own. His passing has been shoddy, his renowned ability to tackle poorly has come to the fore and overall, he has had zero impact on Arsenal this season.
Xhaka won't have good memories of playing against the Reds as it was his loose chipped pass to Joe Gomez that enabled the Reds to score the opener on their way to a 4-0 win at Anfield earlier this season.
There is also uncertainty for Arsenal with the absence of Aaron Ramsey, and it is important that Liverpool play on that edginess. Henderson's energy and drive will be a good place to start from, provided the skipper provides those on the pitch.
LAURENT KOSCIELNY v ROBERTO FIRMINO
What more can be said about Firmino that hasn't yet been said about him? He contributes in a most different way from most other strikers, but he contributes in a way that makes him the fulcrum of this team, the focal point which decides how the team plays.
Koscielny himself has had a shaky last few weeks, despite keeping clean sheets. He has been uncertain with the ball at his feet, suspect in the air, and his leadership has been questioned by many an Arsenal fan.
The Frenchman can be assured that he will not get a moment's peace from Firmino, who was at his pressing best against Bournemouth and with enough rest between the two games, there is no reason for him to not do the same on Friday night.
For someone who gets criticised saying his end-product is poor, Firmino already has an impressive 13 goals to his name this season, and there is little doubt that he is the best man for the role he plays in this Jurgen Klopp system.
An underrated aspect of Firmino's play has been the telepathic understanding he individually has with each of the other three members of the "Fab Four". That has meant that even in the absence of either Salah, Coutinho or Mane, Firmino has been able to strike a formidable partnership with the others in the attack.
Salah will, no doubt, be a threat to Arsenal, but Firmino will be a lot more crucial in not allowing them to build from the back, which will be crucial for Arsenal, in the absence of Giroud.