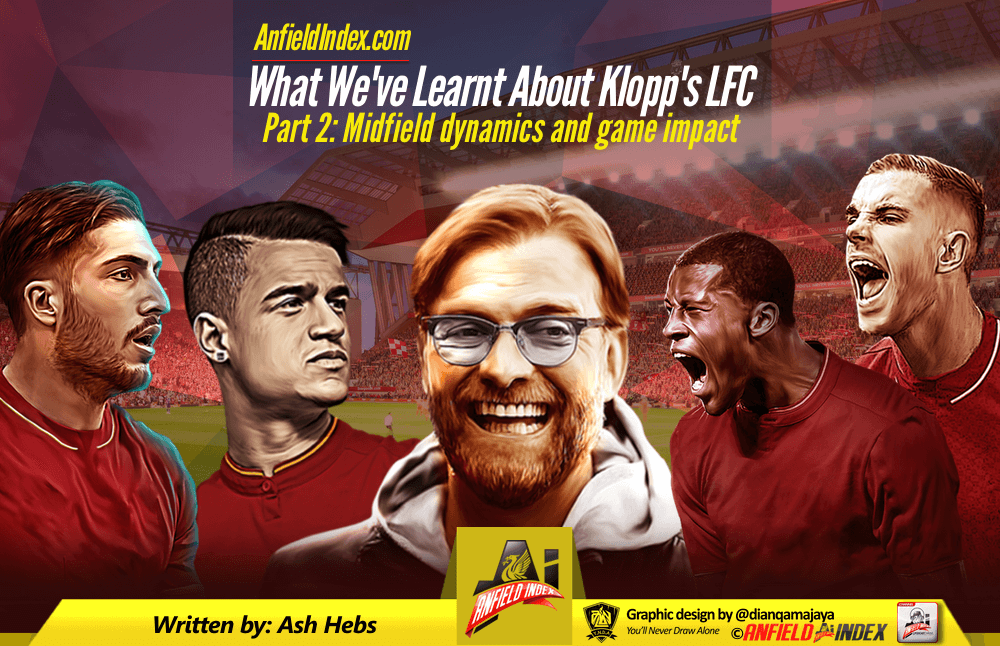 What We've Learnt About Klopp's LFC | Part 2: Midfield dynamics and game impact
Following on from part 1 of this series, which can be read here. After more disappointing dropped points at the Emirates, that piece is worth a read. In this piece, I will take a brief look at the midfield and Klopp's use of his players in his various systems.
Klopp is the best manager we've had since Rafa. The latter is still the best and most recent yard-stick to assess Klopp's performance and team building. Our midfield is clearly sub-standard in global terms, which is the standard we need to measure progress by.
After all, it was a world-class midfield that allowed Rafa to over-achieve with his team. His midfield took the club to number 1 in the European rankings.

The number 6 conundrum
The biggest issue for me is the lack of a natural number 6 in our midfield zone. There's a valid question as to why it's taken Klopp so long to fix. However, I think it is partly down to Henderson's injury which disrupted his progress last season.
Hendo isn't the best on the ball and very few number 6's in fact are. But he has an incredible work rate which should help shield a defence. So it makes sense why Klopp saw his future in such a position. However, the biggest impediment to his game in this role is his lack of natural defensive nous. Klopp hopefully sees this now.
Hendo is at his best defensively off-the-ball with his pressing game. With the ball, he creates pressure for the team when a game is running away from the group. Many of our dropped leads have come when Hendo has been our number 6. He hasn't been able to inspire his teammates to calm the growing tide. His panic on the ball when space is at a premium causes many problems.
With Hendo's long-term injury still clearly affecting him, it will be interesting to see if Naby Keita or another new player supplants the skipper next season. In the meantime, hopefully, Hendo carries the impetus of a wonderful performance against Bournemouth into the remainder of the season.
The absence of a true playmaker
With only 4 1-0 wins in last 2 seasons, this is a team that struggles to hold on to single goal leads. Thus when 1-0 up we predominantly go for more goals to support the top-heavy emphasis of the team.
A big factor in this is the lack of a genuine playmaker in the middle of the park. The situation is also exacerbated by the general unease that afflicts the team because of a propensity to make mistakes in defence. The Arsenal game was a painful reminder of this.
Phil Coutinho's inclusion in the midfield is a welcome addition when the game is going our way. But he is not a playmaker and midfield controller in the traditional sense. Under adverse game conditions, Phil can be more liability than an asset. We saw aspects of this against Sevilla and Chelsea.
In my view we still need the playmaking ability in possession to manage games better. Phil Coutinho has been a massive exponent in our attacking play but when the team needs to rest with the ball he's not so great. Phil's potential departure provides an opportunity to upgrade in this area.
Lallana's return holds exciting possibilities but possibly too late in the season to have the impact he might have had. All the same, he adds much-needed quality and flair in the midfield battle zone. I look forward to seeing him fit and firing. His experience will also be invaluable in helping the team post-Coutinho.
Conclusion
It's worth bearing in mind that it took Rafa a few seasons to mould his midfield into the levels of performance which culminated in a title bid in his penultimate season. Klopp will surely go through a similar journey.
Let's not forget thought that this is a midfield that Klopp can rely on to challenge for a top 4 spot. We are a very hard team to beat and the midfield plays a big part in that. This is an improvement on the midfield Brendan Rodgers left us.
The manager is not doing too badly; there is still a bit of surgery needed, but upgrades will come over next summer and beyond. This should push the LFC midfield to a level where we should not fear anybody. Of course, this is provided we also make the necessary signings in defence.