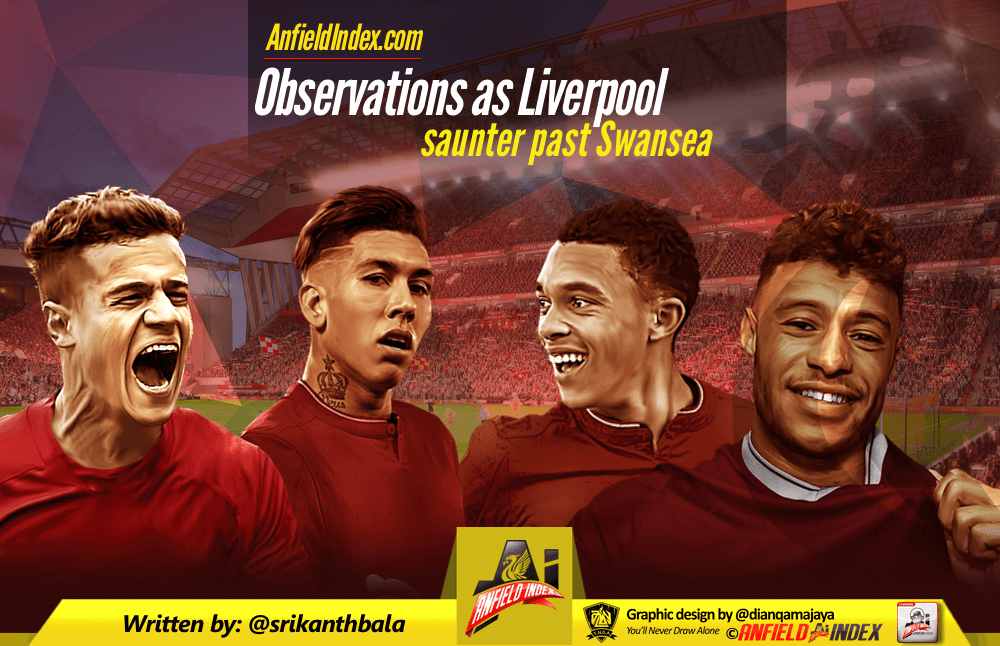 Observations as Liverpool saunter past Swansea
Liverpool were coming of a sequence of mixed results and were looking to set the record straight, and that is precisely what they did as they put five past Swansea. The key takeaways from the game are as follows…
Liverpool needed this win
Liverpool were coming off of two home draws and then the usual bit of snatching a draw from the jaws of victory at the Emirates Stadium. United had dropped points early in the afternoon, which made this result all the more important. The first half displayed no warning signs on what was to unfold in the latter 45, but we're not complaining!
Early goal always helps
There is nothing like an early goal to calm down the nerves, and that is what the magician delivered. An early goal means that the opposition needs to chase the game, which suits Liverpool down to the T. Liverpool then settled into a rhythm of passing for the sake of passing as the half meandered to a close.

The white teeth shine again
For the second game running, Firmino grabbed the headlines with a brace. The first goal was a well-anticipated strike with the Brazilian beating an attempted offside trap. The second was delivered on a plate Firmino by the Egyptian Messi for a tap-in. This was due reward for his contribution in the first goal as his pressing and turnover led to Salah's assist to Coutinho. An improved end product with his selfless work rate is such a rare combination.
O Magico!
Coutinho set the early trend with a goal which we have seen many times over, and yet they never tire us. He continued to produce moments of magic throughout the game, which left the fans and viewers bewildered more times than not. His output rate in terms of goals/assists continues to be on another level, and long may it continue! (at least beyond this season!)
Special goals for Trent and Ox
Trent Alexander-Arnold came into limelight with his free kick in the Champions League early in the season. Thus, this goal had been a long time coming, and what a special goal it was. He showed perseverance to get ahead of his man and thumped the ball over the helpless keeper and just under the bar. With his whole family watching, this will be a moment not to forget.
Speaking of special goals, Ox capped off the great result with a goal which looked ridiculously easy, only that it was not, as the replays showed. Chamberlain is growing by leaps and bounds (both on and off the field) with each passing day, and it's no coincidence that any mention of his transfer fees have dissipated.