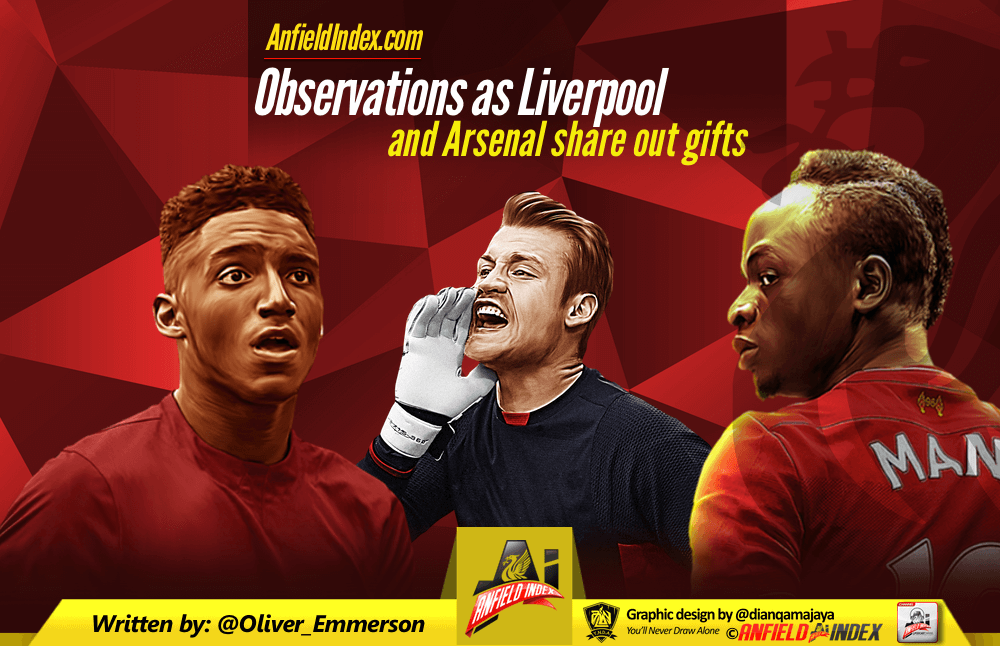 Observations as Liverpool and Arsenal share out gifts
Liverpool were peak Liverpool, Arsenal were peak Arsenal. Four minutes and 46 seconds between their three goals. Liverpool should have scored seven, they had to settle for three, and settle for one point.
"We've got to become more boring" said James Milner in his post-match interview, that made me laugh. Little else did, really.
Here's what I observed through the steam cloud coming from my ears.

How many chances for Mignolet?
Absolutely shocking, again. It's always coming around the corner. Simon Mignolet has not thrown many clangers this season but there have been iffy things here and there (Stoke non-red, for example) that have built to this.
I heard commentators praising the Xhaka shot, for troubling Mignolet. It deserves little to no credit, sorry Granit. The ball deviates slightly in the air but to suggest it swerves wildly is ridiculous. What does happen to the ball though, is that it gets flapped into the net by a Belgian goalkeeper whose hands may as well have been made of chocolate.
"It's a class finish!" screamed Jamie Carragher as Ozil dinked in Arsenal's third goal in LESS THAN FIVE MINUTES. It was an alright finish, but he didn't have to work for it. As Ozil picks up the ball on the left, Mignolet was closer to the Glawdys End penalty area than to the playmaker. He tries to make up for it by scrambling across and he's mugged off. Loris Karius has 6/8 clean sheets this season. In the game he conceded 3 in, he was superb (Sevilla away). He kept out West Brom's long balls the other week. Think on that.
Gomez gives timely reminder of age
Nice of Joe Gomez to put rest to the 'we should sell Clyne' comments in time for the January window!
Yes, he's been very good this season. So has Alexander-Arnold. They're both young though, they'll make mistakes. Perhaps none as blatant as Gomez failing to spot Sanchez for the goal that saw Arsenal come back into it.
Maybe as he's a centre-back by nature, when balls come into the box he's used to attacking them as he knows there's someone near him. At right-back, is he second-guessing himself? Perhaps, but that sort of thing takes five games to sort out, not 50.
Ran ragged in the second-half.
Mane off the pace, but not the team
It's a frustrating period for Sadio Mane. Our lord and saviour last season, things aren't quite going for him at the moment.
He's terrorised Arsenal in recent times so you can't blame Klopp for putting him in, but maybe he should have come off sooner. The winger is getting in promising positions, contributing, defending well. He just can't put the ball in the net at the moment.
It's frustrating to see as Liverpool fans aren't used to this but patience is needed, if he bangs one on Boxing Day against Swansea then we could see a red-hot scoring streak.
A point dropped or a point gained?
When you go 2-0 up in a game and then are pegged back to 3-2, fighting back for a 3-3 draw, most would suggest it's two points dropped.
People can make exceptions to that, when you're playing a top team that have the ability to cut you apart with wizardry, a 3-3 can be a good result even when you go 2-0 up.
This wasn't one of those times.
When you've done so well to get ahead against Arsenal and keep their attack quiet, to gift them such goals is unforgivable. The attack missed chances, but they scored three. You shouldn't need six to win away from home, especially when Dejan Lovren is having a good game.
On to the next one, Reds. Christmas will be over so no more gifts please.