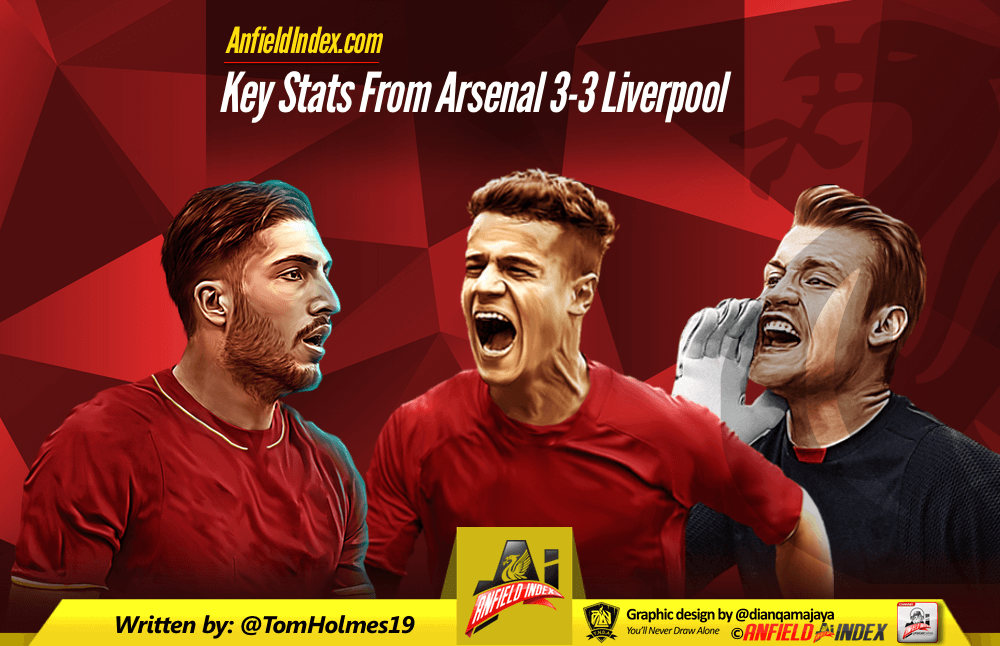 Key Stats From Arsenal 3-3 Liverpool
Liverpool were in total control. And then they weren't. And then they salvaged a point. An absolutely bonkers game and statistically it's hard to look at games like this. But nevertheless, here are my statistical highlights from Liverpool 3-3 Arsenal.
Away Day Entertainment
Liverpool have scored three or goals or more in seven of their ten league games. They've only won five of those. They've now also conceded three goals in four of those away games. 27 scored, 20 conceded. That's the best goals scored record away from home in the league, with only West Ham and Stoke conceding more. The mind boggles. There have been two Liverpool away games with less than four goals in them, and only three with less than five. Absolutely maddening.
Lack of Control As Leads Slip  
Liverpool have drawn eight Premier League games now this season. They were winning in five of those, and losing in three of them. To drop ten points from winning positions is pretty atrocious, but it is worth noting that contrary to popular opinion, this is the first time in the league that Liverpool have thrown away a two-goal lead in over a year. Since…well you all know. The 3-3 against Sevilla has distorted this, but either way, Liverpool need to try and gain control of these sorts of games.

Emre Makes His Mark
This is the section where I usually talk about the man of the match Phil Coutinho. But I'm bored of talking about Phil even if he was the man of the match again – and he was. So let's talk about Emre Can. A slightly fortuitous assist, but other than that he still played very well.
He was successful in 100% of his six attempted tackles (blimey that's a high number). He also made three interceptions, two dribbles, didn't fail a dribble, wasn't dribbled past, had an 87% accuracy with his admittedly low 38 passes and of course one key pass, which ended up in the back of Arsenal's net.
Quick shout out to Lovren in this section, who won eight headers, four tackles, and also secured three interceptions and ten clearances. Top stuff lad. Defensive stats aren't great overall, but it's still nice to point out when someone has a load of them.
Error-Prone Mignolet Strikes Again 
The shot that led to Granit Xhaka's goal had a xG of 0.02. Which means that it had a one in 50 chance of going in. One. In. Fifty. And instead of catching it, Mignolet decided to punch it into his own net, earning him an Opta approved "Error leading to Goal".
In terms of saves this season, David De Gea has made 3.8 saves a game, conceding 12 goals off 18 games despite United conceding a xG of 22. That's higher than Liverpool xG conceded at 21, and the Reds have conceded 23 goals, almost twice as many. Moreover, at 1.6 saves per game, only Ederson (1.5) and Karius (0.5) have made fewer saves per game this season. And Ederson has conceded just 12 goals, admittedly from a xG of slightly below 12, whilst Karius faced one shot on target in the two league games he's played for LFC this season.